Evelina Alexander Barnes
b. 23 October 1806, d. 2 April 1888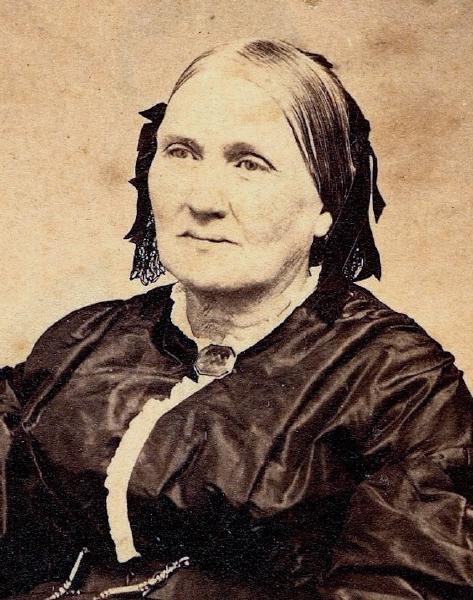 Evelina Alexander Barnes Wood, 1806-1888

Evelina Alexander

Barnes

was born on 23 October 1806 in Sparta, Hancock County, Georgia.
About two months before Evelina's marriage to Green Wood, Bolling Hall recorded in a small financial notebook: "E Barnes: shawl 2.00, 6 yds silk, 6.00, 1 pair shoes 2.00, 2 hanks silk 1.25, 2 pair shoes 5.00, Schooling 51.06. [total] 66.31. paid by Jno Abercrombie 29th Decr 1821."
She married Green

Wood

, son of Solomon

Wood

and Elizabeth

Eason

, on 28 February 1822 in Alabama, at Evelina's Uncle Bolling Hall's plantation near Montgomery. Evelina was a first cousin of Green's first wife Polly Hall.
Green

Wood

and Evelina Alexander Barnes appeared in the US federal census of 1 June 1830 in Montgomery County, Alabama. Other (counted but unnamed) members of the household apparently included Green Mark

Wood

, Solomon Eason

Wood

and Willis Breazeal

Wood

. Also in the household were forty-two slaves, nine of whom were under age ten and two age fifty-five and older.
About 1837, portraits were painted of Green and Evelina Wood by an unknown artist (estimated date based on their apparent ages in the portraits). If a third portrait, of a young girl, was painted by the same artist, at the same time, it would have been of daughter Lizzie Green, as her descendants believe. The painting is today, however, in the family collection of descendants of youngest daughter Ella, so identity of the original of that portrait is uncertain.

Portrait of Green Wood, about 1837 (artist unknown)

Portrait of Evelina Alexander Barnes Wood, about 1837 (artist unknown)

Portrait of Lizzie (or possibly Ella) Wood, about 1837 (artist unknown)

Green

Wood

and Evelina Alexander Barnes appeared in the US federal census of 1 June 1840 in Montgomery County, Alabama. Other (counted but unnamed) members of the household apparently included Green Mark

Wood

, Willis Breazeal

Wood

, William Barnes

Wood

, Joshua

Wood

and Elizabeth Green

Wood

. Also in the household were eighty-eight slaves, thirty-one of whom were under age ten.
In a letter dated 1 August 1848 to Evelina Alexander Barnes in Tuskegee, Alabama, William Barnes

Wood

wrote from Oxford, Georgia:
Dear Mother,
      I arrived here yesterday from Charleston. I stayed in the city 4 or five days & never enjoyed myself better in my life than I did there for the first three days. The fourth day I was so muc[h] fatigued that I could not enjoy myselfe. And there was such an immense crowed that I could not move & it was the hotest place I was ever at. Friday the the Palmetto regiment was received. And I know there was fifty Thousand people in the streets. It was unpleasant to be in the streets. I saw more in the four days I was in Charleston than I ever saw before. There was 15 companys out all in splendid uniform & when they were all united they looked splendely. There was a large dinner given to the P. Regiment, I did not attend the dinner.  I would like to live in Charleston if I had a plenty of money. From six oclock P.M. to 10 PM the streets are crow[d]ed with Carriages & buggies. The streets are fr[ee] to ride on.  They are never dusty--,  Th[e]y are water[ed] from morning until night. -- The streets are ful[l] of Ladies. Most of the Ladies alone after dark shop[ing] & I saw [a] great many in stores as Clearks. in fact nearly every store has one or more Ladies in it. I hired a buggy every day & tried to see as much of the Place as possible I had to pay 1.00 dollar - an hour for a buggy. I saw a gre[at] many pretty Gardens but no Large one. all small. I was in several. I took Tea with Mr. Plane in Charleston, a very Respectable & as fine a family as I ever saw. They treated me like a son.  The old man called me son all the time. They took a good deal of pains to show me ev[e]ry thing & make me feel at home. Mr. Plane has a son here in College. He commenced teasing me about his Daughter in twenty minutes after I got in the house. He had a very good Garden. Wanted to give me cutting from his Garden. If I had been going home I would have accepted of them. I stoped at the finest Hotel in Charleston   I lived high while there. I dont like these suppers in Charleston. They have nothing warm at tea. Everything cold. They made it up at dinner. I generally sat at the table an hour and [a] halfe. To get through all the courses. I acted as though I was raised in a city or tried to act so. I don't think I ate a meal without thinking of Par particularly at dinner.  We had turtle soup & fish all the time. I visited the Markett house two or three times a day. The house is a halfe mile long & crou[d]ed with every thing I could think of. All kinds of fruit. And they was fine. I got hold of one kind of fish or shy? as-space? of the fish that [I] did'nt like. They [have] Shrimps something like the crawfish.  I saw great many crabers. They [made] splendid crab soup.  I caught one or two crabs on the coast. The greatest show was Sulivans Island & the Fourts & castles. We went over to Island on a ship. & it is seven miles. Then went up the coast some four miles. I could see nothing but water. I got great many pretty shells off the coast. I went all over the Fourt Moultrie. It has some 95 pieces of canon on it all arranged ready for battle. I saw Fourt Sumpter & Johnson, Castle Pinckney. There was ever Ships & Boats in harbor all the time. & Some of them very fine ones. The Steam Ship Southerner was the finest thing of the kind I ever saw. They have fine bathing houses both salt & fresh water. The last night I was there they had splendid fire works. It was the prettiest sight I ever saw. Great many Ladies & Gentlemen turn out to every little thing. I saw very few Gentlemen on the streets during the day. But from six un[t]il 10 at night you cant get about. I think [I] saw five hundred carriages & buggies out at [a] time. You see one row going up & one going down all the time. I saw Dr Siebles? in Charleston. He came from Columbia there. I saw Dr Duncan & Col Hayne but didnt get a chance to speak to the Col. I also saw Marks from Montgomery. he had with him one of Dr Henrys sons with with [him] taking him to the north. Well I will stop writing about C[harleston] & tell you something about my selfe & oxford. Judge L— resigned his office here because he thought he would get the Presidency in oxford Mississippi. He was certain he would he get it, but was disappointed. Some on[e] was a head of him. I was very sorry he was not Elected. He has quit taking boarders. I have engaged board at Mrs Lamars one of the most Respectable families in oxford. I am now staying at Mr Paynes. Will stay there while I am [in] oxford   I have given out going to Athens. I have just got back from Charleston & am to[o] tired & my feet are so soar from walking on the pavement,  The commencement is certain now. I could see more than one day of commencement if I was to go there now. I may get to see John before the vacation is out. I was just glad to get back to oxford but I can't stay long here. I am [a] little afraid to leave oxford on account of the Fever - that [is] one reason why I did not stay longer in Charleston, I was afraid of the Fever. There was two Thousand on board the cars from Charleston to Hamburg, one man died on the Cars. he was perfectly well when [he] got on board but died in a short time  It [was] so hot.  I forgot to mention Augusta. I was in Augusta some 6 or 8 hours. It is a dull place After being in Charleston. It is the prettiest place I ever saw, It is much prettier than Charleston,
     your - son Wm B Wood
I will write again soon. I may stay in oxford nearly all vacation as I have some very good friends here with me. I stayed with Mrs Williams last night - a very kind old Lady. She has taken me over to Covington in her Carriage some times.  I have just found? at? several familys - I am very well treated here. Tell Par where I am boarding - write soon
      Minimal punctuation added by the transcriber to enhance readability.
In a letter dated 20 March 1849 to Evelina Alexander Barnes in Montgomery, Alabama, William Barnes

Wood

wrote from Oxford, Georgia:
Dear Mother,
     Your welcomed letter was received yesterday & I now sit down with pleasure to reply. You spoke of the immence quantity of rain that fell some days ago in Montgomery. It rained here about the same time for several days, & is at it again. I am glad that you have such a beautiful garden, would that I were there a short time to see it. I never see any flowers here. Their is only one Lady here that pays any attention to gardening either in the ways of Flowers or vegetables. All the people care for about here is to make money & to get to heaven. the latter is quite important. They score[n] the Universalist here on all occasion. it hurts me some times to hear the way they go on. You would not set in the church & listen at them. I am glad Par had such a fine stand of corn. Very few about here have planted. There are no large farms in this Country. I was very sorry to hear that Col Campbell had been so unfortunate in since getting to Louisiana. I hope Par has sold out & as you said I hope he may be so fortunate as to get a healthy place. I did not know that Duncan intended going to L--- I have received only one letter from him & that some weeks ago. How & whare is uncle Campbell. Is Bolling Thompson living with his Mother. I don't think he ought to have married against his Mother wishes. I mearly give that as my opinion without knowing any of the circumstances. I think it an absurd thing in Mr Rogers marrying Miss Norman. I expect John B— is thinking about marrying as he has quit College & is acting the Gentleman. I wrote to Brother Willis last week. tell him I have broken the ice & I wish him to follow as he has repeatedly sent me word that he would write. I am glad that Eliza Stock is so pretty & smart. hope Harris has recovered. Tell Mary Jane I feel flattered by having such a fine boy named after me. From the way you wrote I doubted it the childs being named after me, You said Mary Jane told you to tell me so you wrote as if she did it to please me. I expect that is the way of it, is it not? I saw a paper this evening from Montgomery & in it was the reception of the Ex-President. I would have like very much to have seen him - Mr Polk. You said you were glad to hear that I was studying so very hard, Mar, I think you put to much stress on the study. I wish that I could study hard. I read a good deal but I don't study my text books a great deal. They are such as do not suit me. I can read any time, when I can stoop over a day lesson. I thought I would mention this as I did not wish you to be under the wrong impression, but dont think I am here doing nothing. You asked me to mention my studies. Moral & Mental Philosophy. (Mechanics very dry) & Geology. I will finish Mental Philosophy this week & then I will have to take up the Evidences of Christianity & I have an idea of studying Divinity. My love to th all the family. You asked when would I get through here - the class with which I recite with will Graduate the first day of June next & it will be useless for me to stay here then until the term closes which will be about 4 weeks. I would have only one study & it would be foolish to pay board just to stay here then. Give my respects to Anaky & the rest of the Negroes. Can Campbell ride his pony yet.- Give him my love
     Your affectionate Son, Wm B. Wood
Minimal punctuation added by the transcriber to enhance readability.
She and Green

Wood

relocated to Texas in 6 January 1850 with William Barnes

Wood

, Elizabeth Green

Wood

and Campbell

Wood

departing Montgomery, Alabama on 6 January 1850, arriving in Houston the 15th, and finally arriving near Danville 22 February. Probably included in this family group were the wives and children of Green Mark and Willis, and the Campbell boys, Duncan Greene and William Barnes.
Edwin Eliza

Campbell

wrote to Evelina Alexander Barnes:
     February 10th 1850
My Dearest Friend,
     This is the first time that I have been able to write since the Tuesday after you left, & indeed I am still very feeble and unwell. Your very kind and affectionate letter was not received in ten days as soon as it should have been, or I would have tried to have got some one to write for me. I thought a week ago that I would have tried to have collected all that was agreeable to cheer Lizzie and yourself in your loneliness. But nothing has reached us but sorrow and distress, since you left. Last Sunday we had a letter from Archibald with the mellancholly tidings of Brother Johns death, which happened about a week after Susan Mary reached home. We had heard no intimation of his ill health, until after SM got there, she wrote to Mr F that she found them all looking very well but her Father and that she felt uneasy about him. It seems that the day he died he had ate more heartily than usual, walked into the field, returned about sunset, was taken with violent vomiting, which they could not check, he got to bed, and after a while he sunk into a stupor. They supposed he was sleeping until they noticed some thing peculiar in his respiration, he died immediately, by 10 Oclock it was all over. It all seems so strange that I cannot feel reconciled to it. We have heard nothing from the family, but I should not be surprised if they were all to come back with Susan Mary. They have truly lost their guide, and director, and my heart bleeds for all, but most for the poor little children, the older ones ought to be able to help themselves, but they know nothing but to spend. Susan Mary is the only one that feels the least self denial. I am thankful she went, I know it was a comfort to her Father as well as to herself.
     I have not seen Sallie but once since you left, that was the Friday afterwards, she and Harriss called at the door, they were both looking very well, she told me she was going into the country. I have inquired very often after her, and found she was still in with Mrs Brown, which I felt glad of and was thankful she had the prudence to go out before Mrs Picketts large party, had she have remained there is no telling what the consequences would have been. Mrs P's children had the houping cough - one of them took pneumonia and died the week afterwards and another one extremely ill. I have seen none of your relations or friends, I have not been out of the house scarcely. Sister Sarah took Isaac home with her, he took a violent cold after he had been there a fortnight and is down now with violent rheumatism. Sister Flora left last Thursday for Macon, I cannot tell how long she will be absent, she will return as soon as she can bring Isaac, poor child he ought not to have been trusted to any one but those that know him only as we know him at home, and I could not help thinking it was madness to send him back to Macon.
     Anne Tracy is with us, which is a great comfort, and most heartily do I wish that we had you and Lizzie back with us, I do not believe I should ever feel reconciled to you going away or leaving here since you have left. You cannot tell what a feeling of lonliness and a Constant longing I have for you. The enjoyment of your friendship, and I believe your love has been the only green spot in my life for some years. While in your society, I for a short time could cease to think of the sorrows of a large family which exists in every branch of it. And we are only permited to enjoy, blessings but for a short time.
     I hope Duncan has settled now enough to Mr Wood to profit by his methodical and steady manner of doing business, and that he will profit by it. I promised to let you hear about the result of his business, I have enquired dilligently but no one would tell me, I only know that Dr Bolling bought Abby and all the children accept Tait, Col Carter bought him. Harry sold for only $150 that I felt very sorry for, and I know Duncan will be greatly disappointed. Mr Norton bought him. While I am upon Duncan's affairs I cannot help alluding to his other affair, (as little as I feel like it). Betty Powell called upon Mr Farly for his picture, and he told her I had it. Sally came for it the next day she told us that her Mother and Father never said one word to her about discarding Duncan, so far from it they wished it to take place, and that what she done was before she knew the property was involved. And that she found her Sister loved him better than she did. (This accounts for her sisters unhappiness all last summer.) As for herself her feelings for him had never changed - she loved him and should never engage herself to any one else. She said she could not understand how her Sister could engage herself to every one that that courted her. She trembled like an aspin leaf while she was talking and I could not help feeling very sorry for her. Sally's conversation is confidential, I told her I had written to Duncan, I was not willing for him to marry Betty because she was engaged to so many. She said she sometimes thought Duncan loved her best. You can judge that he is in a dilema, and I see nothing for Sally evidently has sacrificed her feelings to her Sister Powell. Mike is here. I have not seen him.
     I was sorry to hear you had been detained in Houston. I know Mr Wood was put out about it. RM wrote us that Col M was going for Lizzie. So let us hear all your movements and all that concerns you every thing connected with you will be interesting to us. Give my best love to dear Lizzie with a kiss. she stands No 1 in my heart & estimation, and I will tell her again their are but few good enough for her, and them I don't know. And give my love to Mr Wood. I regard him as a brother. and to Willis, Billy, Campbell and Eliza. Kiss the two latter and dont let them forget me. If you like I hope we shall meet again. And to Duncan & Willie though last not least, my prayers and best wishes will follow them were ever they go, tell them to be good industrious and persevering, in all they undertake. Brother Isaac and Anne send love and kind regards to all. And now my dear Mrs Wood accept my warmest and most Sisterly affection from your devoted friend
     EEC
Minimal punctuation added by the transcriber to enhance readability.
Edwin Eliza

Campbell

wrote to Evelina Alexander Barnes:
     February 25th 1850
My Dear Friend,
     Your letter was duly received, and I do most deeply sympathize with you in all your afflictions, and disappointments, you have truly had a most disastrous time. And I most humbly pray that nothing else has occured since your letter, and that all the rest have safely reached their destined home. I heard from Sister Flora who is in Macon, that Lizzie had very soon returned to you, I regreted it, for I hoped she would have spent a few weeks pleasantly in Galveston while you were getting things straightened at Danville. But I was not surprised, I know their are but few girls at her age but who would not first have consulted their own pleasures first, regardless of such an affliction at home. But Lizzie is what I have always thought her one in a thousand.
     We have not heard one word from Sister Anns family, since we received Archibald's letter announcing poor Brother Johns death, all the particulars I gave you in a former letter. I feel extremely anxious to know what their plans are for the future, poor Sister Ann was so determined to return last summer that I cannot but expect her back. The cholera rages most violently on Red river, and Brother Isaac says he very much questions whether Susan Mary will be able to return this summer. Oh, that you all could have found it to your interest to have remained here, the result might have been different, but who can tell, it might have been the same, death is confined to no place or circumstances. I shall feel unhappy until I hear from you all again, and hope you or Lizzie will find time from your various duties provided you are at your new home to let us hear how all are, and if they have arrived safely at home. I had a note from Sally a few evenings since, she appears to be unhappy and uneasy about you all. I should have sent my letter at once but Mrs Brown told me she should send hers and Sister Flora wrote for yours to be sent to her as soon as we received them. I wrote you before that she was there nursing poor Isaac, who went home with his aunt Sarah and was taken very ill and is still unable to stand up. I mention this again for fear my letter has not reached you. Anne Tracy is with me, and regrets she could not have seen you and Lizzie before you left. She hopes however that she will some time or other be able to visit Texas. I am glad to hear from you that RM has married so well, we have had a report here that she was his 5 wife which seemed to have devoted her at once to an early death. I was glad to hear that you made some pleasant acquaintances in Houston, you have received that much good out of all your perplexities, and disappointments. You know that I have been sick ever since you left and have not been out of the yard. I took cold the night I sat up at Mr Riggs and it resulted in an attack of pneumonia, I am now getting to feel a little better, but still have a pain under my shoulder. I wish I could have collected some town news for Lizzies amusement. I do not see or hear any thing accept when Henrietta comes up, she tells Anne all she hears, among other things she says that Eliza Pickett is to be married next month, to Mr Walker the speaker of the house, he is a widower with 2 children the oldest 12. Miss Bugby is also going to take a Mr Smith, he has been married twice and has two children. Mary Abercrombie is to be married to a Mr Davis. Mr Farly was married last week to Miss Hoxey. Miss Warren was married the next night. Mrs Ogburn has had a ball room built with springs to give her brother a party. I would like to get Anne Tracy to give Lizzie a description of Mr F wedding costume & hear them all laughing at his singularity and I should suppose he looked very much like he was dressed for a monkey show - I suppose some of your correspondents keep you posted up on all the Montgomery news and all I could write will be stale to you – Mrs Snodgrass has been to Orleans for Mr S who was very sick there. Mrs Brown has been staying in town with the children, I have not seen her but once, because I have not been able to walk so far. I have not heard a word of any of the other kin. I suppose however all are well or I should hear something to the contrary.
     Mike Powell did not call to see us. I suppose Sally told him what I had said, but I cant help it, if all concerned cut me, I must expect my disapprobation, and condemn Sallys romance which she must have read in some antiquated novel, that it was beautiful to make a sacrafice of her own affections and those of the man she professed to love, to a sister who can fall in love with every new face she meets with. I told Sally I was not willing for Duncan to marry Betty since I knew her own feelings had not changed. They are all in a dilema that I think they had better sett to work to get out off. Sally thinks Duncan loves her best, and fears that Betty loves him better than she is capable of doing.
     I am my dear friend ashamed to send you this in answer to your very interesting and affectionate letter, but hope I shall sometime or other feel in spirits to repay your kindness.
     And now my dear friend I bid you good night with a prayer for a world of blessings for you and yours. And ardently hope you have around you, your children, kindred and all your household. Remember me most kindly to Mr Wood, Willis &Billy – and many kisses to Lizzie, Campbell and the little ones. I intended to have written to Lizzie and directed this to Galveston, but by this time you have surely reached Danville and I shall direct [it] there, some of the party will send it to you should you still be in Houston. I hope Lizzie will write and tell us all she has seen and thinks of Texas. If she loves me half so well as I love her she will I know. Much love to Duncan & Willie, I hope to hear from them. Remember me to Mrs Mary Jane – Anne Tracy sends much love to Lizzie and yourself, she appreciates highly all your affectionate feelings for her. And Brother Isaac joins in respectful regards to all. I will leave this open should I hear any thing of interest tomorrow I will add to it before the mail closes –
     yours devotedly, EEC
     Added later at top of first page: I saw Mrs Brown this morning. she tells me Mr & Mrs Snodgrass had not yet returned. I fear his health is failing. She says that Mrs Henly has just returned from Tuskegee, and that Sallie has rheumatism. I will write to her to take the Potasic and Sarsaporilla. Tell Eliza her bag and handkerchief hangs on the glass just where she left it which keeps her little busy self constantly before us.
Minimal punctuation added by the transcriber to enhance readability.
On 26 February 1850, Anne Clark

Tracy

wrote to Evelina Alexander Barnes:
     Mrs Green Wood, Danville, Texas
My dear Mrs Wood,
     I do not think I can let aunt Eddy's letter go without writing you a line to tell you how much I regret that I did not see you before you left for Texas, & how very much I miss you. It scarcely seems like Montgomery when I think you are so far away – I often tell aunt Eliza that I intend to visit "The Col" & Mrs Menard in the Spring, & if I do I shall still hope to see you again. Tell Lizzy that I am going to make the grand tour before I choose the fairy spot where our school is to be established, & she shall certainly know in time to assist in the selection – I hear that Montgomery has been very gay all the winter & Mrs Brown told me today that two parties were to be given this week to the bride, Mrs Jim Farley, one by Mrs Ogbourne & the other by Mrs W Farley. The former is to be a large dancing party, a ball room built especially. I was a good deal amused at the description of the bridegroom's coat, which I heard was of a light blue, lined throughout with white satin, having white kid buttons & thread lace cuffs, rather a fancy article you may imagine though I guess the description is rather exaggerated - I hope we will soon receive a letter from you, telling us of your safe arrival at Danville as we all feel much anxiety to hear. With love to Lizzie, I remain,
     yr very aff Annie T.
Minimal punctuation added by the transcriber to enhance readability.
On Sunday, 26 May 1850, Green Wood recorded in his plantation daily account book: "A very fine day, had Green & wife & Rush to dinner."
Green

Wood

and Evelina Alexander Barnes appeared in the US federal census of 1 June 1850 in Montgomery County, Texas. Other members of the household included William Barnes

Wood

, Elizabeth Green

Wood

and Campbell

Wood

.
On Sunday, 30 June 1850, Green Wood recorded in his plantation daily account book: "Green M. Wood & wife & children & Willis B. Wood wife children & Duncan G. Campbell all Dined with us to day at the new place."
On Monday, 15 July 1850, Green Wood recorded in his plantation daily account book: "Mrs W. sold Wm Campbell's beds Bolsters & Pillows, 129 lb, @ 35 cents, $45.15," and on Monday, 12 August, "Mr Wm Lindley paid for the beds of Wm L. B. Campbell, $45.15. Inserted later under the entry for Friday, 19 July, "Received of Green Wood $59.55 for sold as above to Wm Lindley, April 28th 1854, [signed] W B Campbell," and in the left margin, "Paid." [It appears that Green paid "Bose" about 8% simple interest per year for the four intervening years.]
On Sunday, 18 August 1850, Green Wood recorded in his plantation daily account book: "Sent Bob to Montgomery with a letter to John Abercrombie & three others by E. A. & Lizzie Wood."
On Sunday, 22 September 1850, Green Wood recorded in his plantation daily account book: "A beautiful day, all in fine health. Mr & Mrs Carothers, Green & Wife & Willis & wife & all their Children & Mr Powell spent the day with us."
On Sunday, 3 November 1850, Green Wood recorded in his plantation daily account book: "G. M. & W. B. Wood & their familey's with us & some Gentlemen from Grimes County."
On Sunday, 10 November 1850, Green Wood recorded in his plantation daily account book: "Plesant day, all dined with Willis B. Wood."
On Tuesday, 12 November 1850, Green Wood recorded in his plantation daily account book: "Mrs Wood Lizzie & Billy started to Houston."
On Sunday, 8 December 1850, Green Wood recorded in his plantation daily account book: "Mrs E. A. Wood Lizzie & myself returned from Houston this evening."
On Wednesday, 25 December 1850, Green Wood recorded in his plantation daily account book: "Mr. J. Abercrombie and Family and W. B. Wood and Family and Mr. Peter C. Harris to dinner with us."
On Monday, 24 February 1851, Green Wood recorded in his plantation daily account book: Mrs E. A. Wood commenced laying off the Yard."
On Tuesday, 7 October 1851, Green Wood recorded in his plantation daily account book: "Sent three hands this evening to help Abercrombie raise his gin House tomorrow," and an the following day, "Mrs. W. and Lizzie went to J. C. Abercrombie's."
On Wednesday, 5 November 1851, Green Wood recorded in his plantation daily account book: "Mrs. W. and Lizzie went to Mr. Abercrombie's," and on the following day, "Abercrombie's Smith at work today."
On Thursday, 8 July 1852, Green Wood recorded in his plantation daily account book: "Mrs Wood & Ella, Mr Powell & Wm B. Wood all left for Huntsville at 5 oclock this morning," and on the following day, "Mrs Wood & all the rest returned from Huntsville."
On Saturday, 18 September 1852, Green Wood recorded in his plantation daily account book: "Mrs W. had Strawberry vines set out."
On Wednesday, 12 January 1853, Green Wood recorded in his plantation daily account book: "Mrs Wood sent her Watch to Lewis Owen for repair by Judge Elmore."
Evelina Wood and her daughter Lizzie Powell exchanged letters in the Spring of 1855 while Lizzie was being treated for cancer by Dr. Robert Wilson January in Murfreesboro, Tennessee. Transcriptions of the surviving letters appear at the bottom of this page.
On 2 March 1855, Elizabeth Green

Wood

wrote to Evelina Alexander Barnes:
     Murfreesboro March 2nd
My Dear Mother,
     Yours, Brother Wm & Campbell's letters of the 12th were received the 28th & you can't imagine the pleasure they afforded us - I read them over so often & think of you all so much, that I can scarcely contain my self. I get so impatient to go home, indeed I hardly think of anything else & yet it will be so long before I can go home; We have no idea when we can leave, the disease is so slow coming and the Dr takes off a good deal every morning. I had no idea there was so much, but the medicine follows it up, & I hope will in two or three weeks remove it entirely. with the exception of two or three nights I have rested very well for the last two weeks, my eye is entirely closed from the swelling when I can sleep at night, I think of you, & perhaps you too are awake, thinking of your suffering child - The weather has been so cold, every thing frozen over for two weeks, it has brought on a return of my neuralgia which with my other pains has caused me much suffering for five days - I have kept my bed to keep warm, it is getting a little warmer, but still cold I have seen no flowers since I have been here, they have not thought of gardening. when I compare it to our pleasant climature I wonder how people live here. I expect every thing is putting out at home & you'll soon have vegetables. I am affraid we'll miss the strawberries, we'll be here so late they'll be all gone before we get to Alabama. You ask how are we off for clothes, we have a plenty now, but when spring comes we'll have to go to work. I regret that I did not bring the two dresses you got me in Galveston. it would have saved that much & our expenses will be large enough. Chloe has not worn her dresses out, but she burnt one of them very badly. I dread making Wood's pants, I am affraid I'll not get them to fit. Bettie has worked me three pair of sleeves & bands, this open work, they are very pretty. she will not consent to go to Texas, her Ma & Pa would be alone & both in bad health. George & Wood agree pretty well now, but at first they agreed in nothing. wOOD has a dime which he says he is going to carry home to Grandpa - you would be surprised to see him so fat. I have very little appetite, there is so much sameness in every thing here, just meat & bread, no irish potatoes, cranberries, macaronie, buck wheat, or any thing else nice. This town is almost as poor as Danville. I am thiner than I have been since I have been grown. I had a letter from Cousin Eliza yesterday. She wishes Dr. January to send medicine to Mollie, but he wont send medicine - she sent me a large bundle of rags. There is a man here, come this week, he has a hundred fiberous tumors on him. one poor fellow came, but the Dr would not treat him, the disease was in his throat - Tell Ella, Wood has a large lump of maple sugar he says he is going to carry her. Tell Par when ever I go to the piano I play Rosy O'Moore & I think of him. Give my love to all & remember me to the servants, particularly to Letty & L Bob - Tell Campbell to continue to write, his letters are very interesting. I have not heard from Sallie -- I will write to Mrs Tarleton when I get better. Who hired Bose's Matilda & Jane - Chloe sends her love to all, particularly to Ella - Don't let Ella forget us, Oh, how can I stay away from you so long? The time seems interminable. do continue to write me every little thing. Tell Mollie I expect I'll get home to her frolick & tell Josie I am anxiously looking for her letters. Give my love to every member of the family and accept bushels for your-self from your affectionate & loving child,
     Lizzie W Powell.
Saturday morning, it is very cloudy & looks as if we would have rain pretty soon. I am anxious to see warm fair weather. I am so confined to my room these cold days.
     Minimal punctuation added by the transcriber to enhance readability.
On Wednesday, 11 April 1855, Green Wood recorded in his plantation daily account book: "Had my Dagaratipe taken for my Wife by Mr. Stubs."
On Sunday, 15 April 1855, Green Wood recorded in his plantation daily account book: "Mrs W. & myself made a visit to Abercrombie."
On Wednesday, 16 July 1856, Green Wood recorded in his plantation daily account book: "Mrs. Wood, Mrs. Campbell and the children and Mr. Powell left this evening on a visit to Abercrobie's and [Folks], Waverly." And on Monday, the 21st, "Mrs. W. and Mrs. Campbell returned home from their visit."
On Tuesday, 14 October 1856, Green Wood recorded in his plantation daily account book: "Mrs. Wood, Mr. Powell, and Ella and Wood started on a visit to Mr. Fisher, C. Abercrombie's, and Mr. McGar and Colonel Yoakum."
On Wednesday, 22 February 1857, Green Wood recorded in his plantation daily account book: "Mrs. W. and the Children left for Abercrombie's and Waverly," and on Saturday, the 28th, "Mrs. W. returned this evening."
On Friday, 3 July 1857, Green Wood recorded in his plantation daily account book: "Mrs W & Mrs Campbell started on a visit to Abercrombie's & to Waverly."
On Thursday, 17 June 1858, Green Wood recorded in his plantation daily account book: "Mrs Wood, Mr Powell with Ella & Wood left for Sour Lake this morning."
On Wednesday, 21 July 1858, Green Wood recorded in his plantation daily account book: "Mrs W. & Mr Powell & children got home from the Sour Lake. All well."
On Monday, 6 September 1858, Green Wood recorded in his plantation daily account book: "Mrs Wood carried E. S. Wood to Waverly to School."
On Monday, 6 December 1858, Wm Barnes Wood, in Green Wood's absence, recorded: "Green Wood & Wife left home for Galveston," and on Wednesday, the 7th, Bob & Jim got back from depot about 8 oclock at night."
On Sunday, 19 December 1858, Green Wood recorded in his plantation daily account book: "Returned yesterday from Galveston. Mrs. E. A. Wood got her arm Broke yesterday by a fall from Mr. Gafford's Piaza. The rail of the Piaza gave way and she fell backwards. Rode home after geting it set by Dr. Irons, 16 miles."
     It is interesting to note that Anna Griggs Irion's father's sister Linnah Griggs was the wife of Evelina's father's brother Lewis Bryant Barnes.
On Thursday, 18 August 1859, Green Wood recorded in his plantation daily account book: "Mrs. Wood, Ella, Mr. Powell and Campbell left for Kellum Springs in company of Mrs. Scott and Miss Ella Scott," and on Saturday, the 27th, "Mrs. Wood and all others got home from Kellum Springs."
On Sunday, 9 October 1859, Green Wood recorded in his plantation daily account book: "Mrs. Wood and Mr. Powell and Ella returned today from a visit to friends on the Brazos and on the way got from the traps three fine Buffalo fish; one weighed twelve pounds."
On 29 February 1860, Josephine Caroline

Brooks

wrote to Evelina Alexander Barnes:
     San Antonio Feb 29th 1860, "Menger" house
Dear Aunt,
     Thus you see our long journey has been accomplished, and we safely arrived at its termination, last monday noon; and you will doubtless be happy to know, that we did not find it as tedious & disagreeable as we had expected. When we left your house - we had no idea of going to Galveston - but after getting to Houston, we found the hotel so poor - that we concluded to go there & take the steamer to Indianola - so we spent two days in Galveston - Mrs Williams has grown quite stout - she told me that her husband had just bought a fine horse & rode every morning before break fast - and that she expected his mother would pay all expenses - as she had urged him to buy one. We were invited to take tea at Mrs Lufkin's, and after getting there - they insisted upon our remaining all night with them - so we did & had a very pleasant time. I left my large trunk at her house - so I have no fear about it now. On tuesday afternoon we left for Indianola, and arrived out side of the Bar the next morning & there we remained two days & a half - on account of low tide; and at last the steamer that we were on, could not get over - but a smaller steamer came along & we were transferred to her in a small boat. The sea was very rough & the waves dashing high, and I can assure you it was any-thing but pleasant -- Indeed I was really frightened & it was thought by all, that considerable danger & risk attended our being conveyed in this way - but it was the only way, as it was too rough for both steamers to come together, without doing great damage. We were finally landed safely - for which we felt very thankful. I think Indianola is a miserable looking place - we spent one night there & left the next morning in the stage. The weather was delightful & the road excellent. I am satisfied that this way of traveling - though very slow & tedious - is after all the best, if one wishes to see the country. But I must confess that the country on our route here, was very uninteresting - traveling through a vast prairie nearly all the time. Every thing appeared very different from eastern Texas - for there we could see well cultivated fields - if nothing more. We passed through several small towns - but there was nothing in any of them, to call forth any description. You of course wish to know how I like San Antonio. I have scarcely been here long enough to see much - but judging from what I have seen - it does not come up to my expectation & I must say that the descriptions I have had given me of this place - have been very much embellished - I can see no beauty about it. There are a few handsome houses - all the houses are built of stone. We rode out yesterday to the old missions - they are really worth seeing - The architecture of these buildings is rich & beautiful - built entirely of stone - above the door is adorned with statues cut in the stone - Some parts of these buildings are now used for a horse & Cow stable - strange perversion. The hotel is a very nice building - but the bed rooms are poorly furnished - We were first ushered into a room without a carpet - a bed - table washstand & one chair, only were in it - and the floor was really filthy - but we soon made them give us a room with a carpet - but the furniture was the same - except that they have given us two more chairs - There was not a place in the room to hang a dress - and Thomas asked the Proprietor to give us a wardrobe or bureau - but he would give us neither - so Thomas went out and bought a wardrobe - gave $20 for it - when we leave he will sell it so now we feel nicely fixed. Thomas is regaining strength rapidly - and if he can only get rid of his cough - I shall feel then that his health is really restored. On our arrival here - we were cheered by finding several letters from home - I was so rejoiced, that I almost forgot my fatigue - Pa & Ma had just heard of our arrival at your house - & Ma says tell Aunt to "to give you the directions for preparing Peaches & Tomatoes" - when you put them in cans. If it won't give you too much trouble - I would like to have you send me the receipt. The first night after our arrival here - it rained very hard - and this morning, it is very foggy & damp - so I see that they can have bad weather here - as well as in other places - The table here is quite good - but nothing extra. Thomas has made several acquaintances - but I have not made any - I suppose I shall after a while. The morning we left Danville - Dr Frierson called to see us - and kindly handed to me a prescription for a cough mixture for Thomas - he said that he would have made - but could not get the ingredients - Thomas had it made yesterday & has commenced taking it. Have you heard anything from Mr Whitaker? he looked as if he could not live to reach home - we left them in Montgomery - poor man, he was not able to get out of the carriage & he was so heavy, that it took several men to lift him. I should like to hear how he is. Have the Spirits made any progress since I left? Has Dr Stewart been over to call them forth? You must write me all about it. I should like so much to see you all. I felt very sad in leaving you - and I often think of the pleasant time I had with you & your kindness to my husband I shall ever remember. I hope the hunting party returned safely. Is Cousin John & Mr Cobbs with you yet? If so I hope the latter has made himself more agreeable. Please remember me kindly to Mrs Wood, Miss Davis & Mr Powell. Give my love to Cousin Green & family - Cousin Billie & Josie. Love to all the children and to Fannie Campbell - I would mention all the children's names - but there are so many - that it requires too much time - I have written this in haste - as I have not yet written home - and must do so right away. Thomas sends his best regards to you & Uncle - and will write in a few days. Please don't show this badly written letter to any one - I have written it on top of a box - as I could not get anything better. I hope that you will write me very soon - Now dear Aunt accept much love & a kiss for yourself & Uncle, from your affectionate niece,
     Josephine C. Tainter
Minimal punctuation added by the transcriber to enhance readability.
On Friday, 16 March 1860, Green Wood recorded in his plantation daily account book: "Mrs. W. and Mr. Powell left yesterday for Huntsville; had a full benefit of the rain I suppose."
Green

Wood

and Evelina Alexander Barnes appeared in the US federal census of 1 June 1860 in Montgomery County, Texas, next to their son William Barnes Wood.. Other members of the household included Campbell

Wood

, Ella Abercrombie

Wood

, Sarah Anne

Harris

, Eliza Stocks

Wood

, Charles Harris

Wood

, Willis Eason

Wood

, Elizabeth Ames

Wood

and Powell

Wood

. Green Wood is listed in the 1860 Slave Schedule with 106 slaves (33 of whom were age 10 and younger, and 8 of whom were age 60 and older) and 23 slave houses, for an average of 4-5 persons per cabin.
On Wednesday, 27 June 1860, Green Wood recorded in his plantation daily account book: "Mrs. Wood, Mr. Powell, Ella and Wood Powell and Wm B. W. and wife and daughter all left for Sour Lake." And on Monday, 1 July, "Bob returned from Sour Lake with the Waggon and six mules, left all well." On Monday, 9 July, "Started Bob with waggon and six mules to Sour Lake to bring the Bagage." And on Sunday, 15 July, "Mrs. Wood, Mr. Powell and the rest returned from Sour Lake. Mr. A. W. Speight and Lady came also.
On 26 August 1860, Josephine Caroline

Brooks

wrote to Evelina Alexander Barnes:
     Lake Dunmore Vt, Aug 26th 1860
Dear Aunt,
     Your letter so full of kind words deserved an earlier answer; but I trust when you hear my excuse, that your censure will be light. I received your letter a fortnight before leaving home; and just at that time - every moment was occupied in making preparations to leave - Indeed as soon as I returned home, I was over eyes in work, & could scarcely see my way through until I left. Since I have been away from home, little things have daily transpired to prevent my writing. But I hope dear Aunt - after reading this - you will not impute my long silence to intentional neglect. I will hereafter endeavor to be more punctual in responding to your kind letters. I was very sorry to hear you had been sick; I hope after going to Sour Lake, you returned home entirely restored to health - As so many friends accompanied you there - you must have had a nice time - how did Miss Sarah like it. My husband & myself often speak of you & Uncle with affectionate interest - we regret that we did not see Campbell - I suppose he spent his vacation home - when will he graduate? When Uncle went to New Orleans - we felt quite vexed that he did not come over to see us - Ma said she would have given anything to have seen him. We passed a week in Columbus - before coming north - Aunt Frances eldest daughter (Sarah) graduated just before we got there - she is an intelligent & pretty girl - she is only sixteen. We did not go out to Uncle Solon's, as his wife was daily expecting an addition to her family - but we have not yet heard of its arrival.
     My husband wrote to Uncle a few days since - Soon after we returned home - Thomas commenced attending to his business; & made himself sick again. I warned him against doing it - but all to no purpose, he had determined to sell out so he worked very hard to arrange matters, so that he could. He does not expect to return to Apalachicola - as the climate is too damp for him - but where our future home is to be - he has not yet decided - his health is so uncertain that he scarcely knows what to do - When we return to New York - which will be in the course of two or three weeks - he will then determine upon something I have very little hope of his ever being restored to health -- his cough is very bad - but yet the Dr -- tells him that his lungs are not effected. Oh, dear Aunt - you can't imagine how sad I feel about him - this is my first trouble, & it is very hard to think that he must be taken from me - but I hope & pray God may yet restore him to health - he appears quite discouraged.
     I believe you heard me speak of this place - we have been here over two weeks - & find it delightful. It is a lovely place for children - mine enjoy it exceedingly - they are out at play - nearly all day; & they look so well - I wish you could see them - I know you would be compelled to say, that they are fine looking children, & the best behaved you ever saw - they bear this character - wherever we travel. I can imagine I hear you & Uncle say "of course Josephine thinks her children perfect" - no, I do not think so, at all - but as you have never seen them, I must give you some idea of them - so I hope you will excuse this spirit of boasting. The lake here is beautiful, & the scenery around, cannot be surpassed - I have a most lovely view (of the mountains which encircle the lake) from my window - The hotel is situated right on the lake, & the boats are free - so we go out rowing very often - I wish you could be here. It is very cool here - I have only worn a thin dress, once or twice since since I came - thick clothes are the most comfortable all the time; & we have had fine [sic] almost every day. Pa & Ma are now at Saratoga - but will be here in about a week - quite a number of Apalachicolans are here - so we find it very pleasant. Tell Ella I often speak of her to my children, & they have a great desire to see her, & all of you - I should like very much to have some of your good fruit - we get nothing but apples - they don't get good fruit in New York, until the first of Sept. How does Mr Powell progress in love matters?I suppose Mrs Eddie Williams will reside in Galveston next winter - it will be pleasant for [her sister] Mrs J Williams, Remember me kindly to Mrs Campbell - Fannie, & say to Mrs Williams (if she is at her mothers) I should like to see her now, with her babe - it must be quite a pet with all the family - Have you ever heard Mrs Campbell say anything about Rebecca's being engaged? It is believed by all, in Apalachicola that she is to be married to a Mr Beal there - but how soon we don't know - he is said to be a couple of years younger than she is - he is very highly esteemed by his employers; & I expect he will make her a good husband - How is Josie & Cousin Mary Jane? I think of them every sunday as going over to your house to dine - I should like to see you all together again - When my husband gets in a low spirited mood - I often wish that cousin Green could happen in, & chat with him - he cheered him so much last winter - he often speaks of him, & the kindness of you all - neither of us will ever forget it - You have no idea how much I love you, and Uncle I shall always remember my visit to you with pleasure - & I hope we shall have an oppor[tunity of see]ing you again sometime - & returning your hospitality. If I] was house keeping - it would give me so much pleasure to have you visit me. Ma often says, she wishes that you & Uncle would make her a visit, & I think you might too - but if we don't return home - I should miss seeing you - but I[ know Pa & Ma would give you a warm welcome - Does Miss Sarah take her favorite walk by the pig pen yet? or has she found a more attractive path - If you don't understand this - she will - My husband has gone off fishing this morning - he really ought not to go - but he gets tired of being in the house so much - I am afraid he will make himself sick.
     Does Mrs Sallie Wood think of leaving you, this fall? I am glad you have got her other daughter with you - Give my love to cousin Billie & wife, & to all the rest of your family - even the servants. I did not bring Peggy with me this summer - she preferred remaining home, with her husband, so I brought a sister of hers - she is only 22 years, but I don't think there is any danger of loosing her, She appears too much attached to us. I have written you a long letter - and I am afraid [it will] weary you - before you finish [I hope] you will excuse all imperfections as I have written in haste - Do write me a long letter soon; & tell me all about yourselves - I am anxious to hear from you - Accept my warmest love & a kiss for Uncle & yourself - Yr affectionate niece, Josephine C. Tainter. P.S. Direct your letter to me
     Mrs T. P. Tainter, Care Messrs Carhart & Brother, New York
Minimal punctuation added by the transcriber to enhance readability.
On Thursday, 22 November 1860, Green Wood recorded in his plantation daily account book: "Mrs. Wood went to J. C. Abercrombie's to see a sick child."
On 16 January 1861, Josephine Caroline

Brooks

wrote to Evelina Alexander Barnes:
     Apalachicola, Jany 16th 1861
My Dear Aunt,
     For a long time I have looked for a letter from you - but in vain. I have never received a reply to my last letter. While we were north - my husband received one from Uncle, & he mentioned that you would write one very soon - I have concluded that it must have been lost - as I cannot believe that you would intentionally neglect writing me. I have really felt quite uneasy, lest you or some of your family might be sick. Since I left your house dear Aunt - not a day has passed without my thinking & speaking of you & your family. I can never forget your & Uncle's kindness to us; and my mind will ever revert to the time we spent at your house with pleasure. You endeared yourself to me so, that I left you with an aching heart. I often wish that I could see you & I have a nice long chat. We returned home the last of November - but my husband did not come with us. He remained in New York two weeks after we left; and then he went out to St. Paul in Minnesota - He will remain there until spring - When I left him - his health was much better than it was last season & he looked remarkably well - but yet his cough troubled him. He now writes me that he never felt better in his life & his cough is improving. So I hope he may yet be restored to health. It is a hard trial to me, to be separated from him, but he thought it best for me to remain with the children this winter, as he was not sick enough to require my care. The climate of St. Paul is intensely cold & dry. In winter they have no rain. He says he stays in the open air nearly all the time, & the cold agrees with him. The Hotel there is very good, & he is comfortably & pleasantly fixed. He carried letters of introduction, so he had made many pleasant acquaintances. Tell Uncle that Mr Tainter writes us that Corn in Minnesota, is 35 cts per bush -- & Oats at 18 cts. He says they have the greatest quantity of all kind of wild game. It is said to be a delightful place in summer, so cool.
     I scarcely know what to write you that will be interesting, as secession is about the only subject discussed now. I am very sorry to say that our little state went out of the Union on the 10th inst - I hope she will yet be driven back - It is disgraceful that the Union, gained by the blood of our fathers should be broken & dissolved. War will inevitably be the issue of all this. As you are living in the country - I suppose you do not hear so much of the excitement. In our little city we see & hear a great deal, more than is agreeable. Tell Uncle I know that he had too much good sense to be a dis-union man. I hear that Uncle has become a firm believer in Spiritualism - Is this true? I suppose you have made great progress - since I was with you - I would like to look in upon you all, when you get seated around the table. You must write me all about it - I suppose Dr Stewart favors you with his presence occasionally. Not long since we heard of the death of Cousin William Mitchell - he died quite suddenly. Is Mrs Sallie Wood with you this winter? Of course Miss Sarah is with you, & I suppose as devoted as ever to her little school. Tell her I have learned to play Eucher & like it very much - I am sorry that I did not understand it last winter, as Miss Sarah was so fond of it.
     My two eldest children go to school & are learning very well. I wish you could see them. I often tell them about Ella & Wood. Is Mr Powell married yet? Is Campbell at College this winter? I regret that I did not see him - I hear no talk about Miss Rebecca Clark's getting married this winter - but I think she is engaged. Please remember me kindly to Mrs Campbell & her family. When I was in N. York I heard that Mrs Menard was to be married to a gentleman there, who is an Editor of reporter of some N. Y. paper - He is said to be worthless in every sense, and only wants to marry her because he thinks she is rich. I was told this by a person who knows him very well - I would have called on Mrs Menard - but did not hear that she was in the city - until a day or two before she left. Ma & Pa say that you & Uncle must visit us this season - we would be delighted to see you. After you get to Galveston the journey is not much; & I think you ought to come - It would do you good - Now dear Aunt do persuade Uncle to come. I imagine I hear him say that he is too old to leave home - but I say he is not, & he must come. It is just a year today since I arrived at your house - I would like to see you all this morning. I suppose Cousin William, Josie & Lina visit you as often as ever, & Cousin Green's family too - Give my love to all of them.
     I hear that the steamer will leave in a few moments - so I must close. Now Aunt - do write soon. I am anxious to hear from you all. Tell me all about your-selves. Pa & Ma desire me to give their love to you & Uncle. Remember me kindly to the servants - Accept my best love & a kiss for Uncle & your dear self
     Affectionately your niece, Josephine C. Tainter
Minimal punctuation added by the transcriber to enhance readability.
On 3 February 1861, Eugenia C.

Barnes

wrote to Evelina Alexander Barnes:
     Independence, Feb. 3rd 1861
My Dear Cousin,
     About a month ago I received your very unexpected, yet, most gladly - welcomed letter. I feel ashamed of this long delay in answering it, but as you seemed so anxious to have me return to school, I thought I would not reply until I was again numbered with the happy hearted inmates of Baylor University, then you would feel certain that I was at school. I thought of remaining at home this term on account of the non-attendance of any of my class mates -- but during the Christmas holidays I received a letter from a member of my class saying that she intended returning, so I gladly determined to come and engage in those intellectual persuits which are both entertaining and instructive. I hope you will not think that I did not appreciate your letter, for it was one of the most welcomed epistles I have ever received -- welcome because it eminated from a cousin whose high qualifications I have ever been taught to respect and love -- Welcomed still with much joy because it was altogether unexpected, and from these reasons you will infer that I will oft gaze upon its pages with delight, thinking as I do that it was dictated by a friendly heart, and traced by the hand of a Cousin who felt interested in my future happiness. Dear Cousin Evelina I thank you for that interest, and may I be worthy of your approval is my sincere wish. I think not that I wished to remain at home because I had "wearied in well doing," for I have long since learned that Wisdom's ways are pleasant and that all her "paths are peace." We had vacation during the Christmas holidays and I spent my time very pleasantly indeed. Had a great deal of company and really enjoyed myself so much I could scarcely leave. You know that young persons naturally love enjoyment. I am looking hopefully forward to much pleasure after leaving school. Miss Evelina Wood, or, "Little Sis," is the sweetest child I ever saw. She can run about every where and is able to speak many little words. She is as good as she is pretty, and consequently a great favorite with us all. Ma's and Pa's life seems bound up in that child. Cousin Evelina, I hope you will come up to our next annual examination -- You are aware that I will graduate then. I am studying diligently to obtain the highest honors. My studies are very difficult and try to the utmost my powers. Yet they seem light and I engage in them with a joyful, hopeful heart, when I remember that my parents, relations and friends feel a deep interest in, and looking anxiously forward to, my graduation. Sister is at school this term. She has not been entirely well since her arrival. She seems very well pleased and quite cheerful. She sends much love to you all. Cousin Evelina, I hope you will write often, for tis sweet to receive such manifestations of interest in for my success. Kiss Cousin Ella -- Best love to all the members of the family -- Cousin Billie & Josie
     I remain affectionately, Eugenia Barnes
Minimal punctuation added by the transcriber to enhance readability.
On 15 April 1861, Sarah Matilda

Lincecum

wrote to Evelina Alexander Barnes:
Dear Mrs. Wood,
     I ask ten thousand pardons for my seeming negligence -- If you had seen with what eagerness I perused your dear letter, you would have expected an answer the following day -- But Ah! circumstances throws "reason and will in the shade, don't you think so. -- How I would love to peep in your garden of "Eden" (except the forbidden fruit) and at least inhale the fragrance, of your beautiful flowers -- If I had time so limited. Mr Affleck can not compare gardens, without feeling slightly chagrined. I am so much in the "hope" that the season may prove a fine one. Mother, Father & I anticipate a fine trip West to Austin and the mountains. We have a Ranch in Hays Co, a beautiful situation. Oh! how I love the mountain air the beautiful wild flowers -- that have almost been born to blush unseen." and listen to the music of the waterfall where the pale face seldom hath listened before. It is strange I love to travel so well and yet leaving home is so trying. I dare not let myself think of the dearest spot to me on earth -- I have so many pets, mother says is one reason that I dislike leaving home. Let me give you a list of my Pets -- I have a melodian with strains as soft as the music of angels -- and three delightful canary birds -- a fat peafowl that recognizes my voice from any other -- that is not all but you might laugh at my others.
     You remember I wrote you that father and I were getting up a Herbarium to present to the College [Academy] of Nat. Sciences at Philadelphia. I gathered the herbaceous plants and Father the trees. O bless me . . . you have no idea what an overflow of praise we received, some of our specimens are entirely new to the Botanists. I received a letter from the president of the college yesterday. he is quite an old man -- but says after reading my letter and examining my flowers -- he wishes he were young again. he would come to our sunny Texas and see the girl that has a nature so congenial to his own. I wish he would come any how, but still I have never yet studied a Botany so well versed as my father. Will it not be horrible if we have war for seven or eight years -- and it seems inevitable, but a year is only a wave. Oh how trouble can lengthen where pleasure seems so fleeting. But let us change the theme. The farms are looking quite well. we had a nice rain on the 13th inst. -- Father thinks the wheat all very near spoiled with the rust. Poor Miss Mary Mathews. I never dreamed she would leave the paternal roof so soon. I cannot admire the spirit. Do you not think that we young ladies should study human nature more? The above named young lady had everything that could make her comfortable and happy -- and yet she rebelled." -- You did not tell me why or whom she had gone with ? -- he certainly is charming if he has red hair -- I guess he looks forward to grey hairs with pleasure. -- High! ho! I have written enough of my nonsense for one evening. please do not weary of me for I love your letters. I promise to do better in future -- I believe I am slightly touched with the spirit of "Mars." that is the order of the day now. Father says tell you he is studying the "ants and the grasses" -- which he finds very interesting. Mother and father send their best love to you and family. also remember me to all especially Ella, and believe me your devoted Friend, S. Lincecum.
     Marginal notation: Mr Fitze sent me some beautiful music, the airs are "par excellente." Write soon if you please.
     Yours, Sallie.
Minimal punctuation added by the transcriber to enhance readability.
On 20 September 1861, William L. Barnes

Campbell

wrote to Evelina Alexander Barnes:
          Richmond Sept 20th 1861
Dear Aunt
     I want to hear from home very much and suppose the first step to take is to write myself. As dreary and lonely as my little den looked when at home I can assure you that the sight of it now would be most gratifying. A trip of this sort is the best school to learn one to appreciate the love of friends and comforts of home. Another important lesson have I learned which is to take care of money if I ever get any more. I spent the most of my money while in camp at Harrisburg, and I have felt the need of it very much since. Our prospects to get any money from the Government is not very [?promising?] as they pay it out faster faster than two mills can make it. And there are thirty pay rolls in a head of ours. The life of a soldier is any thing but pleasant and I can assure you that I am heartily tired of it. I never did like to be in a crowd. And I have found nothing in our company to make me alter my notion. But of all the companies from Texas I think ours are is the most preferable. I left home expecting a rough life and to do my duty as a soldier. I think I have done so – so far – and I shall continue to do so while I belong to the army if it cost me my life. That trip across Louisiana cooled the ardor of many of the boys and most of them thought as I did, that they would never join another infantry company. I have often heard it said that every one was made for some particular purpose. It may be so But I have concluded that I never was made for walking. I have become so perfectly disgusted with it that if I ever get home horse flesh will be bound to suffer. As to war news there is none. Occasionally we hear a rumor of a battle which in every instance was denied the following day. And if you have heard any war news you may set it down as false. Most of the knowing ones here say a battle is inevitable in western virginia on account of the proximity of the troops. A great many troops have been sent off since we came and it seems to be the intention of the Government to have fighting some where. But it is impossible to tell anything about it. We have received no arms yet. or the promise of any. or any intimation where we will be sent. Our Field Officers have not been appointed yet. Mike came out to camp last night dressed in his uniform. He looked quite Military. He is very popular with his men and seems to be so with all of the captains of the other companies. Campbell is also liked very much and stands a camp life finely. You have every reason to feel proud of your son. He is corteous and gentlemanly to all And in no instance has he wounded the feeling of anyone. and therefore is very popular. I walked over Richmond yesterday to see the sights. The capitol itself is a very common building but the grounds are laid of beautifully. The statues were something new to me and I gazed upon them in perfect wonder. Any city man would have at once pronounced me at once a Texas hoozier. upon main street I met a great many ladies shopping, and I must say in spite of all Uncle Woods lessons, that they were all of the ugliest set of ladies I ever saw. John was with me and we both agreed that there was not one even good looking among them. Tell Billy I would like very much to hear from him, and tell him to say to my Negrus that I often think of them and I would like very much to see them. I will write to Billy soon. Give my love to all. Kiss Ella for me. John wishes to be remembered. The health of our company is very good. George Yoakum is sick, but is improving slowly. Tell Uncle Wood I miss his fat Mutton. They feed us well enough But I would rather be at your house where everything is fixed up right. Please write me where Duncan is and what he is doing. I would write to him if I knew that he was in Huntsville. It seems to be the general impression here that the war will last several years so there is no telling when we will get back. the time we have been absent seems very long to me. Give my love to Aunt Ann and family.
          Affectionately your Nephew
               W. B. Campbell
Minimal punctuation added by the transcriber to enhance readability.

William Barnes Campbell wrote from Virginia to his aunt Evelina Wood, postmarked 26 February 1862, but only the envelope has survived.
The following appeared on 16 April 1862 in The Tri-Weekly Telegraph:
Ed. Telegraph--I beg to acknowledge the receipt of the following articles, contributed for the Hempstead Hospital, by the ladies of Danville and Waverly, through Mrs. Major Green Wood, of Danville, Montgomery county:
     278 lbs. lard, 160 lbs. ham, 40 lbs. soap, 6 doz. candles, 88 lbs. butter, 93 doz. eggs, 2 calico spreads, 2 comforts, 12 mattrasses, 30 sheets, 27 pillows, 40 pillow cases, 40 towels, donated by the following persons:
     Mrs. Mayfield, Mrs. Hughes, Mrs. Spiller, Mrs. Sessum, Miss Sarah L. Davis, Mrs. Green M. Wood, Mrs. J. M. Leivi, Mrs. Geo. Redding, Mrs. Major Redding, Mrs. Maj. Green Wood, Mrs. McGarr, Mrs. Charles Abercrombie, Mrs. Tryler, Mrs. Dr. Carr, Mrs. W. B. Scott, Miss Thompson, Mrs. Tabb, Mrs. Richard Williams, Waverly; Mrs. Col. Campbell, do; Mrs. Dr. Campbell, do; Mrs. Dr. Scott, do; Mrs. Col. Jno. Hill, do; Mrs. John C. Abercrombie, do; Mrs. Laura A. Scott, do; Mrs. Wm. B. Wood, Danville; Mrs. Wynne, do; Master Solomon Wood; Major Green Wood's servant[s], 31 doz. eggs; Mrs. Green Wood, cash, $10; Miss Sarah L. Davis, $10; Mrs. Dr. Stewart, $5.
                    Mrs. C. A. Groce,
                Principal Hempstead Hospital.
Hempstead, April 10th, 1862.
The following appeared on 13 May 1862 in the Galveston Weekly News:
     Donations received at the C. S. Hospital, Galveston, for the month of April: From the "Ladies Aid Society," of Danville, Montgomery county, through Dr. Campbell -- butter, eggs, chickens, candles, and socks. . . .
The following appeared on 13 August 1862 in The Tri-Weekly Telegraph:
     Montgomery, July 22, 1862.
Mr. Cushing, (not Mr. Editor)
     I have thought several times since the frigate Santee blockaded our port, of writing to you, just to tell you what a good thing it has been for us all up here. You have long since heard, through your correspondents from various places, what a change has come over the spirit of the ladies, I mean of Texas since Old Abe (I like to have written old Satan) took possession of our waters, but I do not remember to have seen any account given of the industrious wives and ingenious daughters of Montgomery. Now, as they will not speak for each other, I will invite myself to let out some of my pent-up thoughts relative to their rapid improvement in the way of learning how to live. I think the aforesaid old and young folks have distinguished themselves in this simple, but grand and indispensable art. I think, also, they have agreed, with one accord, to dispense with dear bought luxuries, and content them with Confederate comforts. I think, too, that Yankee commodities will forevermore be minus about their premises and dwellings, as every body seems to have found out a way whereby they can be free and independent. Oh! if you could only spare time to make a visit to this section, your eyes would be gladdened by the sight of many good and substantial articles of home manufactory. Why, the ladies are making nice cotton and wool cloth, genteel bonnets and hats, comfortable shoes and hose, good fitting gloves and durable fans, besides superior starch and efficacious medicine, strong bridles and rope girths, round buttons, excellent pens, black ink, &c., &c. Then you could feast on fresh home-made cheese and other cheap necessities.  I could tell you many things about the economy of us "rebels," but that would make my letter too long. The fashion leaders, even, are at home this summer, as warm as the weather is, and I hear no talk of their ganging to Newport, Saratoga, or Niagara. I say again, the blockade has been a good thing for us all in Montgomery town and county. Yes, it has been good for everything, especially for the money-purse and Bacchanalian devotees. 
     Good night, Mr. Cushing. Votre amie, Texas Rustic.
On 30 September 1862, William L. Barnes

Campbell

wrote to Evelina Alexander Barnes:
          Near Winchester Sept 30
Aunt Wood
     We have stopped marching for a short time and I write to let you know of our whereabouts. After a short and unfortunate trip through Maryland we are again camped on Virginia soil six miles east of Winchester. The trip was a very severe one and proved fatal to many. I suppose you have heard ere this of the battle of Manassas and the part played by our brigade. The battle was most terrific and the loss in our regiment was very severe. There was fighting for several days before the general engagement came off. On thursday evening late our brigade was ordered forward, double quick march. We advanced about two miles forward without our regiment meeting any resistance. On our left they had a pretty severe fight for a short time. it was night, when the enemy gave? back, and followed by our brigade some distance. We stopped about two and one half miles in advance of our position started from. But during the night finding the enemy were trying to get in our rear we were ordered back to our former position. Where we remained quiet until next evening about three o'clock when we were again ordered forward. Our company being in front of the regiment as skirmishers, we went but a short distance before we were fired upon. and soon came upon the Zouaves waiting for us. The fight now became general. And I had no time to notice any thing going on except in my own vicinity. The enemy made but a feeble resistance. Their dress made them a good mark and long will they remember the fifth Texas. we continued advancing until we forced back three lines of the enemy and two of their batteries. One of which we captured. Our reinforcements came up by this time and we were ordered to fall back. But our regiment was considerably scattered and a few of us did not get the order. I got in with a South Carolina regiment and was in the fight until dark. I was struck twice but nothing serious. Campbell was also struck by a piece of shell but did not have to leave the field. Billy Wynne and Louis Mass fell shot through the head. Very few of our company escaped unhurt. Spivey and Harris of Huntsville & Martin Nelms of Waverly have since died of their wounds. Our flag was shot down seven times and had twenty two holes in it. The enemy retreated during the night leaving us their dead to bury and their wounded to care for. We passed over the battle field next day and the sight was really sickening. We made forced marches across the Potomac and had a quiet time until we got to Hagerstown where we rested two days. And then we were sent back sixteen miles to Gen. Hills relief, who was fighting the whole of McLelland army. we got up just in time to save our receiving a terrible defeat. It was bad enough however as it was our army fell back during the night in the direction of Shepherdstown. When we were met by a courier from Gen. Jackson saying that he had captured Harpers Ferry and eleven thousand prisoners and that he would join us [the] next day. Gen. Lee at once halted and determined to have the fight out. Which they did on the 17th. It is considered the biggest battle of the war. Neither side claims a victory. Pirtle of Waverly and Tom Edwards was killed in our company and Ridgway wounded and in the hands of the enemy. Peter Williamson received a slight wound in the arm. I had been sick for some time an was not in the fight but was close enough to get an awful shelling Campbell had also gone to the rear sick and tired down by incessant marching. The position of the two armies at present is this. The enemy are scattered from opposite Shepherdstown to Harpers ferry threatening to cross the Potomac And our army is stationed between Martinsburg and Winchester waiting for something to turn up. It is generally believed that there will be no more big fighting this winter. There is no prospect of Peace yet. We found very few secessionists in Maryland. And our whole forces are opposed to going into it again.
     The surviving letter ends here; minimal punctuation added by the transcriber to enhance readability.
On 26 February 1863, William L. Barnes

Campbell

wrote to Evelina Alexander Barnes:
          Near Richmond Feb 26 1863
Aunt Wood
     After many ups and downs though without any very serious accident, I arrived at Richmond on the 11th of this month. Where I met with Campbelll on his way home. I was very glad to find him looking so well. I suppose he is home by this time and enjoying himself finely. I joined the regiment on the 12th just one month from the time I left home. I found Mike looking very well and is exceedingly popular as a Col. his honors rest very easy upon his shoulders. I have been staying in the same tent with Mike since I returned. Col Bryan his mess mate is in town sick. As soon as he comes out I will return to my company. My trip has proved a very unfortunate and disagreeable one in deed. After enduring many privations in getting to camp, I found them all very much surprised at my coming. I was neither wanted or looked for and could have staid at home until spring without any trouble. The houses I found them occupying was not near so comfortable as our last winter quarters. I did not have time to get used to the place before we were ordered to get ready for a march, we were as usual kept in the dark as to our destination. The morning we left it commenced snowing and blowing very hard. the weather was very severe. we camped that night on a high hill where the snow was lying at least eight inches deep. The next two days were about the same But on the fourth day the sun shone and had soon melted the snow on this day we passed through Richmond. Where we found a large crowd [s---d] together to witness our passing through which was done in fine style. We crossed James River on the Petersburg road. march about three miles and struck camp at which place we are still at. We are still in the dark as to where we are to be sent. Though it is the general impression that we still go to Charleston. The night we got to this place there was the heaviest snow I ever saw. The ground is still covered with it. One year in sunny Texas is worth at least ten in this infernal country of never ceasing snow and rain. On our march I passed close by an alabamian lying dead on the road side and was told that he dropped dead caused by exposure and hard marching.
     Mike has just gone into town. He requested me to say that he has slept in Miss Ellas old dress [sic] and finds it very warm and comfortable Many thanks to her for it. I have just finished reading the morning papers. I find nothing new in them at all. I have made inquiries since I got back if there were any better prospects of peace But I can hear of none. The only chance that now exists is that the north western states may be able to create a difficulty among themselves. The Connecticut Legislature has also passed peace resolution But I fear that when the time for action comes that they will back down as usual. Mike says that he is very anxious to see you all But that he will not leave his regiment again until the war ends. I wish I could stay as well satisfied as he seems to be. I wrote you from Nacogdoches when I laid over two days. From there I went to Sabine town where I had to stay two days in a miserable place We started again and only went eighteen miles to a Mr. Nash where we again had to lie over. At this place I found a very pretty girl and consequently enjoyed myself very much. We got to Alexandria about twelve o'clock at night and with much difficulty got a place to stay at until next day. When we took a steamboat for Vicksburg. When in about ten miles from the mouth of Red river the boat was met with orders to go back again up red river as the enemy's gun boats had passed Vicksburg. The boat landed us at place where it is three miles across from one river to the other. I hired a carriage and sent Mrs. Glover across and myself with the three others walked over. After getting to the Mississippi I hired two small boats. In one I put the baggage and all of us rode in the other. We went fourteen miles down the river to Fort Orleans. The next morning I got an ox wagon and went to Woodville where I hired a mule team which carried us to Summit on the New Orleans and Jackson rail road. With the exception of crowded cars we got along very well. Mrs. Glover was very pleasant and did not object to riding the wagons at all. She knew that I done every thing that I could for her comfort. When we seperated she made me promise to write to her if I was taken sick or needed any thing and she would do all she could for me.
     I did not stop but one day in Montgomery and I did not see any of our relatives.
     The boys are generally very healthy. Dick Hardy is fat and looking fine. George Yoakum ought to have a discharge, he is in Richmond with the scrofula. Creed Woodson is also there with a disease of the kidneys. Wm. Lewis is in camp fat as a bear. I gave the things to Fuller. He is very proud of them and is under many obligations to you. I have not seen Stanton yet. I have fallen off ten pounds since I have been to camp. I cant say much for my self as I love home too much ever to be satisfied any where else. Give my love to Miss Sara and the balance of the family.
          Truly your nephew
               W. B. Campbell
Minimal punctuation added by the transcriber to enhance readability.
The following appeared on 18 November 1864 in the Texas Republican:
     Clothing for Soldiers.
      Office Chief Clothing Bureau, T. M.
Dear sir:
     You are directed to organize in Ark., North La., and Texas, societies for the manufacture of army clothing. For this purpose you will adopt such rules and regulations as may appear to you just and proper.
     The organizations when completed will be reported to this office, when material will be distributed to them for manufacture into clothing. Liberal inducements will be offered by you for all work that may be done, in this connection.
     My object is to create resources for the manufacture of ten thousand suits monthly. Our necessities are such that it must be done, and I rely on your energy and the cordial co-operation of our ladies to attend success. Respectfully, W. H. Haynes, Major and Q.M., C.S.A., Chief Clothing Bureau.
     And in the same issue, Mr. A. H. Hay, Agent Clothing Bureau, writes: In connection with the exchange of Calico and Domestic, for garments of home-made cloth, I will be at the following places: Greenwood, Thursday Dec. 8; A. Wright's, 10; Jefferson, 12; Marshall, 14; Ash Spring, 15; Mrs. Ben Witcher's, 16; Gilmer, 17; Starville, 19; Tyler, 20; Pittsburg, 23; Mt. Pleasant, 24; Dangerfield, 26; R. Huges, Foundary, 27; Nash's Foundary, 28; Linden, 30; Douglasville, 31; Bright Star, Saturday, January 1; Walnut Hill, 3; Lewisville, 5. Other places in Arkansas will be visited.
     At these places I hope to meet ladies from other places, acquaint them with the work, and have societies formed.
The following appeared on 1 March 1865 in the Galveston Weekly News:
     Blessing of the Blockade -- Texas Home Industry.
     We have on our table a group of nineteen samples from the looms of a single plantation, embracing such a variety of quality, material, color and fabric, as to command the admiration of all who see them. No two of these samples have the same color or quality; and they range from the heaviest plain cotton domestic, to a fine and smoothly executed stripe and check for dresses -- from the heaviest double twill bleach pilot cloth, to a nice, purely white and soft flannel, linsey and tweeds of several qualities and patterns. The grey jeans, or cloth, is so exact a fac simile of our grey army cloth in color, and so superior to most of it in quality, as to answer well for Confederate uniforms.
     Would that we were better skilled in fabric technicals, and the operations of the factories, that we might do justice to the patriotic handicraft and economy of "Greenwood," in Montgomery county.
     We learn with surprise, that the two looms -- kept constantly running the one with the fly shuttle, and the other with the common hand shuttle -- have yielded, during the past year, more than six thousand yards of manufactured goods, of which these samples are fair specimens.
     Every color is borrowed from the neighboring hills and forests; every fabric of cotton and wool consumed, grew upon the same plantation that manufactures and wears them; the looms, the shuttles, the harness and the slays, the reeds and the warping bars, were made out and out, on the spot where they are used, and not a nail or bolt of iron is found in the loom house.
     The slaves that do the labor in these manufactures were born in the family, and readily learn to perform each their special part in the work. The intelligence and supervision has been furnished by the lady of the manor, and not a hired assistant in any department has been employed; and only two articles have been purchased to enable them to obtain these results, namely, the cards and the copperas. The latter of these is abundantly produced in the hills of Texas, and is being rapidly brought into market. The latter [former], we hope, soon to see manufactured within the State.
     We cannot add that this prolific product of the loom has been entirely consumed on the plantation that has yielded it; on the contrary, besides clothing entire the slaves of the plantation, it graces the parlor of the mansion, in the dresses of the elegant and intelligent mistress and her family; and it blesses many a soldier in the trenches and on the field, from Texas to Maryland.
     The county is greatly indebted to Major Green Wood and his accomplished wife and family, for these testimonials, to the blessings of a blockade. Heaven spare their noble boys who have borne their industry and their patriotic blood through storms of battles in the farthest and bloodiest fields of the Confederacy.
Evelina Alexander Barnes became a widow at the 12 February 1866 death of her husband Green

Wood

.
As executrix of her deceased husband's estate, Evelina Wood sold five tracts of land, in aggregate about 1,174 acres, to her cousin Eliza Dixon Hall Brown, widow of Dr. Thomas Brown, for the sum of $11,600, according to a deed dated 23 December 1867, recorded in the deed books of Montgomery County, Texas.
William Barnes

Wood

and Cornelia Josephine

Mitchell

appeared in the US federal census of 1 June 1870 in Danville, Montgomery County, Texas. Other members of the household included Evelina Alexander Barnes, Evelina

Wood

, Campbell

Wood

, Ella Abercrombie

Wood

, Eliza Stocks

Wood

, Elizabeth Ames

Wood

and Powell

Wood

.
Douglas McQueen

Campbell

and Ella Abercrombie

Wood

appeared in the US federal census of 1 June 1880 in Montgomery County, Texas. Other members of the household included Evelina Alexander Barnes, Ann Williamson

Clark

, Sarah Patterson

Campbell

, Emeline L.

Campbell

and John William

Campbell

. Emma was the daughter of Douglas' widowed brother John W., and Sarah and John W. were the children of their deceased brother Marcus.
On 12 April 1887, Evelina Alexander Barnes wrote to William Wood

Powell

:
     Willis, April 12, 1887
My Dear Grand Son,
     Yours of 26 March came in due time. Was glad to hear from you & family. I came to town last Sunday - Billie, Josie and Lina's two oldest children with us. I have just had a call - interruptions trouble me more now than formally. My health is as good as usual, though have not regained my strength. take some exercise every day to enable me to go round visiting a bit better – Ella is assisting Mrs. Woolridge in preparing for Maud's wedding (the only daughter) She marries on the 14, next Thursday night. A Mr. Watson who stands well in Willis. he is a dry goods clerk in T. W. Smith's store. Ella assisted in making ten large cakes yesterday & they are finishing them this morning. Ella's afternoon will be devoted to icing & embossing them. she had several cakes baked here & will prepare some of the meats in her kitchen. Mrs. W. knows very little about such things. Lina has been quite sick recently – was not well when I left – I passed last Friday with her. she has a beautiful place a nice but very small house. She keeps a cook & grown nurse. Her time is taken up with out doors work. She says she is determined to raise her meat this year & sell butter enough to pay for her sewing. She can't bear house work. She is now raising bronze turkies. they are very much larger than the other kind. has sent on for Pekin ducks. Jim A. has been in the Alliance store in Willis the last 7 weeks. He gives the farm no attention whatever, goes home Saturday nights & returns Mondays. Josie keeps Josie Lee altogether and she is a deal of trouble. Her dear patient grand ma says she can not do without her. Billie has so little to do at home for the want of rain. He comes to Willis about three or four times per week. A great deal lovely weather & east wind but no rain. ground too hard to finish planting cotton, garden almost at a stand still – Billie sets out cabbage plants by watering the ground so as to pull them up & water the ground to set them out. His corn looks green & pretty but almost quit growing. Campbell writes me no rain in his county yet, he thinks of looking for a location to practice medicine. I can not see how he is to live – but will try to hope for the best. Billie went to Huntsville last Thursday. started at 5 o'clock A.M. and returned at 5 P.M. went in his buggie. He dined with Judge Randolph & Eliza. Eliza wrote me a lengthy letter by Billie. About three months she expects a little Randolph. She was 40 years old last January. Your aunt Mary Jane is going to Montgomery soon & from there to North Carolina to see Mrs. Brevard, the lady by whom she was raised. Dr. Legrand wrote Mary Jane he would foot all of her expenses - a dear good brother. Milton Wood is building a brick house with seven rooms. He is making money & saves it - he has only one child. George Wood & wife will begin keeping house now very soon. Green Aleck will remain with his father & mother. I have not a correspondent in Montgomery consequently know but little of my relatives. Hope to see Annie Coxe soon & hear from Col. Powell & family. She came when I left. Lizzie Hill I hear from often, but see her seldom. She stays at home closely, has not been to see Eliza yet. I wish your three sweet daughters & Campbell's girls, Lina's & Ella's little red head could see each other & become acquainted. I want Lina to send you one of Willie's pictures recently taken. How I long to see you my dear boy and your sweet wife & children. I sometimes think Is life worth living? when kindred are so far away. Sarah & brothers are building & will soon be in the new home all their own - it is next door to Mrs. Mary League her aunt. She was Mary Williams is well off & assists Sarah a good deal. The Campbell family all well in Galveston I'm still fond of teaching & seeing the money come in. Billie & Josie will be in to the wedding. Dr. W. lives across the street from us. I expect to witness the ceremony. All join me in love to you & your dear ones.
     Your loving grand mother, E.A. Wood.
     I hope you & Campbell keep up your correspondence – Write soon again.
Letter in private collection of B. M. Henwood, descendant of Wm Wood Powell; original transcription by R. E. Reichardt.
Evelina Alexander Barnes died on 2 April 1888 at age 81 in Willis, Montgomery County, Texas, at the home of Ella and Douglas Campbell.
She was interred at the Green Wood family cemetery, Montgomery County, Texas.
The following appeared on 3 April 1888 in a Montgomery County newspaper: Died, at Willis, Texas, Monday night, April 2nd, 1888, at the residence of D. M. Campbell, Mrs. Evalina A. Wood, relict of Mr. Green Wood of Montgomery county, Texas, in the 82nd year of her age.
     The above simple announcement will carry sorrow to every heart that was ever intimately acquainted with her whose span of life is here recorded as closed, for to know the subject of this unpretentious notice was to pay an honest tribute to those bright and winsome graces of mind and heart with which nature had so liberally endowed her.
     Mrs. Wood, whose maiden name was Evalina Alexander Barnes, was born in Sparta, Hancock county, Ga., October 23, 1806, but moved to Alabama while still a girl, and there she lived until she attained to a beautiful and attractive womanhood. She found in the person of Mr. Green Wood, of Jefferson county, Ga., one unto whom her steadfast love was freely given, and on the 28th of February, 1822, she became his wife. Shortly after their marriage they moved and settled near Montgomery, Ala., where they lived for many years honored and beloved by all who formed a part of the bright circle of their acquaintance. In the year 1850 Mr. Wood moved to Texas and settled near Danville, this county, where he became one of the most extensive and successful planters in the state. Here they lived until 1866, surrounded by loving children and appreciative friends, when Death came and claimed him who had lovingly shared the joys and sorrows of her eventful life; and after this bereavement she spent the residue of her pilgrimage on earth alternating between the families of her children.
     Mrs. Wood was the mother of twelve children, four of whom--Maj. Wm. B. Wood and Mrs. D. M. Campbell of this county, Mr. Green Wood of Grimes county, and Dr. Campbell Wood of San Saba county--survive her.
     Her remains were taken Wednesday morning to the old family burying grounds about a mile north of Danville, whither they were followed by a sad, silent and sorrowing throng of weeping relatives, bereaved friends and sympathizing neighbors. Here, by the side of him whom in life she love so well, and the memory of whom she tenderly cherished in the days of her lonely widowhood, they laid her cold and lifeless form; and there, beneath the evergreen boughs of the shapely cedars which her own loving hands planted over a quarter of a century ago, she will sweetly sleep until the resurrection trump shall call her to that blissful fruition which is in reservation for the glorified redeemed.
     The burial services were conducted in an earnest and impressive manner by Rev. S. N. Barker, who was followed by the venerable Dr. J. E. Scott, who spoke briefly but in a feeling and touching manner of the beautiful life and admirable character of the deceased, and referred with deep pathos to the fact that he had known her and been permitted to call her friend for well-nigh three score years
     On earth she will be seen no more forever, but the light of her well ordered life will continue to shine in the hearts of those wherein her memory is sweetly enshrined so long as life and reason are spared, and the rich fragrance of her pure and unselfish love will dwell with them as a holy incense until they too are called to explore the mysteries and share the joys of the great beyond.
===============================================================
The following letters were exchanged during the Spring of 1855 between Evelina Wood and daughter Lizzie Powell while Lizzie was undergoing treatment by Dr. Robert Wilson January for cancer in Murfreesboro, Tennessee.
Evelina Alexander Barnes wrote to Elizabeth Green

Wood

:
     Greenwood, March 5th 1855
My Dear Daughter,
     Yours of the 8th and Mr Powell's of the 12th of last month were received this morning, you will perceive it is nearly a month since they were written, why there is such a delay in the mails I cannot see. I managed to live through last week without a letter from you but assure you it was a hard task -- I am greatly obliged to Mr Powell for writing to me and am glad to see he is so sanguine in a cure of your face. my dear child -- Do endeavor to be contented and cheerful, it goes a long ways in promoting a cure, your mind has a great influence over you -- give yourself up entirely to God and the Dr. and you will feel better -- don't think of home until you are relieved. I am glad you took Wood, you never would have remained so long without the dear little fellow - we miss you and long to see you all located in that room once more and hear Wood's voice at the break of day - but we would prefer not seeing you for a whole year for you to return sound & well in mind and body - Mr Powell writes me your general health is better I am so glad to hear it - Your friends are all interested about you - ask every week if we got letters and how are you and when you will be home &c - You ask why Josie don't write -- she promises herself every week that she will do so, but when the time comes she puts it off for another week. Mollie has written and I presume you have received it ere this - Green and Billie have also written. They all say I write every week and give all the news and leave nothing for them - I seldom leave home to gather any thing of importance and Mr Wood does not go to Danville on[c]e a week. The ball in Danville is over eleven ladies and girls attended - Miss Gayle was the belle of the evening - Mrs Talbot and Mrs May were there, the only married ladies invited. Mr Williamson staid all night here not long since, he was giving me the news -- he says he was surprised to see Miss Gayle at the Ball -- Mr Williamson is high up now to build an academy on his own responsibillity -- if the people will employ him for two years and subscribe liberally - Campbell appears to be learning better than he has ever done, Mr W makes him understand it - You will be surprised to see how much Campbell has grown this winter. He and Mr Williamson caught a fox last Friday night - and the next night several men came over and went with him, but were unsuccessful in their hunt - I went yesterday to hear Dr Scott preach, a good sermon as usual. Green & Mollie went also - Mrs Dr Spiller came home with me to dinner - Billie and Josie did not come over - Dr Spiller, Maj Scott and Mr Williamson have had their names placed before the Templars for admittance and expect to be received into full membership next Saturday night - the last named gentleman has been imbibing rather freely in ardent spirits lately finds he must have something more binding than a good resolve from himself - Mrs Susan Spiller and Mrs Glaze was to see me last week - they were very prosy - A few lines to Mr Powell on his business and farming generally -- Lewis finished planting corn the 2nd of March - Your ground was in fine order and planted finely so Mr Wood says -- All the hands are now in the new ground. Lewis thinks he will be able to get it in cultivation. Jane went out to work this morning for the first time, she is fat and healthy. All well at your house except Ben. he is complaining again, nothing but worms he came over two days ago, we gave him spirits turpentine and oil and he discharged three worms, we then got some vermifuge and gave him and continues to discharge them, he went to work this morning. I gave Lewis the vermfuge to give him a while longer - Lewis has had every thing in the plow except Clover - they ride him here - your mules and horses are all idle now except one mule which Mr Wood has borrowed a few days. He has Cork in the plow and every thing else that can pull one, even the Mustang - the planting is not finished here and will not be for a week laying of[f] horizontal rows and ditching again - today they are finishing laying off the middle field, the one oposite the potatoe ground - We got up some groceries from Houston yesterday, the first in a long time irish potatoes $8.00 per barrel, we received three barrels - flour costs us $16.00 by the time we get it here - we have learned to eat corn bread in every shape and like it - Every body is complaining of hard times. Mr Wettemark is here, he came to borrow Lizzie's guitar for a few days. I have loaned it to him, he intends going to Houston to live in a week or two - He says Dr Stewart received a letter and book from you to-day - Mr Wood intends writing and will give you the balance of the news - James Mitchell is at Queechy run at work. I do not know what he is doing - he has not got all the Machinery yet - Forrest has hired Smith to finish Billie's house and gone to the mill - James has missed you very much, poor fellow he has had to work very hard - he tried to get his father to assist him some in the loan of money but not a dollar was forthcoming - I gave Bill Campbell a shirt & pants yesterday - Rachel has done a good deal of sewing - her child is four weeks old - she will cook, attend to the children and work round the house when there is any thing to do - I told Lewis last night he must not forget the garden - he is very anxious to see you come home, he carries on the work well. We have no rain to fill the cisterns, cloudy and warm now and some appearance of rain - I am giving Eason and Ella vermifuge to keep them well -- they talk about Wood every day, sister and brother Mike - We are so anxious for the time to roll around for you to come home - a letter every week contents me, when I hear Lizzie is improving and there is a prospect of a certain cure - Cousin John Abercrombie is looking as well as I ever saw -- Chapman's gout cordial cured him, he eats any thing and every thing with impunity - Cousin Minerva has taken Sallie Comer to school in Huntsville, she boards at Mr Mc Shan's the preacher's - they have not been to see us since the middle of December - every thing plowing. Campbell wants to know if it is not time for him to receive an answer to his document - thinks he will write again by next mail - Rose is a little sick to-day -- she is taking lobelia - Please do not forget my pruning knives when you come home - I want nothing in the way of dry goods - Dear Lizzie I have all of your Pa's shirts finished, eight in number -- and commenced on Campbell's to-day - Matilda sews very nicely - Dilce says tell Miss Lizzie and Mars Wood howdy and says she wants to see you -- Tell Chloe it is rumored that Little Ben and Rhody are to be married next Saturday night - Did Mr William Mitchell go to Murfreesboro? Your Aunt Polly wrote us she thought he would go - The garden is very backward - The 3rd of March was our first Spring day - I received some rose cuttings today in an envelope - I think they are from Mrs Hackett no name attached - they look badly - My Affleck roses are putting out - will have the most of them to live - my mind and time are occupied with sewing, reading, writing and flowers -- I am trying to get through with my sewing before you get home - I am so anxious for another letter - the last ones were so old - perhaps I may hear something more definite about your face and when you will leave Tennessee - How long do you think you will stay in Montgomery? I hope Peter is going to do well in marrying and he will be blessed in a good wife - Will Bettie come home with you? I hope she will -- Eason & Ella send Wood lots of kisses -- Billie has not sold Mr Powell's carriage yet - Mr Wood is selling a great many sweet potatoes for planting - Josie said she intended writing today but I have no faith in it as she dislikes to write and you know Billie was never fond of writing - You must make me believe you do not tire of my nonsense as you can not do better at home - I never get tired myself as long as I have any thing to say - Love to Bettie, Mr Powell, Wood and yourself and Chloe not forgotten.
     Your affectionate mother, E A Wood.
     Bottom of 1st page: Mr Wettermark did not take the guitar as one string was missing and
     none to be had in Danville.
Minimal punctuation added by the transcriber to enhance readability. Apparently "Queechy run" is a literary allusion. Queechy, a novel published in 1852, was a story about a young girl, a little village and a saw mill. Likely Evelina and Lizzie read it to the younger children and grandchildren in the household.
Elizabeth Green

Wood

wrote to Evelina Alexander Barnes:
     Murfreesboro March 10th /55
Imagine my delight, my ever dear Mother, last Monday morning when I went into Bettie's room to breakfast to find your dear epistle lying on my plate. I thought not of eating until I had read it -- it acted as a relish. I enjoyed my meal much more than I would have done with-out it. Mr. Powell received Brother Green's letter at the same time -- he wrote to Par several days ago, but I expect you'll get this at the same time. Old Mr. Mitchell is more than a match for me, he complains all the time. he got some medicine from the Dr. & would go home. Julius tried to get him to stay, but he was affraid of dying from home. he says he'll return in two weeks, the Dr. could have cured him if he had remained, but a cure is doubtful now - Bettie & George left last night with them. I disliked to see Bettie leave, & she hated leaving us, but she had several chills, & an attack of hemorage, & coughed a good deal, so Mr. Powell thought she had better go home and stay awhile. she has promised to return in a fortnight if she is well enough. Wood misses her & George very much. the first thing this morning when he awoke was to ask for Aunt Bet. Bettie improved when she first came here, but for the last month she looked very badly. she thinks she has consumption. I hardly know what I shall do without her. I wish the day would come when we can all bid farewell to Tennessee. I am so home sick, & it takes so long to effect a cure, that I feel sometimes as if I never could be well. how often have I wished that I could have been taken as my dear brother left. I suffer so much that I feel that I am a burden to my self & every one dear -- Mr Powell is so attentive, so patient, & always ready to wait on me, indeed I feel that I am blessed in my affliction in having the best of Parents & a husband who is unequaled -- I think some nights, when sleep refuses to visit my pillow, that if you were only here, to sit by me, I could go to sleep immediately, & I have no dear mother here to tempt my appetite with with nice things. I seldom eat dinner, as there is nothing but meat. I eat oysters until I tired of them -- Saturday evening -- I wrote the above this morning & have been lying down ever since. I have found something at last that acts on my nerves like a charm, & makes me sleep. it is elipsis of opium, it has no bad effect -- I don't suffer so much pain for the last few days as I did previously. You would be surprised to see how the medicine follows up the disease, it reaches nearly to the top of my nose, & up to my ear. my eye is closed, & has been for a week from the swelling -- Mr Powell has been around to the boarding house where most of the Dr's patients board, & he has been giving me a description of them. most of them are even with not a friend to tend them, looking so dirty, so many soiled cloths, & a great many come without rags -- I suppose many of them would think my case light compared to theirs. indeed it is a great comfort & blessing to have kind friends to attend & sympathize with us in our afflictions, oh! how can I ever repay the debt of gratitude I owe? Dr January has had five new cases to come in this week. The old man has his hands full. The landlord of the hotel where the patients are staying has accumulated a good deal of the Dr's powders by stealing them from the sick, & has gone to Eastern Tennessee & introduced him-self as a student of Dr J's, & we heard he had six cases. you say Mr Powell must dress more than he did, but it is not the Taylor that makes the man this time. he never got him a new coat until this week, & still wears his hunting cap. they all beg him to get a new hat. they come around & invite him to walk, so you see it is the man, & these Tennessee ladies are not the most refined in the world -- Julius Mitchell said Cousin Charles had gotten back from Texas, & would return with cousin Malinda in May. I expect we will be able to leave by that time. We have very pleasant weather now, & I think if all continues my neuralgia will give away entirely, it is only in the point of my shoulder. -- Do remember me to all, & kiss Par & Ella for me, & receive lots of love for your own dear self -- Sallie has forgotten her promise to write. Wood sends you all a kiss -- Tell Rose to be smart & give her howdy from me. -- I will try and answer Mollie's letter soon.
     Your Affectionate daughter, Lizzie.
Minimal punctuation added by the transcriber to enhance readability.
Evelina Alexander Barnes wrote to Elizabeth Green

Wood

:
     Monday evening, Greenwood, May 14th 1855
My ever dear Child,
     I receive every letter with a trembling hand and open it between hope & fear, oh that I could once get the glorious news of your speedy recovery - I still hope the next letter, you will have regained your strength and that your hands and feet have improved, it is certainly from your nervous condition and weakened state that they are so entirely useless to you - I remember Sue Ogbourne's was in the same state once - I have cried so much since we got the letters written the 24th & 29th of April that I can scarcely write to you, and I am obliged to write this evening as the mail leaves in the morning - were I to omit writing to you my beloved daughter one week, I should feel like I had commited the unpardonable sin, it is all that is left for my hands to do - and oh how willingly it is done. If I knew you could enjoy reading the letters - I could write for hours to do something to please you and add one iota to your happiness or win one smile from you to cheer those around you. My mind & spirit are continually hovering over and around you, just imagine me thinking of you every moment in the day and the first thought on awaking at night is of you my suffering child, Oh that I could be with you, Oh for the power to go to you -- I wish I had Wood at home, that I might be doing something for you - I hope he won't get sick any more - Do remember me to the lady who sent you those nice things she shall have my prayers for her happiness in this life, her future state I feel will be a happy one - Give my love to Bettie, ask her to write to me and may God bless her forever for her goodness to my dear child - Eason & Ella both have bad colds - and both a little sick from them Eason had ear-ache last night - Ella saw me crying to-day and said ma are you crying about my sister Lizzie, she remembers all about you and knows every thing which belongs to you. The children often speak of you all every one of you and kiss me repeatedly and say send them to you every one - Ella speaks of Bettie & George as if she had known them always -- I hope Sallie Barnett has returned to you ere this to relieve Bettie and Mr Powell some - I have every confidence in Mr Powell's doing every thing that can be done, I know he is one of the best nurses.
     Mary Jane has another son born the 8th of May - she call him Milton LeGrand, he favors all the rest, will be very dark-skinned - Rush & Solomon go to school, they are fond of it. Mary Jane is doing finely, Leah waited on her all last week. Billie came up this evening to read the letters and took them to Josie, he intends writing to Mr Powell by this mail. Lewis says all well at his place. No one laid up here, all well except colds - Campbell has a rising on his thumb, something like a felon - you will scarcely recognize him he has grown so much - We will be obliged to send him to Huntsville as Mr Williamson leaves us in two weeks for Shreveport -- Mr Mayfield & Miss Seymour were married last evening at three o'clock Mr Redding gave them a dinner to-day - I have seen none of them for some time -- Old Mrs Edward was here last Saturday, staid all night, she took so much camphor it made her tipsy - she is going out west to see her son -- I have so many young turkies and they are doing well -- have 70 and 5 more hens setting - Josie has thirty-five young turkies she likes to attend to the poultry - I have had but two letters from Sallie since she left - she has written to Billie twice on business and once for money - I shall continue to write to her - with a view of hearing from the children often - and try to keep up a feeling of affection in her for the family - Sallie feels near to me, she was the wife of a beloved son, as such I am bound to love her -- Rose and her boy keep well - she asks after you, as soon as I get through reading the letters - All the negroes ask after and all the neighborhood appear interested and ask every week if we got a letter that mail -- Dr Spiller Asks Campbell to bring him Mr Powell's letter every week. I commenced on this small sheet of paper without noticing it until I had written several lines, so you must excuse it and I will do so no more - Mrs Dr Spiller took dinner here Yesterday, she said give her love to you and send Wood a kiss - Virginia has got well - Your Par joins me in love to you my dear beloved child - and we hope to have you soon restored to us in health - Love to the balance and a Kiss for Wood
     - Your Mother, E. A. Wood.
Letter in private collection of B. M. Henwood, descendant of Mike & Lizzie Wood Powell; original transcription by R. E. Reichardt.
Evelina Alexander Barnes wrote to Elizabeth Green

Wood

:
     Monday evening, Greenwood, May 28th /55
My darling Child,
     You are still a great sufferer, and I here and not the power to go to you, to relieve you in any degree or to assist Mr Powell and Bettie in the duty of anticipating your wants. it is agonizing and harrowing to my very soul not to be able to go to you - Your Par says it is impossible for him to go under all the circumstances and you know my child my utter inability to travel alone so far I know not how to depend on strangers for assistance. If we only had a rail-road, I would make the trial to go alone - Oh my dear suffering child how I yearn and pray to be with you. if spirits are ever permitted to hover around any one rest assured mine is ever more with you. Home has no joys for me and yet I seldom ever leave the house. it has become an irksome task to entertain company and I dread to see any one coming, because I am expected to speak and say civil and polite things to them - Oh if I could just be with you to stand around you day & night while you are in want of attention, it would be a sweet pleasure, although my child your cries of pain and distress would be heartrending. I would be nursing my hearts idol - I have feared for a long time our hearts have been too much placed in our treasure to be able to keep you - sometimes I feel encouraged when I get a letter from Mr Powell and again my heart sinks in despair - To-day I received three letters together with dear, sweet little Wood's type. the likeness is good, I see a strong resemblance to him when he left - the same sweet mouth, I wish I had him at home so as to have all the care of him - I am so much afraid Bettie will get sick and you will miss the dear child so much - I wrote to Cousin Eliza the 31st of April begging pleading and entreating her to go to you and stay with you - she sent me word before I wrote her by John Shackleford she expected to start in two or three days to see you and I feared she would give it out and so I wrote to her the next day after I saw J Shackleford - she has not answered my letter and say she did not go - I yet hope she is now with you and may heavenly blessings attend her always if she has gone to my dear afflicted child who is deprived of a mother's watchful care - Ella kissed Wood's picture over and over again and said it was so pretty, she asked me three days ago to let her play on the piano. I had it raised and set her up, she played and sang like sister, and then said - Dilce, don't you know my sister is very pretty - she talks of you so much and comes every day or two and kisses me and then says send them to sister, brother Mike, buddie Wood - Cousin Bettie and George - Rose's child is very ill and has been for six days -- when I was able to be up they told me it had been sick then three days but as I was sick no one would name it - It took the same cold which has been going the rounds in the family - Dr Spiller has been attending to him for five days, and I do not see that he improves any - I have had him in my room ever since Dr Spiller has been coming to see him - but would let him go home to sleep at night. This morning I had him brought in as soon as I was out of bed and found he had a chill - I shall keep him in the house all the time day and night until there is a change - I have got entirely well except a slight cough which is gradually giving way - we have had one or two cases of influenza a day, for a week, all on the mend now - Matilda Campbell as the children call her had a babe a week ago - received a letter today from Sallie Wood. she appears to be enjoying herself very much, she went to the fair at the ridge and speaks of attending Martha Pickett's wedding - she wrote to me to sell her wardrobe if I could, and wanted her guitar sent to her - Green is laid up to-day with diarrhea, we are going to send over to see how he is and send his mail to him - I have not been there in 17 days and that was the last place that I visited - Cousin Minerva came last evening with her three youngest children and staid all night and left this morning very soon after breakfast - she left Carrie and Evelina with me until she returns from Huntsville, Sallie's examination came off this week and she is going to that and bring her home -- She thinks Len has improved vastly. Your Par leaves in the morning for Houston, Campbell goes with him, they are going in Mr Powell's carriage. Bob is to drive - Mr Wood sent the last of his cotton off on his own wagons this morning to Houston from the ware-house at the river - He intends bringing up our supplies for the balance of the year. I shall be alone with the little children until they return - Billie and Josie have promised to come and stay a night or two with me - Josie was quite sick Saturday night with diarrhea but was well enough to come over to dinner - We have had a good many raspberries and I always wished you had them to eat - No rain yet although there are clouds every morning, some little thunder and every appearance of rain until late in the evening when it fairs of[f] beautifully till next morning to go through the same routine - Your Par is very much discouraged about a corn crop, thinks the rain will come too late for his corn - the cotton looks well. had cotton blooms several days, found two red ones last Friday which was the 25th - Those who work the most, stir the soil the oftenest and deepest have the best crops. corn is tasselling and shooting - Some persons are hauling corn from Houston to the Trinity paying $1.75 per bushel in Houston - Judge Goldthwaite will have to get corn in Houston, it is not to be had in the country, the cry is corn, corn - James Mitchell got nearly one hundred bushels of corn to grind last Saturday - Mary Jane, Billie, Josie, Cousin Minerva, your Par all request me to give their love to you - give my deep and abiding love to Bettie and Mr Powell - they must not let Wood forget his grand-ma. God bless you my dear child and may he permit you to return to your bereaved mother is my sincere prayer.
     E. A. Wood
     Left margin: Words are too cold to express all my feelings for you.
Minimal punctuation added by the transcriber to enhance readability.
Family: Green

Wood

b. 31 January 1792, d. 12 February 1866