Virginia Evalina Spiller
b. 26 March 1851, d. 6 July 1862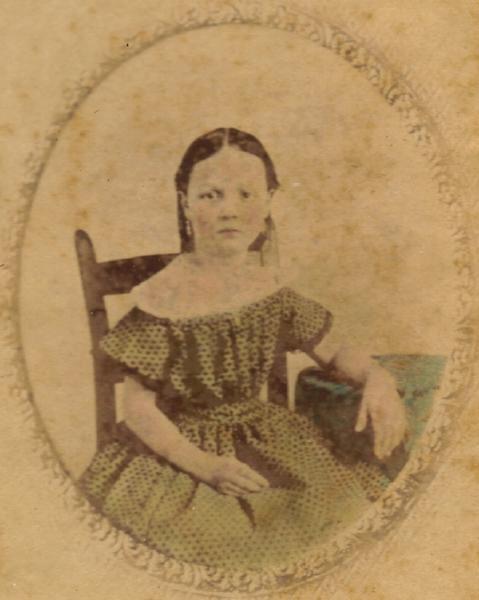 Virginia Spiller, 1851-1862
Virginia Evalina

Spiller

was born on 26 March 1851 in Texas.
Evelina Wood wrote on 14 May 1855, to her daughter Lizzie Powell, undergoing treatment for cancer in Murfreesboro, Tennessee: ". . . Dr Spiller Asks Campbell to bring him Mr Powell's letter every week. . . . Mrs Dr Spiller took dinner here Yesterday, she said give her love to you and send Wood a kiss -- Virginia has got well. . . ." Letter in private collection of B. M. Henwood, descendant of Wm Wood Powell; original transcription by R. E. Reichardt.
Elizabeth E.

Kyle

appeared in the US federal census of 1 June 1860 in Waverly PO, Walker (later San Jacinto) County, Texas. Other members of the household included Virginia Evalina Spiller, William Marcellus

Spiller

, Mary Hester

Spiller

and Robert Fielding

Spiller

. Also in the household was German-born saddler G. A. Ludewig.
Virginia Evalina Spiller died on 6 July 1862 at age 11.
She was interred at the old Danville cemetery, Montgomery County, Texas, on present-day Shepard Hill Road, near Willis.