Milton Paul LeGrand
b. 10 November 1832, d. 16 September 1893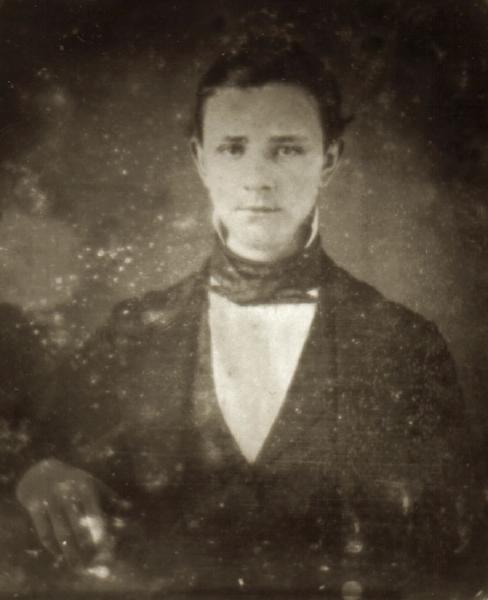 Milton Paul LeGrand, 1832-1893
Milton Paul

LeGrand

was born on 10 November 1832 in Wadesboro, Anson County, North Carolina.
William Chambers

LeGrand

and Jane Green

Paul

appeared in the US federal census of 1 June 1840 in Macon County, Alabama. Other (counted but unnamed) members of the household apparently included Milton Paul LeGrand, Mary Jane

LeGrand

, Margaret Deborah

LeGrand

and Cornelia Anne Elizabeth

LeGrand

.
Following the deaths of their parents William Chambers and Jane Green Paul LeGrand in the early 1840s, the LeGrand children were taken into various families. Mary Jane, the eldest, spent time with Charles and Sarah Norman Rush and with Theodore and Caroline Mays Brevard. She and Green Mark Wood were married by Judge Brevard, and they named their first child Rush Brevard Wood. Margaret was raised as the only child of Letitia Ann Wood McNair (daughter of Green Wood's cousin Ashley Wood) and her husband Edward McNair. Cornelia was raised in the household of Charles and Sarah Norman Rush, and Virginia William "Willie" was raised from infancy as the only child of John Henry and Mary Harris Gindrat (whose niece Sarah Anne Harris later married Willis Breazeal Wood). Likely son Milton Paul LeGrand also was taken into the Rush family, but no record has been found of his earlier years; by 1850, at age 17, he was serving as an apprentice in the household of druggist Henry F. Godden in Marion, Alabama.
Milton Paul LeGrand appeared in the US federal census of 1 June 1850 in Marion, Perry County, Alabama, living in the household of Henry F. Godden, druggist.
He married Maria Louisa

Jones

, daughter of Dr. Erastus W.

Jones

and (?)

Cotton

, on 20 February 1855 in Macon County, Alabama, with John Wesley Rush officiating. The marriage was witnessed by John H. Wesley

Rush

.
Upon the grave marker of Capt. Charles George Rush in the Rush family cemetery in Macon County, Alabama, who died on 9 December 1857, is written:
     Here lies C.G. Rush, the orphans friend,
     and we the children of W.C. & J.G. LeGrand
      are numbered with the many for whom he
     cared, he is gone but his memory will ever
     be cherished by the orphans.
In a letter to her uncle John Brown LeGrand on 31 January 1859, Mary Jane LeGrand Wood
wrote: ". . . Pa & Ma you know left 5 children, 4 girls and one son. They are all married and doing well except the youngest. She is now grown, 18 years old this month, she only came out as a young lady this winter, has been going to school all the time. Mrs Gindrat the lady that raised her has no children of her own, she treats Willie as though she was her own child. She has had every advantage. The rest have all had the same good luck. I have seen none of them since we moved to Texas 9 years ago. Willie is comming to see me this spring, Mrs Gindrat speaks of coming with her. Happy will be the time when we meet. Brother Milton deserves a great deal of credit. He went out to make a living for himself at 16 years of age. He now owns part of a large drug establishment in Montgomery Ala, his father-in-law and himself are in partnership. Brother is a very steady hard working man, attends very closely to his business. He has only one child, a little girl. Sister Margaret married a Mr Weaver, she has three little daughters. Sister Cornelia married Dr Johnston, a dentist. She has a little boy only a few months old. They are both living in Selma Ala. We all correspond. . . ."
In a letter to her uncle John Brown LeGrand on 23 March 1860, Mary Jane LeGrand Wood
wrote: ". . . I had a letter from Sister Willie yesterday. She is to be married next month. They speak of making me a visit immediately. Cant some of you meet them here. I would be glad to see you, and she would love to meet an Uncle. Come if you can and let us have a rejoicing. Brother Milton has quit the drug business and bought the place we left in Alabama. I do not know whether he will farm or market. He has not written me himself, am looking for a letter every mail from him. Uncle he is a noble man, I wish you knew him. . . ."
Milton Paul LeGrand and Maria Louisa

Jones

appeared in the US federal census of 1 June 1870 in Montgomery, Alabama, and also two domestic servants, living near George Thomas Goldthwaite.. Other members of the household included Milton Paul

LeGrand

Jr. and Eloise

LeGrand

.
Milton Paul LeGrand and Maria Louisa

Jones

appeared in the US federal census of 1 June 1880 in Montgomery, Alabama, at Church Street. Other members of the household included Milton Paul

LeGrand

Jr., Eloise

LeGrand

and William Homer

LeGrand

.
He was a drygoods wholesaler, according to the 1880 census.
Evelina Wood wrote from Willis to her grandson Wood Powell in Christian County, Illinois on 12 April 1887, " . . . Your aunt Mary Jane is going to Montgomery soon & from there to North Carolina to see Mrs. Brevard, the lady by whom she was raised. Dr. Legrand wrote Mary Jane he would foot all of her expenses - a dear good brother. Milton Wood is building a brick house with seven rooms. He is making money & saves it - he has only one child. George Wood & wife will begin keeping house now very soon. Green Aleck will remain with his father & mother. . . ."
     Letter in private collection of B. M. Henwood, descendant of Wm Wood Powell; original transcription by R. E. Reichardt.
Milton Paul LeGrand became a widower at the 23 August 1891 death of his wife Maria Louisa

Jones

.
Milton Paul LeGrand died on 16 September 1893 at age 60 in Montgomery County, Alabama.
He was interred at Oakwood Cemetery, Montgomery, Alabama.
A biographical sketch of Milton Paul LeGrand appears in Thomas McAdory Owen's 1921 History of Alabama and ictionary of Alabama Biography:
     LEGRAND, MILTON PAUL, physician, business man, was born November 10, 1832, at Wadesboro, N. C., and died September 22, 1893, in Montgomery; son of William C. and Jane (Paul) LeGrand, natives of North Carolina, of Huguenot and English ancestry, respectively, who came to Alabama in 1837, and settled at Tuskegee where they spent the remainder of their lives, the former dying in 1839, and the latter in 1842. He received his early education at Tuskegee, and as a preliminary step toward preparing himself for the medical profession, entered a drug store at Marion. At the end of four years, he returned to Tuskegee and opened a drug store on his own account. He conducted that store for about three years, then opened a similar business in Montgomery on a much larger scale. His failing health caused him to give up the drug business, and after a rest of a year or two, he entered the grocery and dry goods business, and built up the largest trade in that line that Montgomery had ever possessed. He continued in that business until 1882. He was one of the organizers of the Montgomery and Florida railroad company, and was elected its president in 1881. In June, 1886, finding other business affairs too pressing, he declined re-election to the presidency, and was made vice president of the company. On the organization of the Commercial fire insurance company in 1876, Mr. LeGrand was made president. In 1889, he organized the Bank of Montgomery, which he conducted until his death. He had served for two years in the C. S. Army, having retired from active service because of his physical condition. Married: in February, 1854, at Tuscaloosa, Louisa Jones, who died August 21, 1891, daughter of Dr. Erastus W. Jones, of Tuscaloosa. Children: 1. Milton Paul, b. March 25, 1861, at Tuscaloosa, d. in August, 1913, at his summer home on Perdido Bay, was graduated from Vanderbilt university, B. S. 1883, and from the University of Alabama, LL. B., 1894, began the practice of law with Horace Stringfellow in the firm of Stringfellow and LeGrand, became president of the Bank of Montgomery on the death of his father, and held that position until 1900, when that bank and the Merchants and planters bank were consolidated, became vice-president of the resulting Merchants and planters bank, was on Gov. Jones' staff for four years, and on Gov. Seay's staff four years, occupying the position of judge advocate general of state troops, m. April 27, 1893, to Mary Virginia Goldthwaite, daughter of Robert W. and Annie (Paul) Goldthwaite (q.v.), of Montgomery; 2. William Homer, planter, b. June 15, 1871, attended the University of alabama, m. Kate Elsberry, Montgomery; 3. Eloise, d. in 1900, m. J. Craig Smith (q.v.) , formerly state treasurer. Last residence: Montgomery.
A biographical sketch appears in Notable Men of Alabama.