William L. Barnes Campbell
b. circa 1834, d. between 1884 and 1890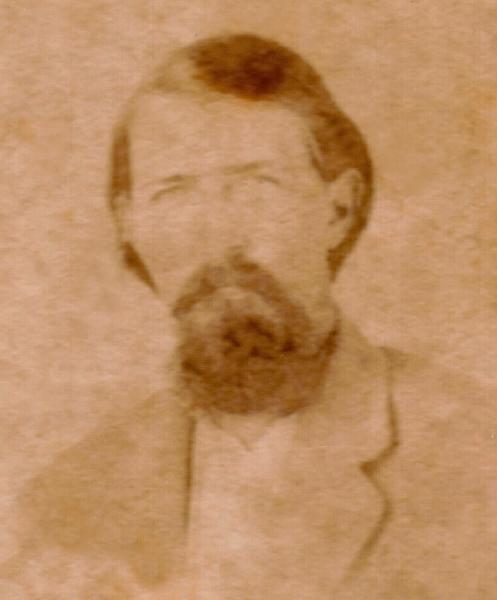 William L Barnes "Bose" Campbell, c1834-c1888

William L. Barnes

Campbell

was born circa 1834 in Alabama.
He was known as Bose.
William Archibald

Campbell

appeared in the US federal census of 1 June 1840 in Montgomery County, Alabama, with one male each 30-39, 10-14 and 5-9, which accounts for him and his two sons, and also in the household one female each 15-19 and 10-14, who have not been identified. It is possible that the younger was a daughter who did not survive to adulthood and the elder a caregiver of the children. Twenty-two slaves were enumerated, five under the age of ten, and two age 55 and older.. Other (counted but unnamed) members of the household apparently included William L. Barnes Campbell, Duncan G.

Campbell

.
Eddie Eliza Campbell wrote to Evelina Barnes Wood on 10 February 1850, "I hope Duncan
has settled now enough to Mr Wood to profit by his methodical and steady manner of doing business, and that he will profit by it. I promised to let you hear about the result of his business, I have enquired dilligently but no one would tell me, I only know that Dr Bolling bought Abby and all the children accept Tait, Col Carter bought him. Harry sold for only $150 that I felt very sorry for, and I know Duncan will be greatly disappointed. Mr Norton bought him. While I am upon Duncan's affairs I cannot help alluding to his other affair, (as little as I feel like it). Betty Powell called upon Mr Farly for his picture, and he told her I had it. Sally came for it the next day she told us that her Mother and Father never said one word to her about discarding Duncan, so far from it they wished it to take place, and that what she done was before she knew the property was involved. And that she found her Sister loved him better than she did. (This accounts for her sisters unhappiness all last summer.) As for herself her feelings for him had never changed she loved him and should never engage herself to any one else. She said she could not understand how her Sister could engage herself to every one that that courted her. She trembled like an aspin leaf while she was talking and I could not help feeling very sorry for her. Sally's conversation is confidential, I told her I had written to Duncan, I was not willing for him to marry Betty because she was engaged to so many. She said she sometimes thought Duncan loved her best. You can judge that he is in a dilema, and I see nothing for him to do but to get off with all of them. Sally evidently has sacrificed her feelings to her Sister. Mike is here. I have not seen him. . . . And give my love to. . . . Duncan & Willie though last not least, my prayers and best wishes will follow them were ever they go, tell them to be good industrious and persevering, in all they undertake."
Eddie Eliza Campbell wrote to Evelina Barnes Wood on 25 February 1850, "Mike Powell did not call to see us. I supposeSally told him what I had said, but I cant help it, if all concerned cut me, I must expect my disapprobation, and condemn Sallys romance which she must have read in some antiquated novel, that it was beautiful to make a sacrafice of her own affections and those of the man she professed to love, to a sister who can fall in love with every new face she meets with. I told Sally I was not willing for Duncan to marry Betty since I knew her own feelings had not changed. They are all in a dilema that I think they had better sett to work to get out off. Sally thinks Duncan loves her best, and fears that Betty loves him better than she is capable of doing. . . . Much love to Duncan and Willie, I hope to hear from them."
Duncan G.

Campbell

and William L. Barnes Campbell appeared in the US federal census of 1 June 1850 in Huntsville, Walker County, Texas, enumerated next to the penitentiary where Joseph Harrison was enumerated as a sergeant.. Sixteen-year-old Wm Campbell was identified as a student, likely at the Huntsville Male and Female Academy.
On Monday, 15 July 1850, Green Wood recorded in his plantation daily account book: "Mrs W. sold Wm Campbell's beds Bolsters & Pillows, 129 lb, @ 35 cents, $45.15," and on Monday, 12 August, "Mr Wm Lindley paid for the beds of Wm L. B. Campbell, $45.15. Inserted later under the entry for Friday, 19 July, "Received of Green Wood $59.55 for sold as above to Wm Lindley, April 28th 1854, [signed] W B Campbell," and in the left margin, "Paid." [It appears that Green paid "Bose" about 8% simple interest per year for the four intervening years.]
On Wednesday, 23 May 1855, Green Wood recorded in his plantation daily account book: "Wm B. Campbell's woman Matilday had a Daughter born this morning."
Green Wood recorded in his book of Misc. Financial & Slave Records, the account of William B. Campbell, for March 1857 through February 1858, for board for himself and horse March through December 1857, miscellaneous supplies, cash, and three mules, settled by Green by his note and the purchase of girl Polly and boy Lee on 7 February 1858.
On Saturday, 11 December 1858, Wm Barnes Wood, in Green Wood's absence, recorded: "Pack[ed] seven bales cotton for Wm Campbell . . ."
On Tuesday, 22 February 1859, Green Wood recorded in his plantation daily account book: "Sent off 4 Bales W. B. Campbell's by Mr Sloan."
On Monday, 14 March 1859, Green Wood recorded in his plantation daily account book: "Sent 3 Bales W. B. Campbell & one for Dr. Baldwin by Sloan."
Green Wood recorded in his book of Misc. Financial & Slave Records, the account of Wm L. B. Campbell, for the period February 1858 through March 1859 (ham, bacon, sugar, potatoes, corn, meal, mutton, &c, and a cow and calf), offest by credit for cotton and settled by note dated 18 April 1859.
On Monday, 17 October 1859, Green Wood recorded in his plantation daily account book: "Sent seven hands to the Lake to put in Fish traps. Mr. P. and W. Campbell superintended."
On Monday, 24 October 1859, Green Wood recorded in his plantation daily account book: "Picking out cotton for Wm B. Campbell."
Green Wood recorded in his book of Misc. Financial & Slave Records, the account of William B. Campbell, for April 1859 through February 1860 (bacon, mutton, ham, &c), settled by note on 16 February 1860.
William L. Barnes Campbell appeared in the US federal census of 1 June 1860 in Montgomery County, Texas, living alone, next to the family of his uncle John Wesley Campbell and Ann Williamson Clark Campbell. W. B. Campbell is listed in the 1860 Slave Schedule with 19 slaves (9 of whom were age 10 and younger) and 4 slave houses.
On Friday, 31 August 1860, Green Wood recorded in his plantation daily account book: "Packed seven Bales of cotton for W. B. Campbell," and n the following day, "Sent off six Bales of W. B. Campbell's by --- Clark."
On Wednesday, 26 September 1860, Green Wood recorded in his plantation daily account book: "Packed seven Bales of cotton for Wm B. Campbell, weights as follows 515, 540, 520, 530, 525, 515, 514, making fourteen Bales for him."
Green Wood recorded in his book of Misc. Financial & Slave Records, the account of William B. Campbell, for the period March through December 1860 (potatoes, ham, mutton, baling cotton, &c), settled by note on 19 December 1860.
William B. Campbell enlisted for the period of the war on 2 August 1861, near Harrisburg, as a 1st corporal in Capt. R. M. Powell's Company, Texas Volunteers, later Company D, 5th Infantry Regiment, Hood's Brigade.
     According to the Company D muster roll for November & December 1861, he was promoted to 4th sergeant on 1 December.
     According to the Company D muster roll for January & February 1862, he was promoted to 3rd sergeant on 1 February 1862 in place of [his cousin] J. W. Campbell (discharged). He was reported present on Company D muster rolls for March & April, May & June, and July & August 1862.
     According to the Company D muster roll for September & October 1862, he was promoted 23 August to 2nd sergeant in place of J. A. Murray (who was promoted to 1st sergeant in place of O. P. Caldwell). He left the company 2 September on 30 days furlough.
     According to the Company D muster roll for November & December 1862, he was furloughed for 30 days commencing 29 September.??? He was reported present on Company D muster rolls for January & February, March & April, May & June, July & August, and September & October 1863.
     According to the Company D muster roll for November & December 1863, he was captured by the enemy near New Market, Tennessee, on 21 December 1863; last paid 31 October 1863. This information repeated January & February, March & April, May & June, July & August, and September & October 1864.
     According to a register of prisoners of war at Knoxville, Tennessee, he was confined at Knoxville from 24 December 1863, and sent on 1 January 1864 to Camp Chase, Ohio.
     According to registers of prisoners of war at Military Prison, Louisville, Kentucky, he was captured near Knoxville on 18 December 1863, discharged from the Department of Ohio, received at Louisville on 21 January 1864, and transferred to Rock Island, Illinois, on 23 January.
     According to rolls of prisoners of war at Rock Island Barracks received from Louisville, Kentucky, he was confined at Rock Island on 26 January 1864, and transferred to the Department of West Mississippi for exchange on 3 May 1865.
     According to a register of prisoners of war at New Orleans, Louisiana, he was transferred 3 May 1865 from Rock Island, confined at New Orleans on 17 May, and transferred to the commissioner for exchange on 23 May, by order of Maj. Genl. E. R. S. Canby.
On 20 September 1861, William L. Barnes Campbell wrote to Evelina Alexander

Barnes

:
          Richmond Sept 20th 1861
Dear Aunt
     I want to hear from home very much and suppose the first step to take is to write myself. As dreary and lonely as my little den looked when at home I can assure you that the sight of it now would be most gratifying. A trip of this sort is the best school to learn one to appreciate the love of friends and comforts of home. Another important lesson have I learned which is to take care of money if I ever get any more. I spent the most of my money while in camp at Harrisburg, and I have felt the need of it very much since. Our prospects to get any money from the Government is not very [?promising?] as they pay it out faster faster than two mills can make it. And there are thirty pay rolls in a head of ours. The life of a soldier is any thing but pleasant and I can assure you that I am heartily tired of it. I never did like to be in a crowd. And I have found nothing in our company to make me alter my notion. But of all the companies from Texas I think ours are is the most preferable. I left home expecting a rough life and to do my duty as a soldier. I think I have done so – so far – and I shall continue to do so while I belong to the army if it cost me my life. That trip across Louisiana cooled the ardor of many of the boys and most of them thought as I did, that they would never join another infantry company. I have often heard it said that every one was made for some particular purpose. It may be so But I have concluded that I never was made for walking. I have become so perfectly disgusted with it that if I ever get home horse flesh will be bound to suffer. As to war news there is none. Occasionally we hear a rumor of a battle which in every instance was denied the following day. And if you have heard any war news you may set it down as false. Most of the knowing ones here say a battle is inevitable in western virginia on account of the proximity of the troops. A great many troops have been sent off since we came and it seems to be the intention of the Government to have fighting some where. But it is impossible to tell anything about it. We have received no arms yet. or the promise of any. or any intimation where we will be sent. Our Field Officers have not been appointed yet. Mike came out to camp last night dressed in his uniform. He looked quite Military. He is very popular with his men and seems to be so with all of the captains of the other companies. Campbell is also liked very much and stands a camp life finely. You have every reason to feel proud of your son. He is corteous and gentlemanly to all And in no instance has he wounded the feeling of anyone. and therefore is very popular. I walked over Richmond yesterday to see the sights. The capitol itself is a very common building but the grounds are laid of beautifully. The statues were something new to me and I gazed upon them in perfect wonder. Any city man would have at once pronounced me at once a Texas hoozier. upon main street I met a great many ladies shopping, and I must say in spite of all Uncle Woods lessons, that they were all of the ugliest set of ladies I ever saw. John was with me and we both agreed that there was not one even good looking among them. Tell Billy I would like very much to hear from him, and tell him to say to my Negrus that I often think of them and I would like very much to see them. I will write to Billy soon. Give my love to all. Kiss Ella for me. John wishes to be remembered. The health of our company is very good. George Yoakum is sick, but is improving slowly. Tell Uncle Wood I miss his fat Mutton. They feed us well enough But I would rather be at your house where everything is fixed up right. Please write me where Duncan is and what he is doing. I would write to him if I knew that he was in Huntsville. It seems to be the general impression here that the war will last several years so there is no telling when we will get back. the time we have been absent seems very long to me. Give my love to Aunt Ann and family.
          Affectionately your Nephew
               W. B. Campbell
Minimal punctuation added by the transcriber to enhance readability.

William Barnes Campbell wrote from Virginia to his aunt Evelina Wood, postmarked 26 February 1862, but only the envelope has survived.
Captain "Mike" Powell wrote to his young sister-in-law Ella Wood on 6 April 1862, from Camp Wigfall, near Fredericksburg, Virginia. He ended the four-page letter, "We are all enjoying fine health now & are very anxious to see Lt. Hill return with our recruits. Your bro' Campbell is getting very fat, Bose not so fat as he used to be, & Pete Williamson looks like a Dutchman that drank a gallon of Lager beer every day. We all want to go home very much but not until the war is over. If I never come home you must tell Wood that you are to take care of him & that he must love you & wait on you as long as he lives, & when war comes he must fight for his country & not stay at home. Give my love to your father and mother & all the family, Your Bro' Mike."
On 30 September 1862, William L. Barnes Campbell wrote to Evelina Alexander

Barnes

:
          Near Winchester Sept 30
Aunt Wood
     We have stopped marching for a short time and I write to let you know of our whereabouts. After a short and unfortunate trip through Maryland we are again camped on Virginia soil six miles east of Winchester. The trip was a very severe one and proved fatal to many. I suppose you have heard ere this of the battle of Manassas and the part played by our brigade. The battle was most terrific and the loss in our regiment was very severe. There was fighting for several days before the general engagement came off. On thursday evening late our brigade was ordered forward, double quick march. We advanced about two miles forward without our regiment meeting any resistance. On our left they had a pretty severe fight for a short time. it was night, when the enemy gave? back, and followed by our brigade some distance. We stopped about two and one half miles in advance of our position started from. But during the night finding the enemy were trying to get in our rear we were ordered back to our former position. Where we remained quiet until next evening about three o'clock when we were again ordered forward. Our company being in front of the regiment as skirmishers, we went but a short distance before we were fired upon. and soon came upon the Zouaves waiting for us. The fight now became general. And I had no time to notice any thing going on except in my own vicinity. The enemy made but a feeble resistance. Their dress made them a good mark and long will they remember the fifth Texas. we continued advancing until we forced back three lines of the enemy and two of their batteries. One of which we captured. Our reinforcements came up by this time and we were ordered to fall back. But our regiment was considerably scattered and a few of us did not get the order. I got in with a South Carolina regiment and was in the fight until dark. I was struck twice but nothing serious. Campbell was also struck by a piece of shell but did not have to leave the field. Billy Wynne and Louis Mass fell shot through the head. Very few of our company escaped unhurt. Spivey and Harris of Huntsville & Martin Nelms of Waverly have since died of their wounds. Our flag was shot down seven times and had twenty two holes in it. The enemy retreated during the night leaving us their dead to bury and their wounded to care for. We passed over the battle field next day and the sight was really sickening. We made forced marches across the Potomac and had a quiet time until we got to Hagerstown where we rested two days. And then we were sent back sixteen miles to Gen. Hills relief, who was fighting the whole of McLelland army. we got up just in time to save our receiving a terrible defeat. It was bad enough however as it was our army fell back during the night in the direction of Shepherdstown. When we were met by a courier from Gen. Jackson saying that he had captured Harpers Ferry and eleven thousand prisoners and that he would join us [the] next day. Gen. Lee at once halted and determined to have the fight out. Which they did on the 17th. It is considered the biggest battle of the war. Neither side claims a victory. Pirtle of Waverly and Tom Edwards was killed in our company and Ridgway wounded and in the hands of the enemy. Peter Williamson received a slight wound in the arm. I had been sick for some time an was not in the fight but was close enough to get an awful shelling Campbell had also gone to the rear sick and tired down by incessant marching. The position of the two armies at present is this. The enemy are scattered from opposite Shepherdstown to Harpers ferry threatening to cross the Potomac And our army is stationed between Martinsburg and Winchester waiting for something to turn up. It is generally believed that there will be no more big fighting this winter. There is no prospect of Peace yet. We found very few secessionists in Maryland. And our whole forces are opposed to going into it again.
     The surviving letter ends here; minimal punctuation added by the transcriber to enhance readability.
On Sunday, 2 November 1862, Green Wood recorded in his plantation daily account book: "Bose Campbell got here last night, Brought my man George home with him from Virginia."
On Monday, 12 January 1863, Green Wood recorded in his plantation daily account book: "Bose Campbell started to Virginia this morning."
On 26 February 1863, William L. Barnes Campbell wrote to Evelina Alexander

Barnes

:
          Near Richmond Feb 26 1863
Aunt Wood
     After many ups and downs though without any very serious accident, I arrived at Richmond on the 11th of this month. Where I met with Campbelll on his way home. I was very glad to find him looking so well. I suppose he is home by this time and enjoying himself finely. I joined the regiment on the 12th just one month from the time I left home. I found Mike looking very well and is exceedingly popular as a Col. his honors rest very easy upon his shoulders. I have been staying in the same tent with Mike since I returned. Col Bryan his mess mate is in town sick. As soon as he comes out I will return to my company. My trip has proved a very unfortunate and disagreeable one in deed. After enduring many privations in getting to camp, I found them all very much surprised at my coming. I was neither wanted or looked for and could have staid at home until spring without any trouble. The houses I found them occupying was not near so comfortable as our last winter quarters. I did not have time to get used to the place before we were ordered to get ready for a march, we were as usual kept in the dark as to our destination. The morning we left it commenced snowing and blowing very hard. the weather was very severe. we camped that night on a high hill where the snow was lying at least eight inches deep. The next two days were about the same But on the fourth day the sun shone and had soon melted the snow on this day we passed through Richmond. Where we found a large crowd [s---d] together to witness our passing through which was done in fine style. We crossed James River on the Petersburg road. march about three miles and struck camp at which place we are still at. We are still in the dark as to where we are to be sent. Though it is the general impression that we still go to Charleston. The night we got to this place there was the heaviest snow I ever saw. The ground is still covered with it. One year in sunny Texas is worth at least ten in this infernal country of never ceasing snow and rain. On our march I passed close by an alabamian lying dead on the road side and was told that he dropped dead caused by exposure and hard marching.
     Mike has just gone into town. He requested me to say that he has slept in Miss Ellas old dress [sic] and finds it very warm and comfortable Many thanks to her for it. I have just finished reading the morning papers. I find nothing new in them at all. I have made inquiries since I got back if there were any better prospects of peace But I can hear of none. The only chance that now exists is that the north western states may be able to create a difficulty among themselves. The Connecticut Legislature has also passed peace resolution But I fear that when the time for action comes that they will back down as usual. Mike says that he is very anxious to see you all But that he will not leave his regiment again until the war ends. I wish I could stay as well satisfied as he seems to be. I wrote you from Nacogdoches when I laid over two days. From there I went to Sabine town where I had to stay two days in a miserable place We started again and only went eighteen miles to a Mr. Nash where we again had to lie over. At this place I found a very pretty girl and consequently enjoyed myself very much. We got to Alexandria about twelve o'clock at night and with much difficulty got a place to stay at until next day. When we took a steamboat for Vicksburg. When in about ten miles from the mouth of Red river the boat was met with orders to go back again up red river as the enemy's gun boats had passed Vicksburg. The boat landed us at place where it is three miles across from one river to the other. I hired a carriage and sent Mrs. Glover across and myself with the three others walked over. After getting to the Mississippi I hired two small boats. In one I put the baggage and all of us rode in the other. We went fourteen miles down the river to Fort Orleans. The next morning I got an ox wagon and went to Woodville where I hired a mule team which carried us to Summit on the New Orleans and Jackson rail road. With the exception of crowded cars we got along very well. Mrs. Glover was very pleasant and did not object to riding the wagons at all. She knew that I done every thing that I could for her comfort. When we seperated she made me promise to write to her if I was taken sick or needed any thing and she would do all she could for me.
     I did not stop but one day in Montgomery and I did not see any of our relatives.
     The boys are generally very healthy. Dick Hardy is fat and looking fine. George Yoakum ought to have a discharge, he is in Richmond with the scrofula. Creed Woodson is also there with a disease of the kidneys. Wm. Lewis is in camp fat as a bear. I gave the things to Fuller. He is very proud of them and is under many obligations to you. I have not seen Stanton yet. I have fallen off ten pounds since I have been to camp. I cant say much for my self as I love home too much ever to be satisfied any where else. Give my love to Miss Sara and the balance of the family.
          Truly your nephew
               W. B. Campbell
Minimal punctuation added by the transcriber to enhance readability.
W. B. Campbell appears in the 1866 tax rolls in Montgomery County paying a poll tax, but his name is not found in 1867 or 1868.
On the voter registration list for Montgomery County, Danville Precinct, dated 6 August 1867: Frank Venable, Frank Venable, Daniel McLemore, Adam Moses, Ben Harris, Smith Barnes, Beverly Harris and Charles Moses.
The following appeared on 3 July 1875 in The Galveston Daily News: (Huntsville, July 2, 1875) The surviving members of the Hood Brigade present at the reunion met in the Cough House at 8 A. M.
     . . . Fifth Texas -- P. J. Goree, H. G. Hame, J. W. Neighbors, L. J. Goree, Jim A. Dickie, T. A. Birdwell, T. A. Bowden, A. C. Woodall, W. G. Smith, W. R. Rome, W. J. Smither, J. G. Burden, Robert Burns, W. W. Alston, Calhoun Kearse, J. H. Parker, M. A. Lamplain A. S. Martin, E. M. Berry, James B. Assek Goree, W. P. Wilson, W. G. Coleman, Berry Hicks, W. I. Sandel, R. A. Brantley, L. A. Cox, A. M. Pinson, F. M. Polland, W. J. Towns, A. J. Decapie, W. B. Campbell, L. Gillam, R. a. Park, F. A. Charles, E. J. Adickes, Walter Keenan, C. T. Hull, R. S. Neblett, Jeff C. Hayson, Wm. T. Hill and A. T. Hill, Gen. J. B. Robertson and Capt. Thos. J. Goree, of Longstreet's staff.
     . . .
     Judge Benton Randolph welcomed them to the hospitalities of Huntsville in a short speech.
     . . .
     Norman Kittrell, Esq., of Galveston, replied on behalf of the Lone Star Rifles and did himself and his comrades credit.
     General Robertson closed the speech-making, when the soldiers and ladies were invited to dinner.
     The people of this vicinity had a profusion of everything good, prepared invitingly, and the guests did it ample justice. It was a good, old-fashioned out-of-doors barbecue and dinner.
     The veterans will meet nowhere in the State with a heartiereception than this of to-day.
The following appeared on 28 August 1884 in The Galveston Daily News: Twelve o'clock yesterday was the time set for the hearing of the case against Governor Ireland, who was charged with depriving Emile Francois of his liberty. Inasmuch as United States Marshal Tracy did not arrest the governor, the case, of course, was not called. A News Reporter asked Colonel Tracy what he had to say about the case. He said The News report was fairly correct. The reporter, he said, had put some embellishments on to what actually occurred, but the governor knew what was said, and he did not mind the reporter's play of imagination.
     . . .
     Deputy Marshal Tim Finn returned yesterday from Huntsville, where he served warrants of arrest upon Colonel T. J. Goree, superintendent of the penitentiary, Captain Ben E. McCulloch, assistant superintendent, Captain P. F. West, under keeper, Jeff Kelly, day sergeant, Colonel Jim Smithers, superintendent State farm, and W. B. Campbell, gate-keeper.
     Major H. Brahan, financial agent, Fred Brooks and W. A. Robertson were brought along as witnesses. These gentlemen, all officers of the penitentiary, are brought down here to answer to the charge before the commissioner of depriving Emile Francois of his liberty and rights as a citizen. The case has been ste by Commissioner Spann for hearing in the state court-house, district judge's room, at 10 o'clock this morning. The government will be represented by United States District Attorney Stratton, and the defendants by Messrs. Wheeler & Rhodes.
William L. Barnes Campbell died between 1884 and 1890.
According to his cousin Campbell Wood's memoir, Bose Campbell never married, and died during the 1880s, but he has yet to be found in the 1870 or 1880 censuses.