Bolling Hall
b. 25 December 1767, d. 25 February 1836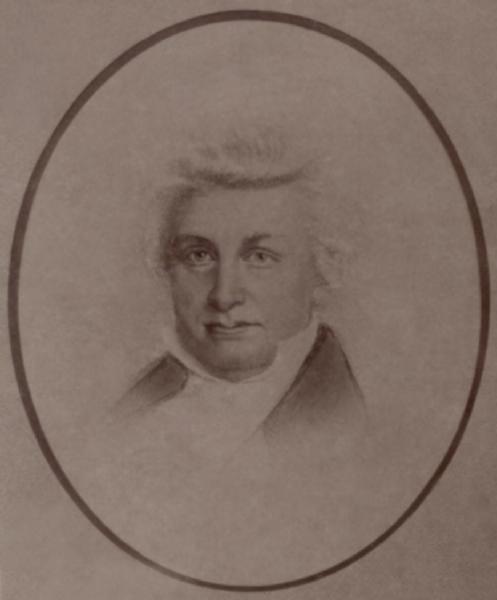 Bolling Hall, 1767-1836
Bolling

Hall

was born on 25 December 1767 in Dinwiddie County, Virginia.
In 1774, guardianship accounts were filed for Bolling Hall, orphan of Hugh Hall, by his guardian Samuel Seaward.
He married Jane

Abercrombie

, daughter of Charles

Abercrombie

and Edwina Malinda

Booth

, on 25 November 1798 in Sparta, Hancock County, Georgia.
The following appeared on 15 October 1801 in the Georgia Gazette: Elections of Members of the General Assembly on Monday the 5th instant. . . . For Hancock County. . . . David, Adams, John Harbirt, and Boling Hall, Esqrs. Representatives. For Jefferson County. Solomon Wood, Esq. Senator. . . .
Bolling Hall and his brother-in-law Leonard Abercrombie were administrators of the estate of John Comer, borther of Leonard Abercrombie's wife Sarah.
The following appeared on 25 April 1809 in the Georgia Argus: Will Be Sold, Agreeably to an Order Absolute, made by the Honorable the Inferior Court of Hancock County, on the first Tuesday in May next, in the town of Milledgeville-- Two improved Lots; one lying on the corner of Jefferson and M'Intosh Streets-- known in the plan of said town by number 3 in square 29-- on which is a good two story house; the other on the corner of Washington and Liberty streets-- known in the plan of said town by Lot number 2 in square 59-- on which is a good framed house-- belonging to the estate of John Comer, deceased. Terms of sale made known on the day. Bolling Hall, Leo. Abercrombie. administrators. February 28. 48.
The following appeared on 4 November 1812 in the Mercantile Advertiser: The following gentlemen are elected to represent the state of Georgia, in the thirteenth congress of the United States, viz: G. M. Troup, Wm. W. Bibb, Bolling Hall, John Forsyth, Wm. Barnett, and Thomas Telfair. The three last are new members.
The following appeared on 3 February 1818 in The Georgia Republican & Reflector: 300 acres of land for sale and immediate possession given; the tract lies within 4 miles of Milledgeville, and adjoins Messrs. Barrow and Borland, on which there is 140 acres cleared - 70 of which is prime cotton land-There is a comfortable hewed log dwelling house with two rooms; a gin house and cotton machine with the running gear complete; also, a grainery with a good threshing machine, propelled by the wheels of the cotton gin. One fourth part of the purchase money will be fequired in hand, the balance in three equal annual payments. I can furnish the purchaser with corn on the premises. Bolling Hall, January 20, 1818.
About two months before Evelina's marriage to Green Wood, Bolling Hall recorded in a small financial notebook: "E Barnes: shawl 2.00, 6 yds silk, 6.00, 1 pair shoes 2.00, 2 hanks silk 1.25, 2 pair shoes 5.00, Schooling 51.06. [total] 66.31. paid by Jno Abercrombie 29th Decr 1821."
According to the 1878 City Directory and History of Montgomery, Alabama: "The visit of General Gilbert Motier LaFayette was a most important event in the early days of Montgomery. No one was more deserving of honors from the American people, and none ever received more patriotic and grateful homage. A large escort had gone to Fort Mitchell on the Chattahoochee river to receive him as he landed on Alabama soil and accompany him to this place. The nation's distinguished guest arrived at Montgomery on Sunday morning, April 3, 1825. The escort with the nation's benefactor halted in the rear of the present Capitol square, from whence they walked to the top of the hill. Almost the entire population of the town, as well as several hundred citizens of the surrounding country, had assembled to greet the great French Captain. Col. Bolling Hall, sr., introduced General LaFayette to Governor Israel Pickens. . ."
Bolling Hall died on 25 February 1836 at age 68 in Autauga (later Elmore) County, Alabama.
He was interred at Hall-Rawlinson Cemetery, Millbrook, Autauga (later Elmore) County, Alabama.
The following appeared on 6 April 1836 in the Washington Daily National Intelligencer: [Died]At his plantation in the neighborhood of Montgomery, Alabama, on Thursday, the 25th ult., in the 67th year of his age, Bolling Hall, for many years a distinguished inhabitant of that State.
     Mr. Hall served several years in the State Legislature, and as a member of Congress; and in every situation was remarkable for honesty of purpose, manifesting at all times a great strength of intellect, discrimination and judgment. He was a member of Congress from Georgia when war was declared against Great Britain, voted for that, and supported all its measures with zeal and perseverance, and, after peace was proclaimed, retired to private life. Soon after the establishment of Alabama as a territorial government, he removed with his family there, and devoted his time to his own domestic concerns.
Bolling

Hall

Jr. and Absalom

Jackson

were executors of the estate of Bolling Hall.
A biographical sketch appears in the History of Alabama and Dictionary of Alabama Biography (1920): Bolling Hall, sr., planter, legislator, and congressman, was born December 25, 1767, in Dinwiddie County, Va., and died February 25, 1836, in Autauga, now Elmore County; son of Hugh and Mary (Dixon) Hall, of Petersburg, Va. At the age of sixteen he was a Revolutionary soldier, with his brother, Dixon Hall (q. v.) At the close of that war he removed to Hancock County, Ga., and filled several offices; represented his district in the State legislature; represented the Milledgeville district in congress and voted for a declaration of war against Great Britain in 1812. In 1818 he removed to Autauga County, with a caravan of slaves, flocks of cattle and wagons loaded with lumber to build a large residence, which is standing today, and which was the first house in that part of Alabama to have glass windows. Colonel Hall's descendants are still living on the land acquired by him then. In 1824, he was chairman of the reception committee to welcome General Lafayette and went to the Chattahoochee River to receive him into Alabama. He was a member of the old Jeffersonian-Republican Party; and a Methodist. Married: October 25, 1798, in Hancock County, Ga., to Jane, daughter of James [sic] Abercrombie, sr., of Georgia, and sister of James Abercrombie (q. v.) Children: 1. Polly Willie [sic], m. Green Wood (q. v.); 1. Ann Anderson, m. James Mitchell; 3. Martha Bryan, m. John S. Bailey; 4. Eliza Dixon, m. Dr. Thomas Brown; 5. Jane Abercrombie, m. William Vance Thompson; 6. Emma Bolling, m. Absalom Jackson; 7. Bolling, jr., m. Mary Louisa Crenshaw (q. v.); 8. Laura, m. Dr. Samuel Doak Holt (q. v.); 9. Amanda, m. John A. Snodgrass; 10. Mary Bibb, m. William Bolling Hall; 11. Sarah Helen, m. William J. Sassnett. Last residence: "Ellerslie" plantation, Autauga County.
For additional biographical information, see The Biographical Directory of the United States Congress.
According to W. B. Hall Papers, transcription of births from Bolling Hall's prayer book, "In 1944 Mrs. W. M. Marks, 525 S. Perry St., Montgomery, Ala., owned this prayer book." This would have been the wife of William Mathews Marks, grandson of Bolling Hall. Churchill Marks, who married Sallie Watkins Wood, was a son of William M. Marks' father's brother Samuel Blackburn Marks. Bolling Hall and William Mathews

Marks

.