Henderson King Yoakum
b. 6 September 1810, d. 30 November 1856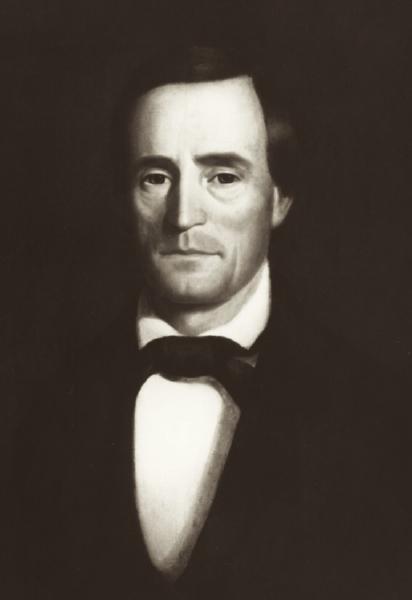 Henderson King Yoakum, 1810-1856
Henderson King

Yoakum

was born on 6 September 1810 in Claiborne County, Tennessee.
He married Eveline

Cannon

circa 1834.
Henderson King Yoakum and Eveline

Cannon

appeared in the US federal census of 1 June 1850 in Huntsville, Walker County, Texas. Other members of the household included Eliza

Yoakum

, Martha

Yoakum

, Mary

Yoakum

, George

Yoakum

, Robert

Yoakum

and Anna

Yoakum

.
He was a lawyer, according to the 1850 census.
On Tuesday, 14 October 1856, Green Wood recorded in his plantation daily account book: "Mrs. Wood, Mr. Powell, and Ella and Wood started on a visit to Mr. Fisher, C. Abercrombie's, and Mr. McGar and Colonel Yoakum."
Henderson King Yoakum died on 30 November 1856 at age 46 in Houston, Harris County, Texas, at the home of his friend Judge Peter W. Gray.
His wife Eveline

Cannon

became a widow at his death.
He was interred at Oakwood Cemetery, Huntsville, Walker County, Texas.
Yoakum County, Texas, established in 1876, was named in his honor. He was the author of the two-volume History of Texas from Its First Settlement in 1685 to Its Annexation to the United States in 1846.
The following appeared on 19 September 1888 in The Galveston Daily News: (Huntsville, Sept. 18) . . . The corner stone of the new Methodist church was laid on the 12th with Masonic ceremonies. . . The present Methodist church was built in the year 1857. . . .
     William M. Barrett was the contractor. Messers. Chiles and Eichler worked under him; Sam Reed, Sam Jones and Peter Royal did the brick work; G. W. Rather and J. A. Flether did the painting.
     The present seats were paid for by subscription, raised by Dr. T. W. Markham; and the house ceiled overhead by subscription, raised by Dr. G. M. Baker.
     The first person buried from the church was Colonel Henderson Yoakum, a public spirited man, and most active in having the church erected, and who paid in final subscription on the day of dedication $250, on proposition of Erasmus Wynne to be one of five to pay the debt. Robert Wynne was one of the five, and paid his subscription in cotton.
For additional biographical information, see The Texas Handbook Online.