Margaret Deborah LeGrand
b. 29 May 1835, d. 25 August 1867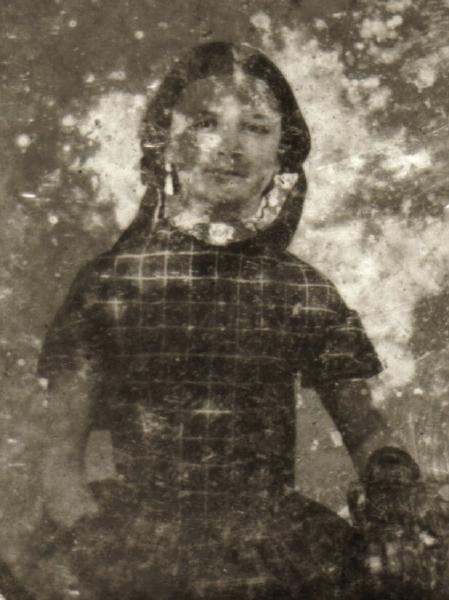 Margaret Deborah LeGrand Weaver, 1835-1867
Margaret Deborah

LeGrand

was born on 29 May 1835 in North Carolina.
William Chambers

LeGrand

and Jane Green

Paul

appeared in the US federal census of 1 June 1840 in Macon County, Alabama. Other (counted but unnamed) members of the household apparently included Margaret Deborah LeGrand, Mary Jane

LeGrand

, Milton Paul

LeGrand

and Cornelia Anne Elizabeth

LeGrand

.
Following the deaths of their parents William Chambers and Jane Green Paul LeGrand in the early 1840s, the LeGrand children were taken into various families. Mary Jane, the eldest, spent time with Charles and Sarah Norman Rush and with Theodore and Caroline Mays Brevard. She and Green Mark Wood were married by Judge Brevard, and they named their first child Rush Brevard Wood. Margaret was raised as the only child of Letitia Ann Wood McNair (daughter of Green Wood's cousin Ashley Wood) and her husband Edward McNair. Cornelia was raised in the household of Charles and Sarah Norman Rush, and Virginia William "Willie" was raised from infancy as the only child of John Henry and Mary Harris Gindrat (whose niece Sarah Anne Harris later married Willis Breazeal Wood). Likely son Milton Paul LeGrand also was taken into the Rush family, but no record has been found of his earlier years; by 1850, at age 17, he was serving as an apprentice in the household of druggist Henry F. Godden in Marion, Alabama.
When the Wood family traveled to Texas by water in 1850, Mary Jane LeGrand Wood and children joined them on the steamer at Selma. It is an educated guess that for some time prior to the relocation she and the children were staying with Letitia Ann McNair (daughter of Green's cousin Ashley Wood) who raised Mary Jane's sister Margaret LeGrand.
Edward

McNair

and Letitia Ann

Wood

appeared in the US federal census of 1 June 1850 in Selma, Dallas County, Alabama. Other members of the household included Margaret Deborah LeGrand. Known as "LeGrand," Margaret is identified as L. G. McNair. Also in the household were three teachers, apparently boarding.
Mary Wood Mitchell wrote on 5 October 1852, in a letter to her niece Lizzie Green Wood Powell, "I got a letter from [Dr McNair] the day I received your,s. he said Latitia had no ease, only when lulled by opiates. Her sister is with her. every thing is done for her comfort that can posibly be done. The Dr says he takes her to ride as often as she can bear it. I think they don't expect She can live long. The leaders of her arm were cut when the opperation was performed but she could use it at first and imbroiderd or trimd a dress for Lagrand which inflamed the arm & swelled it very much. She has been suffering with that arm more than any thing else. Dr Mc N.. would take her any where she wishd. He received your letter recommending Dr Newton but she cant bear the trip. It grieved me that I cant go to see her. My children think it would lay me up. I insisted on L,s spending this summer with me but could not get her to do so. I now think there is no probability of our meeting until we meet in Heaven."
She married LeRoy Gardner

Weaver

, son of Philip J.

Weaver

, on 26 October 1852 in Selma, Dallas County, Alabama, with Wm H. Platt, Rector of St. Paul's Protestant Episcopal Church, officiating. The following is recorded in the marriage book: I hereby certify that in the evening of the 26th inst. I joined together in matrimony according to the office of the Protestant Episcopal Church the parties named and designated in the within marriage license, say designated because the Ladies Real name was Margaret LeGrand and by that name was married, McNair being a name added by the claims of friendship and adopting her. (Signed) Wm H Platt, Rector.
Upon the grave marker of Capt. Charles George Rush in the Rush family cemetery in Macon County, Alabama, who died on 9 December 1857, is written:
     Here lies C.G. Rush, the orphans friend,
     and we the children of W.C. & J.G. LeGrand
      are numbered with the many for whom he
     cared, he is gone but his memory will ever
     be cherished by the orphans.
In a letter to her uncle John Brown LeGrand on 31 January 1859, Mary Jane LeGrand Wood
wrote: ". . . Pa & Ma you know left 5 children, 4 girls and one son. They are all married and doing well except the youngest. She is now grown, 18 years old this month, she only came out as a young lady this winter, has been going to school all the time. Mrs Gindrat the lady that raised her has no children of her own, she treats Willie as though she was her own child. She has had every advantage. The rest have all had the same good luck. I have seen none of them since we moved to Texas 9 years ago. Willie is comming to see me this spring, Mrs Gindrat speaks of coming with her. Happy will be the time when we meet. Brother Milton deserves a great deal of credit. He went out to make a living for himself at 16 years of age. He now owns part of a large drug establishment in Montgomery Ala, his father-in-law and himself are in partnership. Brother is a very steady hard working man, attends very closely to his business. He has only one child, a little girl. Sister Margaret married a Mr Weaver, she has three little daughters. Sister Cornelia married Dr Johnston, a dentist. She has a little boy only a few months old. They are both living in Selma Ala. We all correspond. . . ."
LeRoy Gardner

Weaver

and Margaret Deborah LeGrand appeared in the US federal census of 1 June 1860 in Selma, Dallas County, Alabama. Other members of the household included Mary LeGrand

Weaver

, Natalie

Weaver

, Lilly LeGrand

Weaver

and Eugenia LeGrand

Weaver

. L. G. Weaver appears in the 1860 Slave Schedule with 5 slaves and 0 slave houses.
Margaret Deborah LeGrand died on 25 August 1867 at age 32.
Her husband LeRoy Gardner

Weaver

became a widower at her death.
She was interred at Old Live Oak Cemetery, Selma, Dallas County, Alabama.