James Pressley Harrall
b. 24 November 1895, d. 11 November 1976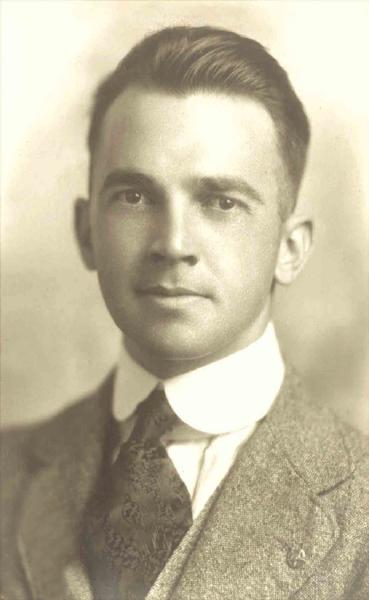 James Pressley Harrall, 1895-1975
James Pressley

Harrall

was born on 24 November 1895 in Cheraw, Chesterfield County, South Carolina.
Lemuel Drake

Harrall

and Charlotte Powe

Harrington

appeared in the US federal census of 1 June 1900 in Cheraw, Chesterfield County, South Carolina. Other members of the household included James Pressley Harrall, Henry Harrington

Harrall

, Alexander P.

Harrall

, Annie Laurie

Harrall

and Charlotte Harrington

Harrall

.
The following appeared on 27 December 1913 in The State: (Cheraw, Dec. 26) Lemuel D. Harrall died Tuesday morning at the Florence hospital, and was buried Wednesday afternoon in St. David's churchyard. He had been in failing health more than a year, though at different times he was able to go out and attend to his business. For many years Mr. Harrall was a prominent figure in business circles here, as a merchant and cotton buyer, and he was also, until his health failed, long the clerk and treasurer of Cheraw and was an efficient and popular official.
     Mr. Harrall was about 57 years old. He married Miss Lottie Harrington, daughter of the late Henry W. Harrington. He is survived by his wife, three sons, Henry Harrall of Ruby, Alex Har[r]all and James Har[r]all of Cheraw and two daughters, Misses Laurie and Lottie of Cheraw. There are also surviving him three brothers, Walter Harrall of Norfolk, Va., Thomas P. Harrall and Henry W. Harrall of Cheraw, and one sister, Mrs. Mary H. Reid of Washington.
James Pressley Harrall registered for the draft on 25 April 1942 in Franklin County, Ohio, while living with his wife Eleanor at 2350 Brentwood Road in Columbus, employed there by Bell Telephone Company at 42 East Gay Street.
James Pressley Harrall died on 11 November 1976 at age 80 in Chillicothe, Ross County, Ohio, at Veterans Hospital.
He was interred at Silver Brook Cemetery, Anderson, Anderson County, South Carolina.
The following appeared on 15 November 1976 in the Columbus Dispatch: /[Died/] James Pressley Harrall of 2607 Charing Road, Upper Arlington. Born in Cheraw, S.C. Died November 11 at the Veterans Hospital, Chillicothe, Ohio. Preceded in death by parents, Lemuel Drake Harrall and Charlotte Harrington Harrall. Survived by wife, Eleanor Frank Harrall; 4 nephews and 1 niece. Mr. Harrall was retired from the Ohio Bell Telephone Co., Member of St. Paul's Episcopal Church. A graduate of Clemson University, Class of 1916. Former member of the University Club. Also Columbus Country Club, Veteran of World War 1. Private interment Silver Brook Cemetery, Anderson, S.C. In lieu of flowers, contributions may be made if you wish to your favorite charity. Arrangements by Schoedinger State Street Chapel.