Charles J. Mitchell
b. circa 1838, d. between 1862 and 1870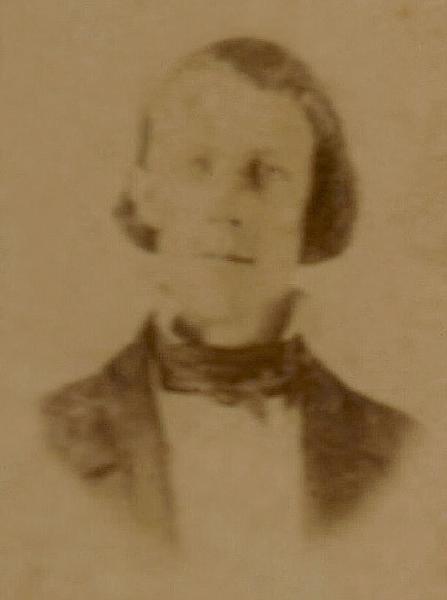 Charles J Mitchell, c1838-c1862
Charles J.

Mitchell

was born circa 1838 in Alabama.
James L.

Mitchell

and Elizabeth H.

Douglass

appeared in the US federal census of 1 June 1850 in Vernon, Autauga County, Alabama. Other members of the household included Charles J. Mitchell, William Douglass

Mitchell

, Cornelia Josephine

Mitchell

, Laura

Mitchell

and Sarah Douglass

Mitchell

.
He married Virginia Emaline

Williamson

, daughter of William B.

Williamson

and Sarah Ann C.

Kellum

, on 24 May 1860 in Polk County, Texas.
Charles J. Mitchell and Virginia Emaline

Williamson

appeared in the US federal census of 1 June 1860 in Coldspring, Polk County, Texas. Also in the household is overseer Frederick Lee, age 21.
He was a planter, according to the 1860 census.
Research Note: It is an educated guess that "Kinnie" Mitchell, born about 1860, enumerated in the household of "Josie" Mitchell Wood in the 1880 census as a niece, was the daughter of Charles and Virginia Williamson Mitchell, born after the 1860 census was taken, and that both parents died sometime before the 1870 census. Kinnie has yet to be found in 1870. It earlier was thought that Jane Mitchell also was a daughter of Charles, but additional evidence appears to confirm that she was a daughter of James and Elizabeth, despite her apparent absence from their household in 1870.
On 30 August 1861, William Douglass

Mitchell

wrote to Bolling

Hall

Jr.:
     Cold Springs, Aug 30th /61.
My Dear Uncle,
     As I have an opportunity of sending a letter directly to you by Mr Clepper who is en route for the seat of War in Virginia, as a volunteer in Col Terries regiment of mounted rangers, I will drop you a line. The war feeling engrosses the attention of all here, we hear of nothing but war and rumours of wars. Our county has sent two hundred men to Virginia and have two companies, one of Artilery and one of Cavalry, in the state, for confederate Service, so you see although we are in the back woods, we know our duties as patriotic citizens and members of the Southern Confedracy. Leroy left for virginia a week ago in Mr Powels Company, which is one of the twenty companies called for from this State by the President. My Father is now living in Robertson County on the Brazos. He was well when I heard from him. Charlie is married and living near me, he is doing well. Brother James is living in Grimes County in the Mill business, he is doing only tolerably well. Our Crops of corn were never better than they are this year. The Cotton crop will not be a good average crop owing to dry weather, from ten to twelve hundred per acre will be an average of this county. I received a letter from Josephine a few days ago, she states that all were well but that they had had a great deal of sickness in their family. Major Wood is suffering a great deal with inflamation of the eyes it is thought he will loose his sight. I have intended for some time to write to you on the subject of Margret Bailies Estate, have the heirs of my Mother any interest in that Estate, if not please let me know, by what act they have been debarred I would be glad to hear from you occasionally, and from my other relatives in Alabama. My warmest regards to all of my friends and believe me ever yours, Affectionately
          W. D. Mitchell
Minimal punctuation added by the transcriber to enhance readability.
Charles J. Mitchell joined for duty and enrolled at age 23 as a private for the period of the war by Lt. W. T. Hill, in Capt. R. M. Powell's Company (Co. D), 5th Texas Infantry, CSA, at Robertson County, Texas, on 1 April 1862. He was discharged for disability at Richmond, Virginia, 24 June 1862. His discharge papers, stating that he was enlisted at Danville, Texas, were witnessed by Lt. Campbell Wood. According to the Certificate of Disability for Discharge surgeon's statement, he was found incapable of performing the duties of a soldier because "Phthisis [consumption] in last stage. Altho first recruited, he will not probably live the month. I therefore advise his discharge immediately." Apparently he died sometime between 1862 and 1870.
Charles J. Mitchell died between 1862 and 1870.