Samuel May Williams
b. 4 October 1795, d. 13 September 1858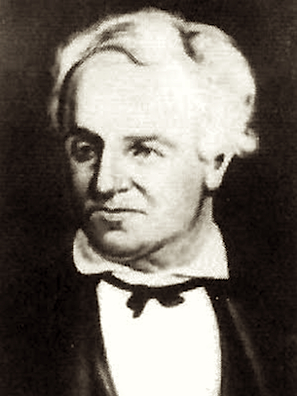 Samuel May Williams, 1795-1858
Samuel May

Williams

was born on 4 October 1795 in Providence County, Rhode Island.
He was a businessman, land speculator, banker, father of the Texas navy, and co-founder of Galveston -- a man often neglected by historians --frequently set aside his own interests to advance the development of Texas and its economy, a less romantic but perhaps no less vital role than that of more popular Texas folk heroes.
He married Sarah Patterson

Scott

, daughter of William

Scott

and Mary

(?)

, on 18 March 1828.
Samuel May Williams and Sarah Patterson

Scott

appeared in the US federal census of 1 June 1850 in Galveston, Texas, enumerated next to Michel and Rebecca Menard.. Other members of the household included Joseph Victoria

Williams

, Austin May

Williams

, Mary Dorothea

Williams

, Caroline Lucy

Williams

, Samuel May

Williams

Jr. and William Howell

Williams

.
He was president of a commercial bank, according to the 1850 census.
Thomas Affleck purchased property from Samuel May Williams and established his new plantation Glenblythe in Washington County, near Brenham, about 1858.
Samuel May Williams died on 13 September 1858 at age 62 in Galveston, Texas.
He was interred at Trinity Episcopal Cemetery, Galveston, Texas.
A single grave marker identifies the graves of Samuel May Williams and Sarah Patterson

Scott

.
The following appeared on 22 February 1950 in The Galveston Daily News: The contributions of Col. Samuel May Williams to state and local history and to the founding of the island city will be revealed in a paper to be presented by Miss Ruth Nichols at a meeting of the Galveston Historical Society Sunday. . . . Invited as guests of honor for the Historical Society meeting are Misses Mary and Nancy Campbell of San Antonio, granddaughters of Col. Williams: Mrs. E. C. (Nellie League) Fitzgerald of Galveston, Miss Esther Gill of Houston, Mrs. A. J. Caldwell of Corpus Christi, and Mrs. Virgil Vickroy of San Antonio, all great-granddaughters, and Waters S. Davis of League City, another descendant of the colonel.
The following appeared on 23 February 1969 in The Galveston Daily News: The Galveston Historical Foundation calls this house the most historic in Texas, and the versatile, talented man who built it in 1837 and lived in it for twenty-one hears was a founder of the Port of Galveston. Samuel May Williams was also much more -- so much more and so little known outside of galveston historical circles that he can rightly be called the forgotten man of the Texas colonization and revolutionary period. Williams, born in Providence, Rhode Island, and a descendant of Robert Williams who came to Massachusetts from Wales in 1640, arrived in Texas to join Stephen F. Austin's colony in 1822 at the age of 27. The list of accomplishments during the succeeding 36 years until his death at 63 in 1858 is somewhat breath-taking: He became Austin's secretary and right-hand man, keeping official records of the colonization period; he was the first postmaster for the Texas colonists under Mexico; he was a founder of the City of Galveston in 1838. Samuel May Williams and his partner, Thomas F. McKinney, were the founders of maritime commerce in Texas, for they established in 1834 the first line of three small steam vessels to run up the Brazos River: Williams was probably the first man to raise cotton in Texas, winning prizes for cotton production from the Austin Colony in 1832. So strongly did Williams support the fight against Mexican rule that he fitted out several schooners for use as part of the Texas Navy and spent out of his own pocket to finance the revolution, winning himself the honor of being called "Father of the Texas Navy." Williams operated the first permanent wharf and warehouse in the City of Galveston at the foot of 24th and Strand, and Williams personally began Texas' domestic and foreign trade through the Port of Galveston in 1838, two years after Texas became an independent nation. Williams also was the first ambassador from the Republic of Texas to a foreign power -- the United States. He and his brother built the first of three world famous Tremont Hotels in Galveston, and Samuel May Williams became the "Father of Texas Banking" when he became president of the first incorporated bank in Texas at Galveston, the Commercial and Agricultural Bank, which operated from 1847 to 1859 and was a fore-runner of the present First Hutchings-Sealy National Bank of Galveston. Williams was also elected to represent Galveston in the Congress of the republic of Texas in 1839 and secured legislation of importance to Galveston, including provision for a lighthouse and a city charter. He also found the time to maintain a happy home in the house at 3601 Avenue P, which was then outside the city limits of Galveston, and with his wife, Sarah, reared five children. The Williams House was framed of northern white pine and hemlock. . . . Another consideration which keeps local historians occupied along with keeping the home in good repair is the answer to the Williams puzzle: Why a man who did so much for the cause of Texas and with such brilliance became so left out and forgotten in the roll of Texas heroes. The only logical answer so far is apparently that Williams kept so busy he didn't have time to worry about having history remember him.
For additional biographical information, see The Handbook of Texas Online.