John Clark
b. 28 February 1766, d. 12 October 1832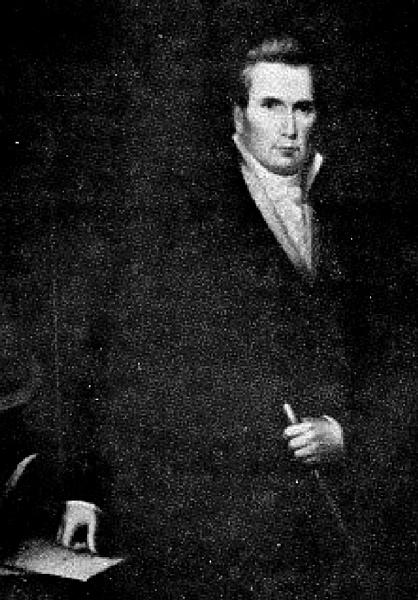 John Clark, 1766-1832

John

Clark

was born on 28 February 1766 in Edgecombe County, North Carolina.
He married Nancy

Williamson

, daughter of Micajah

Williamson

and Sarah

Gilliam

, on 24 December 1792, and John's sister Mary married Nancy's brother Charles.
He served as the Governor of Georgia from 1819 to 1823.
John Clark died on 12 October 1832 at age 66 in St. Andrews Bay (later Panama City), Washington (later Bay) County, Florida.
His wife Nancy

Williamson

became a widow at his death.
The following appeared in a Georgia newspaper: Public & Current. Public Meeting. All who feel disposed to pay respect to the memory of Genl. John Clark, are respectfully solicited to assemble at Capt. McCombs' Long Room at 9 o'clock tomorrow evening. "How die the brave who sink to rest / With all their country's honors blest." That distinguished patriot, Genl. John Clark is no more! He expired on the 12th day of October last at his residence, on St. Andrew's Bay, in West Florida. In clothing our columns with black, we are but doing justice to our feelings, in common with those of a large portion of our fellow citizens--justice to the memory of the soldier who, in early youth and mature age, drew his sword for the cause of liberty and independence--justice to the name of the statesman, who rose, in rapid succession, from one post of honor to another in our State, till he had again and again reaped the highest rewards that Georgia could give him--we are but rendering an imperfect token of the high and lasting respect we entertain for the man, who died, as he had lived, in the active service of his country, and in warm and unwavering devotion to her highest and best interests. An ardent and indissoluble attachment to republican principles, to the Union of the States and the Constitution of his country, marked the whole life of this revolutionary hero. Those principles which he fought to establish in our war for independence, he sustained, with unceasing vigor, through the whole period of his eventful existence. He was the key-stone of our glorious Union, in the South, when the waves beat highest and the storm roared loudest against the ark of our political covenant. Though he reached near the three score years and ten allotted to man--though his days were covered with glory and his temples silvered with the honors of time, yet the death of such a man, at such a crisis, is a serious calamity to our country. But those lessons which he taught his more youthful contemporaries, we hope, will not be soon forgotten.
     We are not prepared, at this time, to do full justice to the memory of General Clark. For a brief sketch of his active life and faithful services, we refer our readers to the subjoined extract from the Floridian. We hope ere long, to see his memoirs before the country. In the mean time, his eulogy is written in thousands of honest hearts in and out of Georgia, who have regarded him as one of the purest and most upright patriots of the age.
     But, in this imperfect record of the death of a distinguished patriot, we have performed but half our melancholy task! The upright, the amiable, the accomplished and intelligent partner of his sorrows and his joys--she who, in days of difficulty, solaced and cheered him on in the course of duty--who, in the hour of prosperity, brightened the picture of life, and rejoiced with him in the welfare of her country--has followed him, with hasty steps, to the grave. Mrs. Ann Clark, consort of General John Clark, died of bilious cholic at her residence in Florida, on the 26th of October last, in the fifty-ninth year of her age, after an illness of but two days and a half--and just fourteen days after the decease of her distinguished husband.
     Rarely does the hand of death seize upon those who have more completely filled up the duties of this life in public and in private, as patriots, as citizens, as neighbors, as father and mother, as husband and wife, were this eminent couple distinguished for those high and noble virtues which adorn our species, brighten the path of virtue, give a charm to the tenderest relations of life, and promote the happiness of society and the good of their country. Thus passing, with united hearts and joint co-operation, through the destinies of eventful lives, they reached, while doing more than ordinary good, beyond the ordinary period of human probation, and in mature old age and in quick succession, have descended, honored, beloved, and lamented, to the tomb:
     Deep and heavy as is this double affliction to the fond children who survive them, there is a melancholy consolation in the reflection, that their departed parents have left behind them, names which malice cannot blight, and time cannot erase from the memory of an admiring and grateful people.
     [From the Floridian of the 30th ultimo.] ---------"he had kept / The whiteness of his soul, and thus men o'er him wept." Departed this life, on the 12th October, 1832, at his residence on St. Andrew's Bay, [West Florida] in the sixty-seventh year of his age, General John Clark, formerly of Georgia. On the 30th of September, while engaged in the duties of the live-oak agency, he was attacked with bilious fever on St. Vincent island, and was carried thence in a small sloop to his residence on St. Andrew's Bay, where he lingered until the evening of the 12th October, when he breathed his last.
     Few men have lived the live which he lived. At an early period of his existence, he selected the best of principles, as his rules of action, in all the various relations of life. Up to the day of his death, he adhered to them with a pertinacity, co-existing with life itself.
     During the struggles of the Revolution, he usually attended his father, the gallant Colonel Elijah Clark, and participated in the many skirmishes and battles in which that active partizan was engaged. At the age of fourteen the subject of this notice, was sent to school in Wake county, North Carolina, where he did not long remain, before a scouting party being raised to go against the tories and British, he joined them, and after his return from that expedition, finding an opportunity of company to the place where he left his father, he abandoned his school. He again joined his father in the ranks of his countrymen, and fought under him at the last siege of Augusta. At the age of sixteen, he was appointed lieutenant, and then captain of militia. In 1786, he was elected major, and, in that capacity, he commanded, in 1787, under his father, in the battle fought with the Indians at Jack's Creek. Those who are now in life, and remember the events of that period, will recognize in the name of the departed, one who, in the bloom of youth, was the moving spirit and rallying point at a time little less disastrous than the troubles of the Revolution.
     He rose in rapid succession to the different grades of military command, until he was elected, by the Legislature of Georgia, brigadier and then major general. Nor were his fellow citizens less willing to confide to him, in a civil capacity, those rights and privileges which he had so much and so successfully contributed to support and protect in the camp. As sheriff, and representative, first in the house and then in the senate of the State Legislature, of the respectable county of Wilkes, it was his good fortune, after years of service, to give complete satisfaction to his constituents.
     Near the conclusion of the late war, at a most critical and dangerous time, the command of all forces destined for the protection and defence of the sea-coast and southern boundary of the State of Georgia was given to him by Governor Early. In 1816, he was elected, by the Legislature, elector of President and Vice President of the United States; and was afterwards twice honored with the office of Governor of the State. Besides the foregoing, he received several other appointments and commissions from the Legislature and Governor of Georgia.
     In 1827, he moved to West Florida, and sought a retreat from the cares and turmoils of busy life, on the secluded borders of St. Andrew's Bay, where he hoped to spend the evening of a not uneventful life in the enjoyment of domestic quiet and repose. The expenses incident to a settlement in a new country, soon rendered it necessary for him again to embark in active business, and the appointment of agent, for the protection of live-oak, having been tendered him, he accepted it, and notwithstanding its duties were arduous, and the performance of them attended with constant exposure, yet being urged by the Department at Washington, to bring the business to a close, and having the kindest regard for the future prospects and welfare of his family, he, at the most unwholesome season of the year, exposed himself, in the discharge of a duty, to the inclemencies of the most unhealthy portion of his district, and fell a victim to the unrelenting hand of death;--and, in that stroke, that family has sustained a loss which no time, no circumstances, can repair.
     As a man, a citizen, and a politician, honor and integrity are the pillars of his fame--it is as imperishable as the materials that support it. As a husband, father and master, the deep anguish of those to whom he stood in those relations, bespeak his worth and their loss. As a friend, he was the firmest of friends. As a christian, when asked if he believed in the eternal efficacy of the religion of Christ, his last audible words were, "I believe." He breathed his last without a struggle, and his countenance in death bore the impress of peace and content. "Nor further seek his merits to disclose, / Nor draw his frailties from their dread abode; / There they alike in trembling hope repose, / The bosom of his father and his god."
The following appeared on 11 December 1875 in the Augusta Daily Chronicle & Sentinel: (from the Atlanta Constitution) "It will be a matter of interest to some of our citizens to learn that Miss Clark, grand-daughter of ex-Governor John Clark, of Georgia, is in the city for the purpose of having copied the portrait of her grandfather, the said John Clark, from the collection of portraits of illustrious Georgians which embellish the representative hall of the State Capitol. The only daughther [sic] of Governor Clark, well known as the brilliant Mrs. John A. Campbell, now lives in Texas. Many of her father's and husband's old friends met her last Winter while on a visit to her relative, Mrs. John Neal, of this city. Among them was Col. William H. Sparks, he of the 'Memories of Fifty Years,' who had not met her since her bridal night, when he acted as one of the attendants."
On 18 April 1885, Amanda M.

Kilbee

wrote to Ann Williamson

Clark

:
My Dear Sister,
     It has been a long time since I wrote you but I always love dearly to hear from you and all your children. Twice Susie has sent me your letters to read which I assure you gave me great pleasure to hear how all yr children and grand children were getting along, My own children are all well, Eliza & Annie C are at home with me. Susie you know is in Atlanta and Mattie is still living in Selma Ala. My two Sons are still in the cotton business and seem to be doing very well. John has five Children, all well but the youngest, which is quite a delicate child, we think from having whooping caught when very young. He is nearly two years old. All the Johnstons and Mrs. Butler are well, but Mrs. Butler health is very poor generally. Carrie Johnston, now Mrs. Duncan, has a Son. I have just written to Susie and enclosed a letter from my sister Mrs. Myrick who lives in Marianna, in which Col. McLennan asks for your address. He is a lawyer living in Marianna and says he thinks your Fathers Estate own about 1000 (one thousand) acres of land which has been lately sold to the R R company and that if proper steps were taken would be worth something to his Gen Clarks heirs, unless Bared by the Statute of limitation, Tell Archie it will be something he can look into. I am sorry I do not know his first name or his enitials -- but will send your address this afternoon and hope you will soon hear from him. Have you the titles to the one acre reserved around the grave lot? I have none, and if you have you may want to have them on a new record or to have the claim well substanciated, My own health is very good, only I have a cough which gives me some trouble occasionally. I shall hope to hear from you soon, and with good success to all parties -- and believe me ever your loving sister, A. M. Ruan
     The envelope is addressed to Mrs. A. W. Campbell, Care A. R. Campbell, Esq., Galveston, Texas, and pencilled in another hand on the face of the envelope, "Mrs. Amanda Ruan, Macon, Georgia." Minimal punctuation added by the transcriber to enhance readability.
He was interred on 6 April 1923 at Marietta National Cemetery, Marietta, Cobb County, Georgia, removed in 1923 from St. Andrews Bay, Florida, by the Daughters of the American Revolution.
Clarke County, Alabama, was founded by the Mississippi territorial legislature on 10 December 1812 as part of the Mississippi Territory. It was named in honor of Gen. John Clarke, who was a friend of Andrew Jackson and later elected Governor of Georgia.