Sarah Josephine Wood
b. 30 July 1877, d. 10 December 1907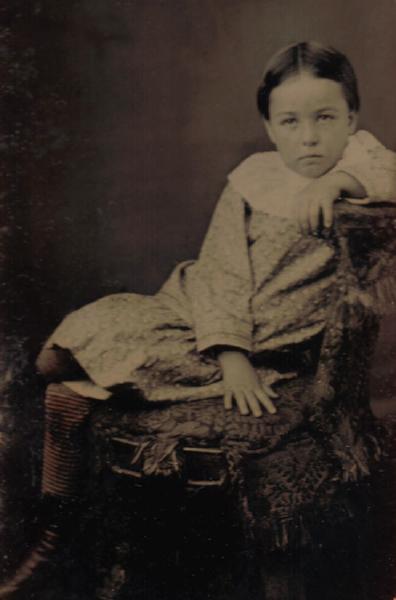 Sarah Josephine "Josie" Wood, 1877-1907
Sarah Josephine

Wood

was born on 30 July 1877 in Willis, Montgomery County, Texas, at their home.
She was known as Josie.
Campbell

Wood

and Ann Hall

Mitchell

appeared in the US federal census of 1 June 1880 in San Saba County, Texas. Other members of the household included Sarah Josephine Wood, Elizabeth Augusta

Wood

, Evelyn Annie

Wood

and Annie Laurie

Wood

.
Evelina Wood wrote (from Willis) to her grandson Wood Powell on 12 April 1887, ". . . I wish your three sweet daughters & Campbell's girls, Lina's & "Ella's little red head could see each other & become acquainted. I want Lina to send you one of "Willie's pictures recently taken. How I long to see you my dear boy and your sweet wife & children. I sometimes think Is life worth living? when kindred are so far away . . ."
     Letter in private collection of B. M. Henwood, descendant of Wm Wood Powell; original transcription by R. E. Reichardt.
Sarah Josephine Wood appeared in the US federal census of 1 June 1900 in Concho County, Texas, boarding in the household of stock raiser Samuel Henderson and his wife Martha and seven children.
She was a teacher, according to the 1900 census.
Josie set out on her Klondike adventure shortly after the 1900 census was taken.
A photograph was made of Josie Wood in Nome, Alaska.
The following appeared on 14 November 1903 in The Lampasas Leader: Mrs. Campbell Wood, of this city, passed away, in Houston, on Monday, Nov. 10, 1902, at 8 a.m. Mrs. Wood has been a great sufferer for many months, and at her earnest entreaty she was carried to Houston early in October, Miss Bessie Chism, of this city, kindly accompanying her, and where she was met by two of her daughters and other relatives. Her death was not unexpected. Though all of the family could not be with her, three of her daughters attended and tenderly nursed her, and there were present many other relatives of the family. The interment took place at Willis, in Montgomery county, on Tuesday afternoon, where the family formerly lived before moving to this section of the state. The family have resided in this city since October, 1901, having moved from Cherokee, San Saba county.
She married Charles E.

Brown

on 18 November 1903 in Valdez, Alaska Territory, at Epworth League Church.
The following appeared on 22 July 1906 in The Dallas Morning News (Sunday magazine supplement): The world has always paid homage to the true adventurer, whether by land or sea, and the daring deeds of this risky set of persons have a charm for us which is difficult to express. As a rule the great explorers and adventurers have been of the sterner sex, whereas, there are examples of brave women who have risked their lives in the humbler walks of life in attempts to lighten the burdens of their fellows. While the greatest names among the great explorers and adventurers are not in the pages of Texas history, yet it remained for a brave Texas girl to outstrip the average adventurer and do deeds of daring that have thrilled the hearts of all who have heard of her most remarkable feats of cool daring amidst the most astonishing circumstances.
      When the Klondike excitement began in 1898 Miss Josie Wood, a daughter of Dr. Campbell Wood of Cherokee, Tex., was seized with an insuperable desire to go to the far-away Klondike. If the ambition had found lodgment in the breast of some be no great surprise for us, but when we are told that it was a Texas girl only 19 years of age that proposed to thread her way to the frozen regions of the Klondike we are hardly prepared for the story that shall follow. At the time Miss Wood conceived the notion of this daring trip she was teaching school in Concho County, near the little town of Vigo. She was governess in the home of Mr. and Mrs. Henderson. This was in 1896. In 1898, when the Klondike excitement was at its height, she made known her desire to her father, who discouraged her from the hazardous undertaking. As the months rolled around her desire to go to the Klondike increased rather than decreased. So in 1900, when the gold mines at Nome, Alaska, were attracting the attention of the world, Miss Wood's determination was complete and to the Klondike she must. Mr. and Mrs. Henderson did all they could to persuade her from the undertaking, but in vain. Dr. Wood, in speaking of his daughter, said:
     "From early childhood she always displayed a remarkable inclination to perform the extraordinary. She always succeeded in her undertakings, no matter how difficult or strange, hence when she insisted on undertaking the Klondike trip, while I could not encourage her to go, at the same time I felt sure that she would take care of herself and if there was any hope for anyone achieving success she would."
     When Mr. and Mrs. Henderson saw that there was no use to persuade her further from the trip they decided to accompany her to Fort Worth and there assist her in the preparations for the trip. There with fatherly and motherly kindness they assisted her in whatever way they could. From Fort Worth Miss Wood wrote her parents that she was en route to the Klondike region, knowing as she did that she was now too far away for them to interfere with her plans even if they had so desired. With true maternal interest Mrs. Wood telegraphed her daughter in Seattle, Wash., begging her to return to the home of her parents, urging upon her the almost certain death that would await her. But with that determination that knows no turning back, she pressed on along one of the most daring and perilous trips ever undertaken by mankind, much less by womankind. Dr. Wood wrote to his daughter that as he had no special inducements to offer to remain in Texas, and if she had made her plans with thoughtful care and was determined to go on he would not attempt to cause her to abandon the trip. She pressed on. Dr. Wood writes as follows:
     "I felt that she was mentally and physically able to fight the battle of life in any clime. I knew that she was endowed with ambition and intellect and that she was a courageous girl and I could not but admire the enterprise, ambition and audacity of youth that would encounter such difficulties as were sure to come in her way."
     Leaving Fort Worth with tourist's tickets, Miss Wood visited places of interest en route and arrived in Seattle July 11, 1900. She was then 23 years of age and weighed 170 pounds. At Seattle she, together with several others, procured the usual outfit for the trip by water to the Klondike. They sailed from Seattle on July 15 and arrived at Nome July 22, 1900. On the vessel was a Mrs. Tubbs and her sister, with whom Miss Wood became acquainted in Seattle. Mrs. Tubbs' husband was the proprietor of a bakery in Nome. His cashier had been seized with the gold fever and had gone to the gold regions. This left him without this necessary assistant and Miss Wood was offered the place. She accepted it with a salary of $130 per month, together with board and room. In speaking of the work she had to do, Miss Wood wrote as follows:
     "It is the easiest work I ever did in my life -- just sit at the register and weigh the gold dust as it is put into the till * * * I can stand the bitter cold and fight the fever and the other diseases for I have a good outfit, am in good health, cheerful and hopeful. If I can become accustomed to the heart-rending scenes that I see every day. From my window I can see the mountains covered with snow and 400 or 500 people coming with packs on their backs. Some come with sacks of gold dust and some come with nuggets, others come empty handed, foot-sore, weary and heart-sick, hungry, begging for the merest pinch of bread that falls from the table of the more fortunate ones."
     Nome at this time was a very lawless place and it was necessary for Miss Wood to keep six-shooters on the desk by her side as she weighed the gold dust from day to day. In fact, a man of ordinary nerve would have been too nervous to weigh gold dust or anything else when it is remembered that two cashiers had been shot while sitting at this same desk only two weeks before. But not so with this brave daughter of the Lone Star State! She remained at her post through thick and thin.
     From the desk where she sat she could look out on the rolling Bering Sea and see the great vessels rocked to and fro and some finally wrecked among the heartless icebergs that came from the northern seas.  In addition to her duties as cashier Miss Wood did typewriting for her employer and earned $15 a day in gold! In one of her letters to her father she give an account of her wearing apparel as follows:
     "I wear a silk union suit, a flannel suit, a chamois skin chest protector, flannel bloomers, a short skin skirt, a corset waist, a red sweater, wool hose and kid leggings, a heavy shoe with felt soles. All these are worn in the house and when I go outside I wear in addition, skin leggings, without heels, which come up over the knees. These are called muck-lucks.
     "For sleeping i have a nice folding felt cot, a good hair mattress, eight pairs of woolen blankets, sheets and pillows, a heavy steamer robe, a $40 fur robe, an air mattress, an air pillow and two long hot water bags and a kerosene stove. When I retire I fill the air mattress and pillow with hot air and place a hot water bag on either side of me, and I sleep warm and comfortably." This equipment for sleeping sounds strange to us in these latitudes.
     In a short time Miss Wood and her companion, Miss Camp, were stricken with the gold fever, as it is called in those regions, and they, together with four married ladies and their husbands, struck the trail for the gold regions. They had to travel, of course, through the snow, and the journey was indeed a perilous one. It was not only dangerous in the extreme, but from a business standpoint it was ill-advised. They carried their tents in sections and provisions on their shoulders. Each one of the daring party staked several claims upon which they afterward filed. One night when they were 100 miles from the city of Nome they pitched their tents and, placing their packs therein, they went down to the seashore to search for enough driftwood to kindle a fire with. When they returned, picture their dismay when they discovered that some strolling natives had stolen their all in this far-away region, where the necessities of life were of the barest kind and where prices were indeed fabulous! What did they do? Did they give up? Not for a day. Luckily the natives left the tents, and the next day they met some squaws, to whom they traded their tents for a few matches and a few quail. In a day or two they arrived at a native ingaloo, where they were drying fish, and from whom they obtained some food. From this point the party went to Florence, from which place they boarded a schooner for Nome, but were encountered by the same story that destroyed Galveston, and it was seven days before they reached Nome in a weather-beaten condition. The storm that was raging there then had washed away a goodly part of the city of Nome and with it the little bakery where Miss Wood first secured employment and with the bakery also went the trunk of Miss Wood and her outfit which she had bought at Seattle several weeks before. All she had left was a little money in the bank. She soon got a position as nurse in the hospital at $10 per day with board and rooms. During the next year she earned a considerable sum of money, but it was almost used up during the following winter as coal cost $200 per ton, kerosene oil $15 per can and all other necessities in proportion. 
     During the next year she secured employment in the town of Council City, about sixty miles northeast of Nome. While living at Council City the most romantic part of her trip transpired, for it was here that -- she got married! Her husband is Charles E. Brown, a native of Canada. They were married in the little Epworth League Church at Valdez. Their wedding took place on the 17th day of November, 1903. Mr. Brown was in business in Valdez and had a branch store at Seward, a town on the southern coast of Alaska. Finally Mr. Brown sold his business at Valdez and moved to Seward, where he continued in business.
     Seward is one of the most delightful places on the Pacific Coast on account of the influence of the Pacific currents, which bathe its shores.
     During the following winter Mrs. Brown was a victim of inflammatory rheumatism, which came as a result of the exposure to which she was subjected at Nome during the previous winters. This was not to be wondered at, because the change from the latitudes was too great for one to endure without some harmful results.
     Last March Mr. and Mrs. Brown went to the hot wells at Los Angeles, Cal., and remained there until the warmer season should come in Alaska.
     During the time that Miss Wood was staking out gold claims in the Yukon Valley she went within a few miles of the Arctic circle in latitude 66 degrees north latitude.
     Her husband made the trip overland from Hudson's Bay to Alaska and he was two years and eight months making the trip. So it may be said that Miss Wood and Mr. Brown were two of a kind and their meeting in the far-away Klondike region, while accidental, has resulted in a very happy marriage. They have no children and are doing well in business at Seward, Alaska.
     Miss Wood has several sisters living in San Marcos, all of them teachers actually or prospective. Her father, Dr. Campbell Wood, still lives in the little town of Cherokee, in Burnett County [sic].
     When we consider the dangers that Miss Wood endured and the privations that she was called on to undergo, her career in this long journey is indeed worthy of a place aong the real adventurers of the day.
Sarah Josephine Wood died on 10 December 1907 at age 30 in Seward, Alaska Territory.
Her husband Charles E.

Brown

became a widower at her death.
She was interred at City Cemetery, Seward, Kenai Peninsula Borough, Alaska Territory.
On on 20 April 1908, Campbell Wood in his memoir addressed to his daughter Evelyn Riley:
      On the 10th day of December, 1907, your sister, Josie, Mrs. Chas. E. Brown, after a long and painful illness, passed from life at her home in Seward, Alaska. In her last illness, she was attended by her devoted husband and tenderly nursed by her loving and affectionate sister, Bessie Wood. In the closing hours of her severe illness, when the intense pain from which she suffered was torturing and to which the Doctors could bring no relief, when she knew that death was inevitable, she prayed that it might come and give relief from the agony, and then after a pause she added, "but I do want to see my papa." Her remains now lie entombed in the frozen Northland but may yet repose in the soil of Texas, her native state.
     Two months later, another daughter, your sister Ella, passed from life in Mt. Zion Hospital, San Francisco, California, unattended by any of this family but tenderly cared for by newly made friends. Her remains lie in Willis, Montgomery County, Texas.
     All of this had its saddening effect and moreover there still remained, ice bound in Alaska, another daughter, your sister, Bessie, who had bravely encountered the unfriendly climate of the far Northland to nurse and tenderly care for her invalid sister. We knew not when she could safely cross the treacherous and perilous sea, and as my thoughts, and no doubt the thoughts of her sisters, were constantly with her, the suspense has been heavy and hard to bear. This week (on April 13th) we learned that she had safely crossed the perilous sea and is now enroute home. In a few days we will have her with us. Knowing that she has left the ice bound region of the North and is hastening home to those who love her, has lifted the mental burden and our hearts are lighter.