Campbell Ella Wood
b. 21 January 1882, d. 23 February 1908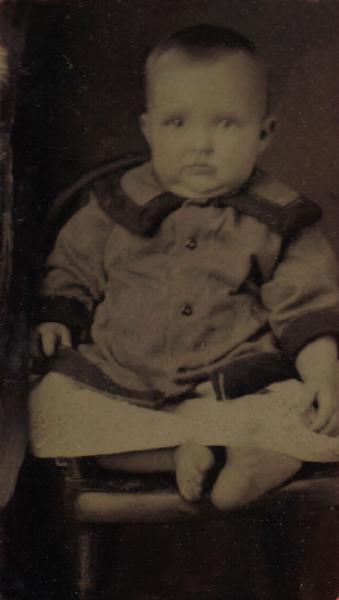 Campbell Ella Wood, 1882-1908
Campbell Ella

Wood

was born on 21 January 1882 in San Saba County, Texas.
She was known as Ella.
Evelina Wood wrote (from Willis) to her grandson Wood Powell on 12 April 1887, ". . . I wish your three sweet daughters & Campbell's girls, Lina's & "Ella's little red head could see each other & become acquainted. I want Lina to send you one of "Willie's pictures recently taken. How I long to see you my dear boy and your sweet wife & children. I sometimes think Is life worth living? when kindred are so far away . . ."
     Letter in private collection of B. M. Henwood, descendant of Wm Wood Powell; original transcription by R. E. Reichardt.
Campbell

Wood

and Ann Hall

Mitchell

appeared in the US federal census of 1 June 1900 in San Saba County, Texas. Other members of the household included Campbell Ella Wood, Elizabeth Augusta

Wood

, Annie Laurie

Wood

, Ellerbe English

Wood

, Mary Lou

Wood

and Campbell

Wood

Jr.
She was a teacher, according to the 1900 census.
The following appeared on 14 November 1903 in The Lampasas Leader: Mrs. Campbell Wood, of this city, passed away, in Houston, on Monday, Nov. 10, 1902, at 8 a.m. Mrs. Wood has been a great sufferer for many months, and at her earnest entreaty she was carried to Houston early in October, Miss Bessie Chism, of this city, kindly accompanying her, and where she was met by two of her daughters and other relatives. Her death was not unexpected. Though all of the family could not be with her, three of her daughters attended and tenderly nursed her, and there were present many other relatives of the family. The interment took place at Willis, in Montgomery county, on Tuesday afternoon, where the family formerly lived before moving to this section of the state. The family have resided in this city since October, 1901, having moved from Cherokee, San Saba county.
Campbell Ella Wood died on 23 February 1908 at age 26 in San Francisco, San Francisco County, California, at Mt. Zion Hospital following an operation for appendicitis.
She was interred at Willis Cemetery, Willis, Montgomery County, Texas, by the side of her mother.
On on 20 April 1908, Campbell Wood in his memoir addressed to his daughter Evelyn Riley:
      On the 10th day of December, 1907, your sister, Josie, Mrs. Chas. E. Brown, after a long and painful illness, passed from life at her home in Seward, Alaska. In her last illness, she was attended by her devoted husband and tenderly nursed by her loving and affectionate sister, Bessie Wood. In the closing hours of her severe illness, when the intense pain from which she suffered was torturing and to which the Doctors could bring no relief, when she knew that death was inevitable, she prayed that it might come and give relief from the agony, and then after a pause she added, "but I do want to see my papa." Her remains now lie entombed in the frozen Northland but may yet repose in the soil of Texas, her native state.
     Two months later, another daughter, your sister Ella, passed from life in Mt. Zion Hospital, San Francisco, California, unattended by any of this family but tenderly cared for by newly made friends. Her remains lie in Willis, Montgomery County, Texas.
     All of this had its saddening effect and moreover there still remained, ice bound in Alaska, another daughter, your sister, Bessie, who had bravely encountered the unfriendly climate of the far Northland to nurse and tenderly care for her invalid sister. We knew not when she could safely cross the treacherous and perilous sea, and as my thoughts, and no doubt the thoughts of her sisters, were constantly with her, the suspense has been heavy and hard to bear. This week (on April 13th) we learned that she had safely crossed the perilous sea and is now enroute home. In a few days we will have her with us. Knowing that she has left the ice bound region of the North and is hastening home to those who love her, has lifted the mental burden and our hearts are lighter.