Lucille Rose Leonard
b. 18 September 1920, d. 8 July 2004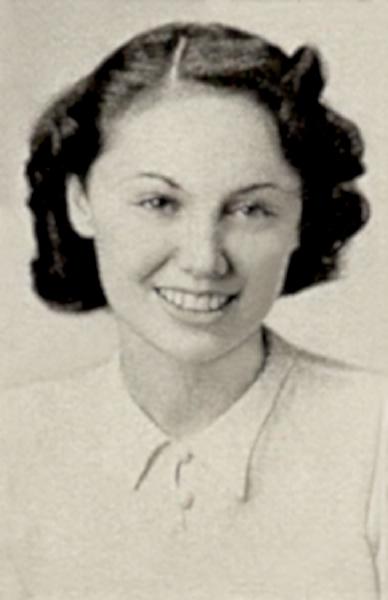 Lucille Rose Leonard Garner, 1920-2004
Lucille Rose

Leonard

was born on 18 September 1920 in Houston, Harris County, Texas.
She married William Henry

Garner

Jr., son of William Henry

Garner

and Carrie

Teague

, on 15 July 1939 in Houston, Harris County, Texas, at Church of the Redeemer.
William Henry

Garner

Jr. and Lucille Rose Leonard appeared in the US federal census of 1 April 1940 in Houston, Harris County, Texas.
According to an account written by his widow Lucille, William Henry Garner Jr. taught math and coached football at the local high school in Aldine, Texas.  Around 1941, he had started working for Texaco, and around 1943, they went to the Citadel in Charleston, South Carolina, where he taught in the Army Specialist Training Program for about a year before heading back to Houston. Then to New Orleans, Atlanta, and eventually on to Virginia Beach, Virginia, in 1958 when he was promoted to an executive position with Texaco.  He was diagnosed with leukemia while they were living in New Orleans, and he died in December 1966 in Virginia Beach.  
Lucille Rose Leonard became a widow at the 14 December 1966 death of her husband William Henry

Garner

Jr.
Lucille Rose Leonard died on 8 July 2004 at age 83 in Virginia Beach, Virginia.
She was interred at Old Donation Episcopal Church, Virginia Beach, Virginia, 34978923.
The following was published online by the Hollomon-Brown Funeral Home: Lucille Leonard Garner, of 3100 Shore Drive, died on Thursday, July 8, 2004, in Virginia Beach, VA.
     Lucille was born in Houston, Texas in 1920, the daughter of Cam and Berenice Leonard. She had been a resident of Virginia Beach since 1958 when her husband, the late William H. Garner, was transferred there as an executive with Texaco, Inc. From the time of their arrival, Lucille and Bill were active members of Old Donation Episcopal Church, both serving in many capacities, including terms on the vestry. Lucille also served as a volunteer at the Dioceses office, Talbot Hall, was a member of the Virginia Symphony League, and was a founding and life time member of the Old Dominion University Friends of the Library Association where she served as a board member. She was also a former member of the Virginia Library Association, the Southeastern Library Association and the Heritage Society. Lucille attended Rice University and Sam Houston University in Texas, and received a BA from Old Dominion University and an MS from the University of Kentucky. She also did post graduate work, completing 30 hours toward an MA in English. She retired as Librarian Emeritus from Old Dominion University after serving as a reference librarian for over 20 years.
     Lucille is survived by her brother, Cam Leonard and his wife Virginia of Houston, TX; two sons and their wives, William and Pamela Garner and Cam and Wanda Garner, all of Rancho Sante Fe, CA; two daughters, Leslie and John Harrison of Hattiesburg, MS and Lynn and Raymond Fentress of New London, NC; and dear son-in-law, Dr. Stephen Gallagher of Middletown, OH. She was predeceased by her husband, and by her daughter, Adair Gallagher. She also leaves 12 grandchildren, 10 great-grandchildren, 2 nephews, and many cousins and friends in Texas and Virginia.
     There will be a funeral service at Old Donation Episcopal Church on Saturday, July 10, 2004, 10:00 a.m. Interment will be in the church cemetery immediately after the service. Memorials may be sent to Old Donation Church - Building Fund, The Virginia Symphony, Old Dominion University Friends of the Library, and Westminster Canterbury Foundation. There will be at reception at the church parish hall following the service. Hollomon-Brown Funeral Home, Bayside Chapel is handling the arrangements.