Francis Hawks Cameron
b. 1 June 1838, d. 31 March 1900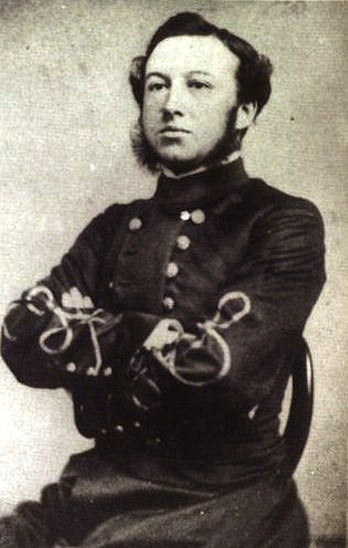 Francis Hawks Cameron, 1838-1900
Francis Hawks

Cameron

was born on 1 June 1838 in North Carolina.
He married Margaret Nelson

Haywood

circa 1872.
He married Eugenia LeGrand

Weaver

, daughter of LeRoy Gardner

Weaver

and Margaret Deborah

LeGrand

, on 3 May 1880 in Selma, Dallas County, Alabama, at the residence of the bride, with R. W. Barnwell, Rector of St. Paul's, officiating.
Francis Hawks Cameron and Eugenia LeGrand

Weaver

appeared in the US federal census of 1 June 1880 in Raleigh, Wake County, North Carolina, at Jones Street. Other members of the household included Duncan Haywood

Cameron

and Francis Hawks

Cameron

Jr. Also in the household were two domestic servants.
He was president of North Carolina Insurance Company, according to the 1880 census.
His wife Eugenia LeGrand

Weaver

became a widow at his death.
Francis Hawks Cameron died on 31 March 1900 at age 61 in Richmond, Virginia.
He was interred at Saint Matthews Episcopal Church Cemetery, Hillsborough, Orange County, North Carolina.
The following appeared on 2 April 1900 in The Sun: (Richmond, Va., April 1) Gen. Francis Hawkes Cameron, a well-known citizen of Raleigh, N. C., who recently came to this city, died at the residence of Mrs. F. H. Cameron, 315 West Franklin street, last night after a lingering illness of several days. The immediate cause of his death was Bright's disease. Gen. Francis Hawkes Cameron was born in North Carolina June 1, 1837, and until recently was general agent for North Carolina for the Life Insurance Company of Virginia, with headquarters in Raleigh. He came to Richmond in 1899 to assume an office at the headquarters here. General Cameron is survived by a widow and six children.
     General Cameron was Adjuitant General of North Carolina under the last Democratic administration. He was a veteran and served with distinction.
The following appeared on 21 July 1907 in The Washington Post: (Richmond, Va., July 20) News has been received here of the marriage in Manila, P. I., June 26, of Miss Eugenie Cameron, formerly of this city, to Alexander S. Wadsworth, jr., an officer in the United States navy. Mrs. Wadsworth is the youngest daughter of Mrs. Cameron and the late Gen. Francis Hawks Cameron. She has been visiting in Manila, as the guest of her sister, Mrs. Burnett, wife of Lieut. Charles Burnett, Fourth Cavalry, who at present is detailed as aid to Gen. Perhing, at Fort McKinley, Manila, P. I. Mrs. Wadsworth's father died in this city several years ago, and his remains were taken to Raleigh, N. C., where the Scotch clan of Cameron in America assembled to attend the last rites over the head of the family. On this occasin the historic Scotch pipes were used, which is only done at the funeral of a chieftain. The bride is a highly cultured and charming young woman. Mr. Wadsworth was graduated from the United States Naval Acacemy at Anapolis in 1901.
The following appeared on 10 October 1909 in the Charlotte Daily Observer: (Glen Ridge, N.J., Oct. 9) A military wedding took place at the home of Mr. and Mrs. Robert Johnstone, 100 Ridgewood avenue, tonight, when Miss Natalie Cameron, daughter of the late Adjutant General Francis Cameron of North Carolina, became the bride of Lieutenant Arthur James Hanlon, formerly of Fort Snelling, Minn., now coach for the West Point military academy football team.
     Miss Cameron is a cousin of Mr. Johnstone. The ceremony was performed by Rev. Dr. Shipman of New York, formerly chaplain at West Point. The bride's only attendant was Mrs. Charles Burnett of Fort Snelling, a sister of the bride, who was matron of honor.
     Lieutenant Edward Hayes of Fort Snelling was best man. The bridegroom and his best man were in full uniform at the wedding. Only the immediate relatives of the couple were present at the wedding.