Flora McQueen Campbell
b. 19 June 1873, d. 3 February 1881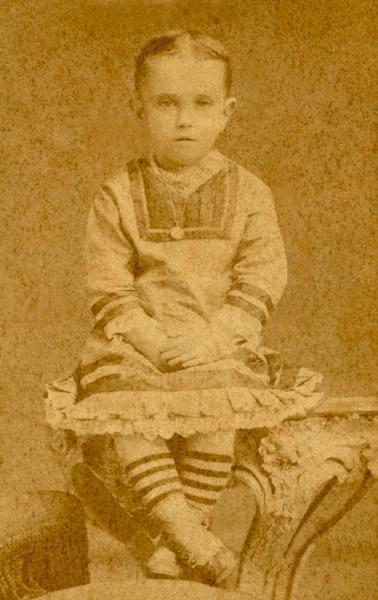 Flora McQueen Campbell 1873-1881
Flora McQueen

Campbell

was born on 19 June 1873 in Texas.
Archibald Rowland

Campbell

and Alice Lee

Matthews

appeared in the US federal census of 1 June 1880 in Galveston, Texas, at ?471? East Broadway. Other members of the household included Flora McQueen Campbell, Alice Lee

Campbell

, Bessie Clark

Campbell

, Maud M.

Campbell

, Sarah Wiggins

Campbell

and Samuel Williams

Campbell

. Nephew Sam Campbell is the brother of Mary and Nannie Campbell found in the nearby 1880 household of Archibald's brother Clark, all children of Archibald's brother Marcus.
Flora McQueen Campbell died on 3 February 1881 at age 7 in Galveston Caounty, Texas.
She was interred at Trinity Episcopal Cemetery, Galveston, Texas.
The following appeared on 6 February 1881 in the Galveston Daily News: Mortuary Report. Dr. Clark Campbell, health physician, reports the following list of deaths for the week ending February 4: . . . Flora McQueen Campbell, 7 years 8 months, inflammation of brain. . .
A single grave marker identifies the graves of Flora McQueen Campbell and Bessie Clark

Campbell

.