Minnie Harriet Fish
b. 26 February 1868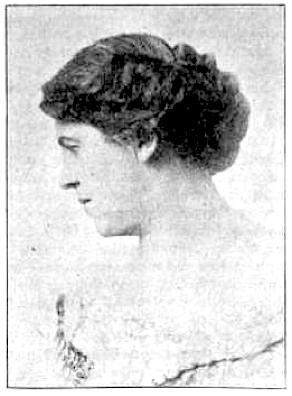 Minnie Fish Griffin
Minnie Harriet

Fish

was born on 26 February 1868 in Mequon, Milwaukee County, Wisconsin.
She married Bennett Smith

Griffin

, son of Bennett Smith

Griffin

and Martha S.

Hodges

, on 9 April 1893 in Milwaukee, Milwaukee County, Wisconsin.
The following appeared on 16 April 1893 in The Sunday Inter Ocean: Miss Minnie Fish was married last Sunday at the deathbed of her father, S. L. Fish, to Bennett Griffin of Chicago. The marriage took place at the request of the father of the bride. Miss Fish is well known in Chicago and Milwaukee as a singer.
The following appeared on 21 September 1898 in The Morning Star: Mr. Bennett Griffin came out from Chicago yesterday evening to hear his wife, Mrs. Minnie Fish-Griffin, who sang with the Slayton Opera Company. This is the first opportunity he has had of doing so this season, as this is the second concert. Mr. and Mrs. Griffin were entertained at the Sherratt home during their stay in the city. Mr. Griffin is a violinist of considerable note, and is a member of the Thomas orchestra.
The following appeared on 22 December 1901 in The Montgomery Advertiser: Christmas Music at Court Street Church. An excellent program of Christmas music has been arranged for the morning service at the Court Street Methodist Church today.
     The excellency of the choir has been greatly enhanced by the acquisition of Mrs. Minnie Fish Griffin, who for two years was soloist of the Thomas Orchestra. Mrs. Griffin possesses a superb soprano voice and she will sing a solo today with violin obligato by Mr. Bennett Griffin. . . .
The following appeared on 1 June 1902 in The Montgomery Advertiser: Mr. Royal Fish of New York, a noted tenor, is in Montgomery with his sister, Mrs. Bennett Griffin. He sang in Mobile for the Philharmonc Society Tuesday, when the members gave Dudley Buck's "Don Munio." Mr. Fish took the leading tenor part and greatly delighted a large Mobile audience. The Mobile Register gave a most flattering account of his rendition of his part.
The following appeared on 30 June 1903 in The Montgomery Advertiser: Miss Fanny Marks left for Chicago last night. She will spend some time there with Mrs. Bennett Griffin and will pursue her studies on the violin.
The following appeared on 27 January 1906 in The Grand Forks Daily Herald: Mrs. Minnie Fish-Griffin, of Chicago, gave a song recital at the Christian Science church last evening under the auspices of the Thursday Musical club. She was greeted by a large audience of cultivated people, whose appreciation and enthusiasm seemed without limit.
     Her attractive stage presence and graciousness of manner are charms which add to one's delight when borne "on mighty pinions aloft" by the beauty of her singing. Mrs. Griffin's voice is clear, full and flexible with much power--qualities which make it especially effective in the German Lieder, for which she seems to have great fondness. Her versatility is remarkable, for, whether in the thrilling majesty and power of Schubert's "Omnipotence," or in the exquisite softness and sweetness of "Du bist die Ruh," all alike seems the perfection of vocal art; from the exacting demands of a brilliant coloratura she passes with ease to the graceful lightness of a modern ballad. A local musician of taste said last evening that she much preferred Mrs. Griffin's art to that of Mme. Schumann Heink, for into each song there was put a new thought and a changing mood which could never grow monotonous.
     We of Grand Forks are always proud when our gifted young pianist, Miss Titus, achieves a new triumph. Her accompaniments were full of inspiration and sympathy.
The following appeared on 3 December 1914 in The Montgomery Advertiser: Mrs. Minnie Fish Griffin, of Chicago, Mrs. Fannie Marks Siebels and Mr. William Bauer will give a "Puccini Hour" Friday at 12 o'clock at the Margaret Boot School.