John Haynie
b. 11 April 1786, d. 20 August 1860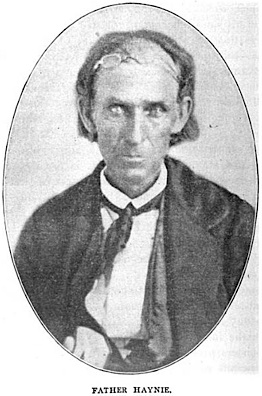 Rev John Haynie, 1786-1960
John

Haynie

was born on 11 April 1786 in Botetourt County, Virginia.
He married Elizabeth

Brooks

on 22 May 1805 in Knoxville, Knox County, Tennessee.
John Haynie appeared in the US federal census of 1 June 1860 in LaGrange PO, Fayette County, Texas.
He was a farmer, according to the 1860 census.
He was interred at LaGrange, Fayette County, Texas.
John Haynie died on 20 August 1860 at age 74 in Rutersville, Fayette County, Texas.
It seems likely that John Alexander

Haynie

and Emmett Albert

Haynie

were closely related, married to sisters Sallie and Annie McCune, and both residents of Grimes County. Perhaps their grandfathers John and Uriah Haynie were brothers. -- Can anyone shed any light on this?
For additional biographical information, see The Texas Handbook Online.