Mary Eliza Tinker
b. 30 June 1861, d. 16 March 1911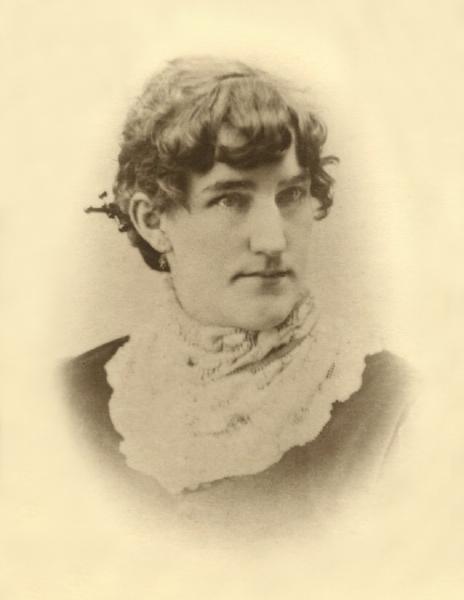 Mary Eliza Tinker Owens, 1861-1911
Mary Eliza

Tinker

was born on 30 June 1861 in Buffalo, Erie County, New York.
John Barton

Tinker

and Frances Jane

Mowry

appeared in the US federal census of 1 June 1870 in Buffalo, Erie County, New York. Other members of the household included Mary Eliza Tinker, Lydia Madeline

Tinker

, George Vail

Tinker

, Florence Adella

Tinker

, Harriet Mabel

Tinker

and Henry Augustine

Tinker

.
She married John H.

Owens

, son of Owen

Owens

and Franziska

Gantner

, on 19 May 1886 in Plymouth, Chenango County, New York.
Mary Eliza Tinker died on 16 March 1911 at age 49 in Plymouth, Chenango County, New York.
Her husband John H.

Owens

became a widower at her death.
She was interred at Southside Cemetery, Plymouth, Chenango County, New York.
The following appeared in a local newspaper: Plymouth, April 1.--Mrs. John H. Owens died at her home, March 16, 1911, after a very serious illness. Everything that medical advice and nursing could do failed to bring relief, and she finally succumbed to organic heart disease. Mrs. Owens was born in Plymouth June 30, 1861, and was the second daughter of the late John B. and Frances J. Tinker, both of Plymouth. Her early childhood was spent in Buffalo, N. Y. Her parents returned to Plymouth when she was 11 years of age, where she has since resided. She was a woman of marked ability along many lines, and was a prominent school teacher before her marriage to John H. Owens May 19, 1886. Mrs. Owens joined the M. E. church of Plymouth about twenty-eight years ago. Eight years ago she accepted the views of the Seventh Day Adventists and died strong in the faith and hope of the resurrection. She leaves her husband, seven children, three sisters and one brother to mourn her loss.