Gideon Lincecum
b. 22 April 1793, d. 28 November 1873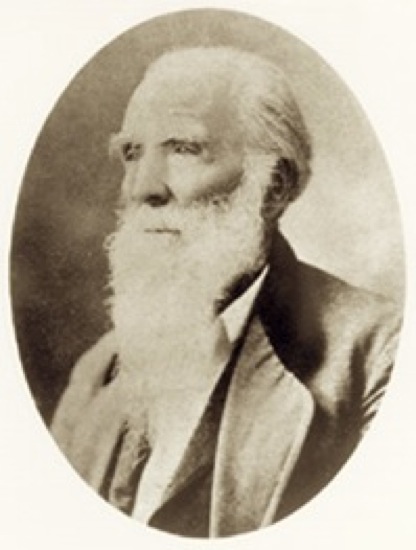 Gideon Lincecum, 1793-1873
Gideon

Lincecum

was born on 22 April 1793 in Georgia.
He married Sarah

Bryan

on 25 October 1813 in Eatonton, Putnam County, Georgia.
Gideon Lincecum and Sarah

Bryan

appeared in the US federal census of 1 June 1850 in Washington County, Texas. Other members of the household included Leonora

Lincecum

, Lucillus Garland

Lincecum

, Cassandra

Lincecum

, Sarah Matilda

Lincecum

, Joseph

Lincecum

, Martha

Lincecum

, Lascassas

Lincecum

, Leander

Lincecum

and Mary

Lincecum

. Also in the household were females W. C. (age 21) and L. (age 18) Lincecum, who still defy identification; note that a number of the ages, as well as Sarah's middle initial, are incorrectly recorded.
He was a farmer, according to the 1850 census.
On Friday, 4 December 1857, Green Wood recorded in his plantation daily account book: "Dr Lincecum with us today."
Gideon Lincecum and Sarah

Bryan

appeared in the US federal census of 1 June 1860 in Long Point PO, Washington County, Texas. Other members of the household included Sarah Matilda

Lincecum

, Lysander Rezin

Lincecum

and Leander

Lincecum

. Also in the household were Virginia-born Richard Powell (age 26) and Hungarian gunsmith Joseph Schuetz.
He was a farmer, according to the 1860 census.
On 15 April 1861, Sarah Matilda

Lincecum

wrote to Evelina Alexander

Barnes

:
Dear Mrs. Wood,
     I ask ten thousand pardons for my seeming negligence -- If you had seen with what eagerness I perused your dear letter, you would have expected an answer the following day -- But Ah! circumstances throws "reason and will in the shade, don't you think so. -- How I would love to peep in your garden of "Eden" (except the forbidden fruit) and at least inhale the fragrance, of your beautiful flowers -- If I had time so limited. Mr Affleck can not compare gardens, without feeling slightly chagrined. I am so much in the "hope" that the season may prove a fine one. Mother, Father & I anticipate a fine trip West to Austin and the mountains. We have a Ranch in Hays Co, a beautiful situation. Oh! how I love the mountain air the beautiful wild flowers -- that have almost been born to blush unseen." and listen to the music of the waterfall where the pale face seldom hath listened before. It is strange I love to travel so well and yet leaving home is so trying. I dare not let myself think of the dearest spot to me on earth -- I have so many pets, mother says is one reason that I dislike leaving home. Let me give you a list of my Pets -- I have a melodian with strains as soft as the music of angels -- and three delightful canary birds -- a fat peafowl that recognizes my voice from any other -- that is not all but you might laugh at my others.
     You remember I wrote you that father and I were getting up a Herbarium to present to the College [Academy] of Nat. Sciences at Philadelphia. I gathered the herbaceous plants and Father the trees. O bless me . . . you have no idea what an overflow of praise we received, some of our specimens are entirely new to the Botanists. I received a letter from the president of the college yesterday. he is quite an old man -- but says after reading my letter and examining my flowers -- he wishes he were young again. he would come to our sunny Texas and see the girl that has a nature so congenial to his own. I wish he would come any how, but still I have never yet studied a Botany so well versed as my father. Will it not be horrible if we have war for seven or eight years -- and it seems inevitable, but a year is only a wave. Oh how trouble can lengthen where pleasure seems so fleeting. But let us change the theme. The farms are looking quite well. we had a nice rain on the 13th inst. -- Father thinks the wheat all very near spoiled with the rust. Poor Miss Mary Mathews. I never dreamed she would leave the paternal roof so soon. I cannot admire the spirit. Do you not think that we young ladies should study human nature more? The above named young lady had everything that could make her comfortable and happy -- and yet she rebelled." -- You did not tell me why or whom she had gone with ? -- he certainly is charming if he has red hair -- I guess he looks forward to grey hairs with pleasure. -- High! ho! I have written enough of my nonsense for one evening. please do not weary of me for I love your letters. I promise to do better in future -- I believe I am slightly touched with the spirit of "Mars." that is the order of the day now. Father says tell you he is studying the "ants and the grasses" -- which he finds very interesting. Mother and father send their best love to you and family. also remember me to all especially Ella, and believe me your devoted Friend, S. Lincecum.
     Marginal notation: Mr Fitze sent me some beautiful music, the airs are "par excellente." Write soon if you please.
     Yours, Sallie.
Minimal punctuation added by the transcriber to enhance readability.
On 14 January 1863, Gideon Lincecum wrote to Green

Wood

:
My Dear Sir.
     I was, a few days since, at the house of Chas. Abercrumbe. He informed me, but did not know for certain, that some person was manufacturing at Danville, good spinning machines. If so, will you be so kind as to make inquiry about them, and if they are making good machines, engage one for me; let me know the time to go for it and what it will cost me.
     If it is true that they are making spinning machines there, they must be in great demand, and I speak thus timely, though we need it badly now hoping to procure one sometime. If we could procure cards, we could make out very well, as we have everything else that is required for the production of various kinds of cloth.
     I have pestered you with this matter because I have greater confidence in your judgment of such things. You will therefore please excuse me.
     We are all well; that is, the old Lady, Sarah, and myself. The balance of our household having gone to the war, from whence they may never return. But that's nothing, if we can sustain our freedom--our Government against the infernal theiving yankees. The chances for which are quite encouraging so far.
     Present my best regards to your good lady, and believe me, as ever, thine, Gideon Lincecum.
     Addressed to Maj. Green Wood, Danville, Texas, from Long Point, Texas.
Gideon Lincecum wrote to Green Wood in February 1863: . . . Despite the destructive, powerful enemy they fall short of being our worst enemy. There are those amongst us who under garb of friendship and a great flourish of patriotism are actually damaging our cause vastly more than the outspoken enemy.
     At the commencement they were the greatest encouragers of the war, since which they have made shift to crawfish out of every position they took. Now, pressing every point and circumstance to amass to themselves wealth, they crush whomsoever they may. I consider the actions and desires of these characters, these blood suckers in our midst, far more damaging to our cause than anything that will or can be effected against us by the machinations of the evil-hearted and accursed Lincolnites.
     Don't I know that they are the very men who will become the most prominent of the first office seekers? They will mount the stump when the war is over and with the impudence of the devil declare and swear in the name of the Lord, demonstrating to the crippled on up, that all our military success with the final happy termination of the war in honorable peace is attributable to them. And the people will elect them!
At Long Point lived Dr. Gideon Lincecum, whose experiments in and writings on agricultural subjects extended over many years before there was such a thing as a state experiment station or an agricultural college. He lived there on his plantation, Mount Olympus, from 1848 to 1874.
He was a veteran of the War of 1812, an internationally famous botanist, and a correspondent of Charles Darwin.
Gideon Lincecum died on 28 November 1873 at age 80 in Long Point, Washington County, Texas.
For additional biographical information, see The Texas Handbook Online.
And for a description of Long Point Plantation, The Texas Handbook Online.
A biographical sketch of Gideon Lincecum appears in T. A. Owens' 1921 Dictionary of Alabama Biography:
     Gideon Lincecum, naturalist and pioneer settler, was born in April, 1793, in Hancock County, Ga., and died November 28, 1873, at Long Point, Texas. He was educated in a country school in South Carolina; served in the War of 1812; studied medicine and taught school in Georgia, removed to Tuscaloosa which was then located in the wilderness, later went to Mississippi and finally located in Texas. He was the collector of many valuable specimens in natural history. Last residence: Long Point, Texas.
     History of Alabama and Dictionary of Alabama Biography, by Thomas McAdory Owen. Chicago: S. J. Clarke Publishing Company, 1921.
Biography: Gideon Lincecum's Sword: Civil War Letters from the Texas Home Front. Edited by Jerry Bryan Lincecum, Edward Hake Phillips & Peggy A. Redshaw. Denton: University of North Texas Press, 2001.