Sarah Walker Fisk
b. 20 September 1813, d. 28 February 1882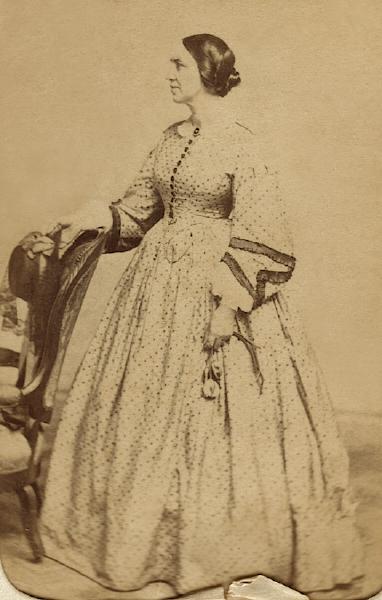 Mrs. Sarah Tarleton of Alabama - lived in Sidney, Australia
Sarah Walker

Fisk

was born on 20 September 1813 in Concord, Merrimack County, New Hampshire.
She married James Madison

Tarleton

, son of Col. William

Tarleton

and Mary

Melvin

, on 20 August 1834 in Concord, Merrimack County, New Hampshire, with Rev. Mr. Bonton officiating. At the time of their marriage, the bride was a resident of Concord, and the groom was living in Montgomery, Alabama..
The following appeared on 25 August 1834 in the New Hampshire Patriot & State Gazette: [Married] In this town by Rev. Mr. Bonton, on Wednesday evening last, Mr. James M. Tarleton, merchant of Montgomery, Alabama, to Miss Sarah W., daughter of Hon. Francis N. Fisk of this town. May this happy pair ever have an abundance of the goodies of this life, and a taste of the sweetmeats of the world to come! Although it is contrary to our nature to wish people well, yet in this solitary instance, we have been loaded with so heavy a slice of fine cake, by the dear creatures, that we cannot forbear loosing the hold that our clutches have had of them, and ever wishing them both freedom from our embrance forever.--Devil.
James Madison

Tarleton

and Sarah Walker Fisk appeared in the US federal census of 1 June 1850 in Mobile, Alabama.
The following appeared on 2 June 1853 in The Farmers' Cabinet: The Concord Statesman states James M. Tarleton, formerly of Concord, has been appointed consul at Melbourne, Australia. This, it is believed will be a very lucrative post.
The following appeared on 28 July 1853 in The Sun: James M. Tarleton, of Mobile, Ala., our consul to Australia, will leave New York in the new steamship Golden Age on the 15th of August.
The following appeared on 2 January 1856 in the New Hampshire Patriot & State Gazette: Gross Blundering.--The Boston Journal of Saturday evening contained the following paragraph:--
     "The Department of State announces the death of Mr. Duncan McPherson, at Hobart Town, and Mr. James M. Tarleton, John Henson and Henry Kearney, at Melbourne; they were citizens of the United States."
     Mr. Tarlton is U. S. Consul at Melbourne, Australia, and his wife's friends reside in this city, where Mr. T. has also a large circle of friends. The above announcement of his death was read by his family connexions on Saturday evening, and of course caused them very great anxiety. We happened to have the official publications of the State Department upon which this paragraph was based, and its perusal fully relieved all anxiety caused by the above. The State Department did not announce the death of Mr. Tarleton, nor that of Mr. McPherson. What it did announce is in the following words:--
     "Information has been received at this Department from Mr. Duncan McPherson, the United States Vice-Consul at Hobart Town, of the death of Warren Langmard, a citizen of the United States.
     Information has been received at this Department from Mr. James M. Tarleton, the United States Consul at Melbourne, of the death of John Henson and Henry Kearney, both American citizens."
     The man who made the Journal's paragraph out of these, ought to have a leather medal.
James Madison

Tarleton

and Sarah Walker Fisk appeared in the US federal census of 1 June 1860 in Alameda Township, Alameda County, California.
Sarah Walker Fisk became a widow at the 23 December 1880 death of her husband James Madison

Tarleton

.
The following appeared on 27 December 1880 in The Philadelphia Inquirer: James Madison Tarleton, a consul-general to Melbourne, Australia, during two Presidential administrations, and collector of the port of Mobile under Presidents Johnson and Grant, died in Washington on Friday night [sic], from want and exposure. On Thursday he had been taken to the Fifth Precinct Station House in a dying condition. Soon a well-dressed lady entered the station house and gave her name as Mrs. Hannah McL. Shepherd, residing at No. 2326 G street. Years ago she said she had been a guest at Mr. Tarleton's residence in Melbourne, when he was consul there, and a notice of his sad destitution had been a sudden and sorrowful surprise to her. She immediately had the unconscious and dying man removed to her residence, where he was afforded every possible comfort. The relief, however, came too late, and about half-past seven o'clock he expired. The deceased had a most varied and singular career. Born in New Hampshire in 1898, four years before the second war with England, he was nurtured in the lap of luxury and ease. His youth was spent in Concord, where he attended the best schools of the city, and received a most liberal and thorough education. Attaining to manhood he embarked in business as a cotton merchant in Mobile, Ala., in 1837. Here he accumulated a large fortune, but misfortune overtaking him, he was on his own application adjudged bankrupt in February, 1842. His property was sold to pay his liabilities, and from his papers it appears that his creditors lost but little by his failure. He, however, was out in the world, moneyless and destitute; but with that indomitable will that distinguished him even in his later days of destitution he soon rose, and in 1850 he was appointed assistant postmaster at Concord, New Hampshire, by General Lowe, postmaster. Here he remained for some years. It was at this time of his life that friendships formed in his youth ripened into the warmest ties. With President Pierce, Governor Baker, and the foremost politicians of the State, he was on terms of the closest intimacy. When Mr. Pierce became President, in 1852, he appointed his old friend consul to Melbourne, Australia. This position he retained for the greater part of Buchanan's administration also. Returning to this country he again took up his abode in the South, and, at the breaking out of the war, though still a Democrat, he was opposed to secession. In 1862 he came North, and henceforth was a pronounced Republican. Under President Johnson he was appointed to the collectorship of Mobile, and was only removed in the subsequent administration of President Grant. Since that time his life had been one of knocks and cuffs. Some four years ago he found shelter, through the kindness of Mr. F. P. Burke, over the latter's store, at the corner of Thirteen and a half and D streets. A small room comfortably furnished was placed at his disposal, and during all that time, while feeding and clothing him, Mr. Burke has received no remuneration. Mr. Burke speaks in the highest terms of Mr. Tarleton's honesty and sobriety. He never, even in the depths of his poverty, forgot his dignity of character, and was as independent as though he was worth millions. He shunned old friends, seemingly ashamed to acquaint them with his changed condition, and though he conversed freely on the topics of the day with an intelligence that showed him to be conversant with the principles of parties, he never referred to his own participation in the affairs of State.
     Mr. Tarleton married a Miss Fisk, of Concord, N. H., a daughter of Francis M. Fisk, a wealthy merchant in that place. When he separated from his wife or the reasons that led to it are not known. When spoken to by a friend some time ago on this subject, he said it was a family matter, about which it was not proper that he should speak. The brother [sister] of Mr. Tarleton married a sister [brother] of the late Senator Goldthwaite, of Alabama. He had several children, who now reside in that State, and are said to be in most comfortable circumstances. The independent character and haughty pride of Mr. Tarleton, that forbade him making known his condition while he suffered in silence, doubtless hastened his death. But, even in his poverty, clothed in his rags, his very frame shaking from exposure and want, he maintained a quiet dignity, a detestation of meanness, a nobleness of demeanor, that stamped him at once as a man and a gentleman.
     Immediately after Mr. Tarleton's death an examination of his papers was made by Mr. Frank P. Burke, Mr. Lanney, and a Post reporter, in order to find out whether any clew to his friends could be discovered. The letters and documents were of interest, although not affording the names of any one who might at present be called his friend. Several letters written by his wife, and always inclosing small sums of money, were discovered, but to none of these was her name attached. They were written at lengthy intervals, and always kindly in tone. One was dated Concord, in October, 1876, which says: "I have no one now to care for me," evidently alluding to their separation. Another one is addressed to him in this city, and is dated No. 7 Fifth avenue, New York, March 23, 1877. It commences by saying that she is very sorry to hear that he has been sick, and then says:
     "I feel quite hurt at an expression in your letter that if I had done as I ought you would never have been in the fix you are. I have always endeavored to do right, and have assisted you to the utmost of my power. I could do no more unless I beggared myself, and you surely would not wish me to do that. I know of no one of whom I could ask assistance for you, and now will you tell me what you would like to to do? The thought of your need takes away all my comfort, and I wish you could find employment. I will send twenty dollars next week, which is all I can send for some time. I hope you will get your claim from the government, but trust you will not spend any money in the vain pursuit, for I must say I think it is all in vain. * * * This little sum which I send you may be some little help, and with it I send my best wishes and earnest prayers for your temporal and eternal welfare. Your Affectionate Wife."
Sarah Walker Fisk died on 28 February 1882 at age 68 in Manhattan, New York.
She was interred at Concord, Merrimack County, New Hampshire.
The following appeared on 1 March 1882 in the Boston Evening Journal: Mrs. Sarah Walker Tarleton, a lady who had a wide acquaintance in New Hampshire, died suddenly in New York city yesterday. She was born in Concord, N. H., Sept 20, 1814, and was a daughter of the late Hon. Francis N. Fisk. On the maternal side she was a grand-daughter of Judge Timothy Walker, a distinguished jurist and patriot of the Revolution, and a great grand-daughter of Rev. Timothy Walker, the first settled minister of Penacook, Now Concord. Her husband, Hon. James M. Tarleton, was a merchant of Alabama, afterward United States Consul at Melbourne, Australia, and died in Washington last winter. Mrs. Tarleton had resided much in Mobile, Alabama, and was a lady of great refinement of character and personal worth. Many friends, both in the North and South, will mourn her decease.
Research Note: Photograph from Evelina Alexander Barnes Wood's album of cartes de visite, with pencil notation by her daughter Ella Abercrombie Wood Campbell: "Mrs. Sarah Tarleton - a friend of my mother's of Ala., who lived in Sidney, Australia." The identity of Mrs. Tarleton finally has been established based on this information.