Lewis Feuilleteau Wilson Andrews
b. 7 September 1802, d. 16 March 1875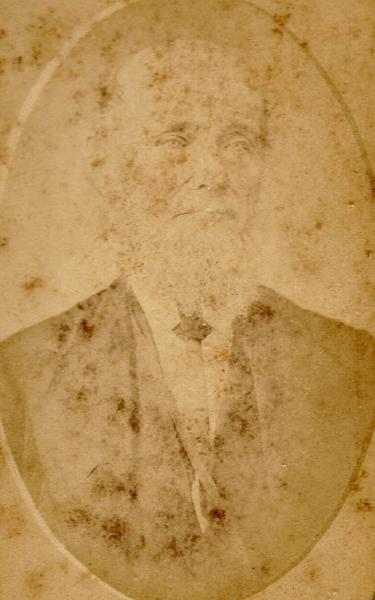 Rev. Lewis Feuilleteau Wilson Andrews, MD, 1802-1875
Lewis Feuilleteau Wilson

Andrews

was born on 7 September 1802 in North Carolina.
He married Jane

Gray

, daughter of James

Gray

, on 6 June 1827 in Pennsylvania.
The following appeared on 12 June 1827 in the Pittsburgh Reporter: Married Wednesday last, Dr. Lewis F.W. Andrews to Jane, eldest daughter of James Gray Esquire. Both of Alleghenytown, Pa.
Found in Universalism in America: A History (1886):
     For the purpose of showing the general progress of Universalism since 1820, in the different States and Territories, we here take them up in their alphabetical order: --
     Alabama. -- At what time Universalism was first preached in this State we have no means of knowing. So far as we are informed, Rev. W. Atkins was the pioneer preacher, about 1832. In 1834 he organized churches at Mount Olympus and Montgomery, and about this time Rev. Messrs. L. F. W. Andrews and S. J. McMorris also entered the State. Mr. Andrews edited and published a paper. Subsequently Mr. McMorris also started a denominational journal; but of these, and other issued in Alabama, mention will be made in another place. . . . 
      Mississippi. -- To the best of our knowledge, Universalism was first preached in this State by Rev. S. J. McMorris, in 1840 or 1841, during his temporary residence in Starkville. . . . 
Mary "Polly" Wood Mitchell wrote to her niece Elizabeth Green Wood on 5 October 1852, "I also saw part of brother,s letter written to W. Breazeal publish,d in Dr Andrew,s paper."
Lewis Feuilleteau Wilson Andrews became a widower at the 16 August 1866 death of his wife Jane

Gray

.
The following appeared on 22 August 1866 in The Daily Chronicle & Sentinel: Mrs. Jane G. Andrews, wife of the editor of the Georgia Citizen, died in Macon a few days ago. We [in Augusta] join the press of that city in the tender of our sincere sympathy to our afflicted contemporary.
He married Mary Elizabeth

Smith

on 27 January 1867 in Sumter County, Georgia.
Lewis Feuilleteau Wilson Andrews died on 16 March 1875 at age 72 in Americus, Sumter County, Georgia.
He was interred at Linwood Cemetery, Columbus, Muscogee County, Georgia.
The following appeared on 17 March 1875 in The Macon Telegraph and Messenger: Dr. L.F.W. Andrews died suddenly at his home in Americus about one o'clock yesterday. He left Macon yesterday morning in his usual good health, and died soon after reaching his home. We heard no further particulars relative to this event. His remains will arrive here this afternoon. The time of internment has not yet been fixed.
     The deceased was well known in this State, having been connected with the press at different times in this city and elsewhere. In religion he was a Universalist, and during the late years of his life he has devoted much of his time to the propagation of the doctrines of that Church. He expected to have gone to Alabama tomorrow, on that mission, and upon his return, intended making a trip to Virginia.
     Dr. ANDREWS was prominent as a Mason, and was Past Grand Master of Odd Fellows. We presume these Orders will attend his funeral.
The following appeared on 1876 in The Universalist Register and Almanac for 1876: Rev. Lewis Feuilleteau Wilson Andrews, M. D., died in Americus, Ga., March 16, 1875, in the seventy-third year of his age. He was the son of Rev. John Andrews, an eminent minister and journalist of the Presbyterian Church. It is a mooted point whether Rev. John Andrews or Mr Nathaniel Willis (father of N. P. Willis) published the first religious newspaper ever printed in the United States. Dr. L. F. W. Andrews was born in North Carolina, September 7, 1802, but while he was quite young his father and family removed from North Carolina to Chillicothe, Ohio, where the father published the early organ, above mentioned, of the Presbyterian Church. From Ohio the family moved to Pittsburg, Penn. Rev. John Andrews was desirous of educating his son for the Presbyterian ministry, and gave him the advantages of a classical education. Dr. Andrews received his degree as Doctor of Medicine at Transylvania University, Lexington, Ky., and afterwards practiced as a physician in Cleveland, Ohio, and in the region round about Pittsburg, Penn. He was twice married; several children by the former and one of the latter marriage surviving him. He appears to have been ordained a minister in 1831. He first became acquainted with Universalism in the summer of 1830, in Augusta, Ky., where he was staying at the time, engaged in dentistry, and under the following circumstances: Rev. J. C. Waldo, then settled in Cincinnati, Ohio, was on a missionary tour through the cities and large towns in Kentucky at the time referred to, and on one occasion "brought up" at Augusta, and preached morning and afternoon in the court-house in that city. On going in to the evening service, he found in the Bible on the desk an anonymous request that he would preach on the parable of the sheep and goats, which he accordingly did, and, as it proved, with good effect. The request, it appears, was made by Dr. Andrews. He had notified what he had done to his friends, and among others, to the president and professors of the Methodist College at Augusta, and invited them to be present and "enjoy the sport," as he termed it. But the effect of the sermon was different from what he had anticipated. Though "he came to scoff," he remained to accept thankfully and joyfully the doctrine of the preacher; for he professed to have been converted by that sermon. He soon afterwards went to Cincinnati, professed a desire to enter our ministry, and after receiving some aid from Bro. Waldo, preached quite acceptably in his pulpit. In 1832 he became pastor of the Second Universalist Church in Philadelphia; in 1834 he travelled extensively in the South, visiting New Orleans, Mobile, and Montgomery. In the last named city he gathered a society and started the Gospel Evangelist, which paper was subsequently moved to Charleston, S. C., and Dr. Andrews became pastor of the Universalist Society in that city. In 1836-7, he was senior editor of the Southern Pioneer and Gospel Visitor, then published in Baltimore, Md., it having been founded in 1832 by Rev. O. A. Skinner. After this, removing to the far South, Dr. A. published the Evangelical Universalist, but we cannot give the particulars as to date or locality. In labors abundant, in long and frequent missionary journeys, and in the midst of opposition and great tribulations, he, like our other Southern preachers, had to fight his way in the promulgation of the doctrine of a world's salvation. Dr. Andrews was steadfast in his Universalism to the last. He was generous, free-hearted, liberal, almost to a fault. His prodigal generosity tended to improvidence. The marked trait of his mind was activity. All he could know he grasped at a glance. Hence, though not profound, he was ready for all encounters. On the day of his death he left Macon, Ga., where he had been to visit his children, to return to his home in Americus, and suddenly, immediately upon reaching his house, he was stricken with death; and, giving a groan or two, passed quietly and without pain to the world of spirits.
Family 1: Jane

Gray

b. circa 1810, d. 16 August 1866