Alonzo A. Richards
b. 6 June 1866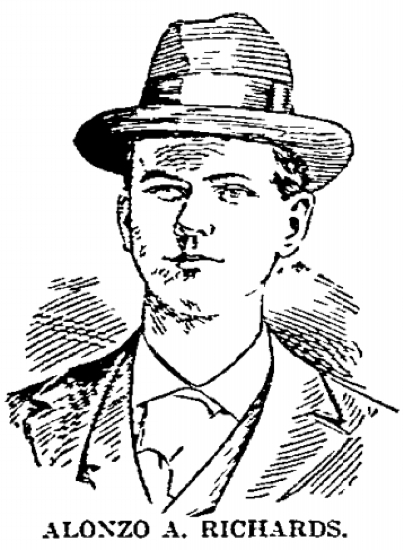 Alonzo A Richards, 1866-
Alonzo A.

Richards

was born on 6 June 1866 in Elmore County, Alabama.
He married May Isabel

Moore

, daughter of John A.

Moore

and Louisa E.

Seymour

, circa 1889.
The following appeared on 22 December 1896 in the Columbus Enquirer-Sun:
     The subject of this sketch, Mr. A. A. Richards, better known as Cheap Lon," is now a very prominent figure in the mercantile field of Columbus. Many readers of The Enquirer-Sun have read his "Fire Sale" advertisements and have heard lots of him, but have never seen him, and for the benefit of those who have not we present herewith a picture of Mr. Richards from a recent photograph.
     Mr. Richards was born in Elmore County, Alabama, June 6, 1866, and has lived in that state all his life. His father died when he was quite young and together with several little brothers and sisters he was forced to stem the strong current of his life as best he could to earn an honest livelihood, hence his education was not altogether what he would like to have it.
     Fourteen years ago, when quite a boy, Mr. Richards gained quite a reputation as an auctioner and several times embarked into that business, but having only a limited capital he met with reverses and was only successful as far as a living was concerned. His last effort was one year ago, when he began business in Phenix City with a "paid up capital of 80 cents." He worked hard and grasped every opportunity. In September last he, with a couple of associates, bought the damaged stock from the Joseph fire and opened the Fire Sale Store at 1111 Broad street. These goods were bought with a small cash payment and the balance, which was to have been paid in thirty days, was paid in three, and from that time on the business has assumed gigantic proportions of which space will not admit of our mentioning here, but the business is there to show for its self. It is now an incorporated company with a capital stock of $10,000 paid in and an authorized capital of $50,000. The stock is all owned by L. M. Lynch, W. H. Dismuke, John Baird and Mr. Richards equally.
The following appeared on 20 March 1900 in The Columbus Enquirer-Sun: Mrs. A. A. Richards returned to Phenix yesterday from a short visit to her husband at West Point, Ga.
Alonzo A. Richards and May Isabel

Moore

appeared in the US federal census of 1 June 1900 in Phenix City, Lee County, Alabama, at 221 Fifth Street. Other members of the household included Lester

Richards

, Curtis

Richards

, Albert

Richards

, Grady

Richards

and Louisa E.

Seymour

.
He was a drygoods merchant, according to the 1900 census.
Alonzo A. Richards became a widower at the 14 May 1914 death of his wife May Isabel

Moore

.