Livingston Mims
b. circa 1829, d. 5 March 1906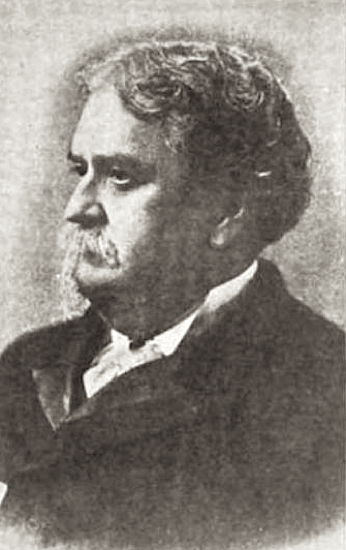 Livingston Mims, c1829-1906
Livingston

Mims

was born circa 1829 in Edgefield, South Carolina.
He was deputy county clerk, age 21, according to the 1850 census.
He married Martha E.

Perryman

circa 1851 in Hinds County, Mississippi, although according to a transcription of the marriage record the date was 8 January 1841.
Livingston Mims became a widower at the circa 1853 death of his wife Martha E.

Perryman

.
He married Emma E.

Hicks

on 25 May 1855 in Hinds County, Mississippi.
He was a farmer, age 31, according to the 1860 census.
Livingston Mims became a widower at the circa 1864 death of his wife Emma E.

Hicks

.
He married Susan J.

Harper

, daughter of William C.

Harper

and Mary C.

Johnson

, in 1866.
Livingston Mims and Susan J.

Harper

appeared in the US federal census of 1 June 1880 in Atlanta, Fulton County, Georgia, at 433 Peachtree Street. Other members of the household included Emma

Mims

. Also in the household was niece Willie Pope, age 16, and three domestic servants and a gardener.
He was a fire insurance agent, age 51, according to the 1880 census.
Circa 1884, Susan Mary

Clark

wrote to Ann Williamson

Clark

:
     Atlanta Ga, April 26th
My dear Aunt Campbell,
     Mrs Mims came around, upon her arrival, and brought me your very welcome letter herself. She was perfectly delighted with the entire clan Campbell, and particularly yourself. She says you are perfectly superb, and elegant. I told her of the compliment you paid her in your letter to me, and she was extremely gratified and delighted. She said it was very valuable praise from such a source. I am sorry the Major was not with her, for he is as elegant and superior as a Man as she is as a Woman. They are quite a remarkable pair. She regretted not seeing Cousin Clarke, and Mattie Wrenn. The cold weather and hard times have greatly crippled Mr M's business and he is anxious to again resume the lumber business. He thinks there is an uncommonly good prospect for making money now by shipping lumber to Aspinwall, and to Colon, and if he can raise the money he will go into it, but though only requiring two or three thousand dollars, money is so scarce in this section that I am afraid he can not get it. A great many of his customers have defrauded him of their debts, and he is discouraged with his present business. It was all conducted on credit, and all exporting to the towns within two or three hundred miles of Atlanta. If the people would have paid their debts, the business would have been as profitable as he could have required. He is now anxious to sell out, if he can. He has always been accustomed to a large commercial business, and that style of business suits him better than any thing else, but he will be compelled to be controlled by circumstances. Mrs Mims made me long to see you and the entire family. If any one of my Cousins ever come near Atlanta do send them to me. Mrs. Connally (Senator Joe Browns daughter) left on Saturday for the Exposition and then for Texas . . .
     End of fourth and final page of the existing letter; the year is not specified. Minimal punctuation added by the transcriber to enhance readability.
Livingston Mims and Susan J.

Harper

appeared in the US federal census of 1 June 1900 in Baker County, Georgia. It appears that they had a farm in Baker County and that information provided to the enumerator was questionable.
He was a farmer, according to the 1900 census.
Livingston Mims died on 5 March 1906 in Atlanta, Fulton County, Georgia.
His wife Susan J.

Harper

became a widow at his death.
He was interred at Westview Cemetery, Atlanta, Fulton County, Georgia.
The following appeared on 6 March 1906 in The Macon Daily Telegraph:
     (Atlanta, March 5) Major Livingston Mims, former mayor of Atlanta and one of the widest known men in Georgia, died at his residence here today, after a brief illness, age 85 years. . . .
     Maj. Livingston Mims was born about eighty-five years ago, as nearly as can be determined, in the state of South Carolina, but early in his life his father moved his family to a farm near Jackson, Mississippi, and there his boyhood days were spent.
     When a young man he left his father's farm one morning and walked to Jackson to begin his career in life with a capital of 50 cents in his pocket. His first application for work was made to a clerk of the chancery court, and he was informed that no employment could be offered him except that of copying transcripts at 3 1-3 cents per hundred words, and the next moment found him with pen in hand engaged in this occupation. He was quickly promoted to the position of deputy clerk at a salary of $2,000, feeling as he often expressed it, "wealthier than the Vanderbilts and Astors ever felt." His next promotion was to the position of commissioner in chancery, a lucrative positioin, which was the beginning of a comfortable fortune, which was swept away as a result of the civil war.
     As a young man he practiced law in Jackson, and represented the senatorial district in which he lived in the state senate. Here he made the acquaintance of the renowned statesmen of that day, and, as he was fond of remarking, when in a reminiscent mood, "there were giants in those days." . . .
     He enlisted in the Confederate army at the first call to arms, going to the front as a private, but soon was promoted to the position of an officer on the staff of General Pemberton, and later served on the staff of General Joseph E. Johnston.
     Between General Johnston and Major Mims a strong friendship grew and continued during the life of General Johnston. At the close of the war, when both men returned to civil life and took up the battle against adversity, they were penniless. The organized the insurance firm of Joseph E. Johnston & Co., at Savannah, and continued the business for several years, at the end of which time General Johnston returned to his Virginia home, while Major Mims came to Atlanta, where he lived the remainder of his life.
     He became Southern manager for the New York Life Insurance Company and represented several fire insurance companies, and rapidly advanced to the position of the foremost insurance man in the South. For thirty-eight years he represented the New York Life Insurance Company, a position he held at the time of his death.
     Major Mims was married three times, his first wife living but a year after their marriage. His second wife was the mother of his daughter, Mrs. Joseph Thompson, and she died while Mrs. Thompson was a young child. He is survived by Mrs. Mims, his third wife.
     For twenty years of the twenty-three years of the existence of the Capital City Club, Major Mims has been its president, and his name is indissolubly connected with the success of that institution.
     Although prominent in politics in Mississippi before the war, Major Mims never sought political office in Georgia save on the occasion when he ran for mayor of Atlanta, and to this office he was elected by a flattering majority in a spirited campaign in 1900, his term of office covering the years 1901-2. . . .
The following appeared on 6 March 1906 in The New York Times:
     (Atlanta, March 5) Major Livingston Mims, who was Mayor of Atlanta in 1901 and 1902, and one of the most widely known men in the South, died at his home here to-day. He was 76 years old. He entered the Confederate Army in the civil war as a private; he later went to Virginia as a staff officer of Gen. Barksdale, and was made Chief Quartermaster of the Deparmtnet of Mississippi and East Louisiana. Gens. J. E. Johnston and Pemberton specially valued his services.
     After the war he entered the insurance business with Gens. Johnston and Humphreys. For two years he was President of the Southern Underwriters' Association, and for two years President of the Southeastern Tariff Association. For twenty years he was President of the Capital City Club.
The following appeared on 10 March 1906 in The Macon Daily Telegraph:
     (Atlanta, Ga., March 9) The will of the late Major Livingston Mims has been read by the members of his family. His estate is valued at something over $100,000, and is in his own handwriting. The bulk of the estate is left to his wife, Mrs. Sue Harper Mims, and after her death three-fourths of the same is to go to his daughter Mrs. Joseph Thompson.
     The will provides that Mrs. Joseph Thompson is to receive $2,000 from the estate, and Livingston Mims Thompson $1,000. Major Mims' watch is left to his grandson, and his seal ring to his son-in-law, Joseph Thompson. Outside of the above legacies from the estate proper, the entire balance is to go to Mrs. Mims.
     The life insurance, of which there is said to be a considerable amount, is willed to Mrs. Joseph Thompson, with the exception of $2,000, which is to be paid at once to Mrs. Mims.
A biographical sketch appears in Belles, Beaux and Brains of the 60s, published in 1909:
     A very notable and equally picturesque factor of those days was Major Livingston Mims, of Georgia. Young, handsome and of elegant address, he was unique in an era of bustle and strenuous rush. He affected, even then, somewhat of the euphemism of the gallants of good Queen Bess' court.
     I recall him as a young and well groomed captain on Gen. Joseph E. Johnston's staff. Not a generally popular man, at first touch, he was one that grew on better knowing. His comrade on the same staff, Major A. D. Banks, held that attribute in common with him; and other were notable men, in and out of military life. Mims was on quartermaster duty and Banks in the commissary. Banks was a popular fellow with his comrades and in later life was prominent in politics and made many warm and lasting friends. It is coincidental that Banks' wife -- who was a great granddaughter of Patrick Henry -- was the school friend and roommate of Emma Mims' own mother.
     Mims got deserved promotion on Gen. J. E. Johnston's staff, and the typical figure of latter-day Atlanta was "the Major," who was at one time its mayor, at most times president of its elegant Capital City Club and for many years doyen of its life insurance guild.
     Rotund, always urbane, courtly and careful of the comforts and feelings of all, Mims was more regretted at his death than many a more famous publicist had been. He passed away three years ago, well in his 80's, but never confessing to any age. Had he lived in their day, the Major would have ranged with Mr. Brummell and Mr. Nash, their equal in chic and lacking their pettiness. He had brains and knowledge of men, was a reader of books as well, and what he himself called a "compensating" companion. Withal, he was elegantly profane enough to have served with "our army in Flanders," but it was with a grace and deep feeling that lent the unction of knighthood to an oath.
     He married a beautiful woman, who was gracious and pleasant in general society, of which the couple seemed equally fond. As wealth grew, they moved to the later well-known residence near Ponce de Leon circle. Then, and especially after the debut of their daughter, Mrs. Mims entertained home people and strangers, but she suddenly dropped society as though it had been red-hot, and took to science -- Christian of that ilk. She has gone to the length of the ism, has preached at home and abroad and been one of the most active and advanced agents of the much-bereated sect. Her daughter -- the magnificent, stately and universally known "Em" Mims, had never taken to the fad and, certs, my cheery and chivalrous old friend, her father, was seemingly no more scientific than religious. Yet his death left a great gap in Atlanta society and clubdom.
     After leaving Georgetown Visitation convent, Miss Emma Mims entered society with verve; winning friends easily by her fund of grace and quickness, losing them sometimes by too much sauce Tartare upon her tongue.
     Her wedding to Colonel Joseph Thompson collected society girls of her convent classmates from several cities, among them Misses Margaret Demoville, of Nashville, now Mrs. Herman Justi of Chicago; Daisy Irwin, of Mobile, now Mrs. Clisby, and Daisy Breaux, of New Orleans, elsewhere noted as the brilliant Mrs. Andrew Simonds, of Charleston, and now the wife of Barker Gummere, of Trenton, N. J. Her life since has been known to all society; and her leaving it -- suddenly, if not wholly unexpectedly -- has renewed memory of her better traits. She has left one child only, the pride of her life, Livingston Mims Thompson, of New York.