Winston Leckey Martin
b. 21 October 1924, d. 25 December 1976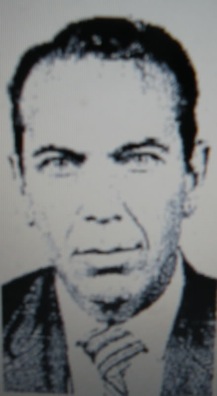 Winston Leckey Martin, 1924-1976
Winston Leckey

Martin

was born on 21 October 1924 in Jones County, Texas.
He married Nancy

Campbell

, daughter of Archibald Rowland

Campbell

and Katherine Wilson

Rountree

, say 1950.
His wife Nancy

Campbell

became a widow at his death.
Winston Leckey Martin died on 25 December 1976 at age 52 in Galveston County, Texas.
The following appeared on 31 December 1976 in the Galveston Daily News: Galveston Police Thursday were probing into the disappearance of Dr. Winston Martin, 52, of Galveston, who left home Dec. 23 and has not been seen since.
     Martin, an associate with the Harris Clinic at the University of Texas Medical Branch, reportedly left home shortly before midnight Dec. 23 in a 1976 Mercury Marquis station wagon, silver-blue in color with the license number KAG-171.
     According to Lt. Walter Lacy, head of the detective division, Martin's family waited two days before notifying police while they contacted friends and relatives in hopes that Martin had contacted someone.
     Police were notified Sunday and a state-wide and national check was placed on the car and Martin, Lacy said.
     A check on the man's credit cards was also placed.
     The family told Lacy that all of Martin's luggage and clothing have been accounted for and no unusual sums of money were missing from the house.
     Martin was described by his family as being a likeable, well-dressed man and one who makes friends easily, Lacy said. . . .