Barbara Kay Cellum
b. 7 February 1937, d. 12 November 2006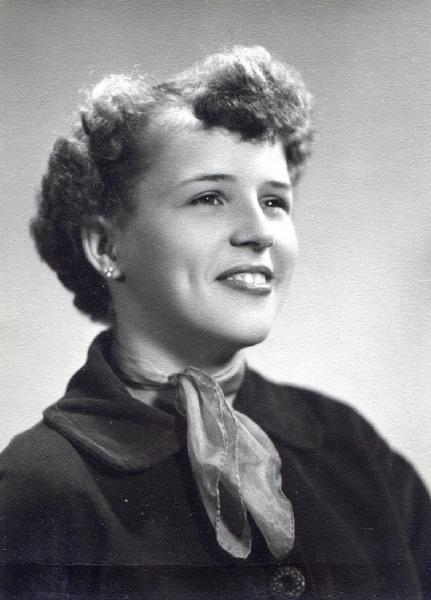 Barbara Kay Cellum Waggoner, 1937-2006
Barbara Kay

Cellum

was born on 7 February 1937 in Hidalgo County, Texas.
James Myrl

Cellum

and Myrtle Ernestine

Bay

appeared in the US federal census of 1 April 1940 in Edcouch, Hidalgo County, Texas. Other members of the household included Barbara Kay Cellum, Johnnye Beth

Palmer

.
The following appeared on 10 July 1941 in The Brownsville Herald: (Edcouch) Mr. and Mrs. Irving Wood have departed for their home at Navasota following a visit here with an aunt, Mrs. J. M. Cellum, and family.
     Mrs. J. M. Cellum and daughters, Barbara Key and Johnnye Beth, are spending a month in Brownsville.
The following appeared on 15 January 1943 in the Harlingen Valley Morning Star: (Edcouch) Mrs. Myrtle E. Cellum, 40, died at 9:25 p. m. Thursday following a lingering illness. She had been a resident of the community for a number of years, having come here from Richards, Grimes county, Texas.
     Surviving are her husband, J. M. Cellum; two daughters, Jonny Beth Palmer and Barbara K. Cellum, of Edcouch; and four sisters.
     Funeral services will be held at 5 p. m. Friday from the Methodist Church here with Rev. Roy E. Rader officiating. Pallbearers will be E. W. Martin, Jim Howell, George Milliford, C. G. Hart, Gordon Smith and Jack Barnum. The body will be taken to Richards Friday night in a Martin-Nelson ambulance from Westlaco.
The following appeared on 10 July 1955 in the Harlingen Valley Morning Star: (Edcouch) Miss Barbara Kay Cellum, bride-elect of Tommy R. Waggoner, Weslaco, was compllimented at a tea-shower at the home of Mrs. Hoke McKim Thursday afternoon. Hostesses with Mrs. McKim were Mmes. Paul Jones, Cecil Pool, James Howell, R. G. Bell of Edcouch and W. K. Galbreath Jr. of Elsa.
     Miss Jean McKim greeted the guests at the door. Receiving the guests with Mrs. McKim and the honoree, were her mother, Mrs. J. M. Cellum and Mrs. Archie Waggoner, Waslaco, mother of the groom-elect
      . . . About 140 guests called during the appointed hours.
The following appeared on 17 July 1955 in the Harlingen Valley Morning Star: (Edcouch) Miss Barbara Kay Cellum, daughter of Mr. and Mrs. J. M. Cellum, and Tommy R. Waggoner, son of Mr. and Mrs. A. C. Waggoner of Weslaco, were married Tuesday night at the home of her parents. [:CR;]      The Rev. William Arnold, pastor of the First Baptist church, officiated at the double ring ceremony. . . .
     Miss Almeda Davis was the bride's only attendant. . . .
     Best man was Don Miller of Weslaco.
     A reception was held for members of the immediate famiies. . . .
     Following a wedding trip to Garner State park, the couple will be at home in Alice.
     The bride is a 1955 graduate of the Edcouch-Elsa High school. She was cheerleader and director of the senior class play. In the 1954 Mission Citrus Fiesta, she won first place in the bathing suit competition.
     TAhe groom, a graduate of the Weslaco High school, recently was discharged from the Air Force. He served in Korea.
The following appeared on 1 September 2006 in the Lampasas Dispatch Record: Former Lampasas City Councilman Jonathan M. Cellum died Aug. 25, 2006, at his Lampasas residence. He was 60.
     Funeral services were Aug. 28 at Sneed Funeral Chapel in Lampasas with Minister Reid Schaub officiating. Burial with full military honors followed at Central Texas State Veterans Cemetery in Killeen.
     Mr. Cellum was born Nov. 15, 1945, in Mercedes, Texas, the son of James Myrl Cellum and Mary Anna Johnson Cellum.
     He graduated from Ed Couch Elsa High School in 1963, and attended Pan American University. He graduated from Central Texas College.
     He married Martha Jo Klopek on Dec. 21, 1966, in Elsa, Texas.
     Mr. Cellum was a retired Army aviator, having served overseas and at home for a combined 22 years.
     He was also active in youth activities in Lampasas. He served on the Lampasas City Council and was a member of AMVETS Post 80 in Lampasas for many years, where he served in numerous capacities.
     Survivors include his wife of Lampasas; a daughter, Katherine Annalisa Smith, and husband, Pete, of Llano; a son, Jeffrey Myrl Cellum, of Lampasas; three brothers, Steve Cellum and wife, Gayla, of Tishomingo, Okla., Rick Cellum of Mission, and Tom Cellum and wife, Barbara, of Highlands; a sister, Barbara Waggoner and Tommy of Port Aransas; and three grandchildren, Peyton Reilly Martinez, Laramie Tenison Smith and Dylan Ty Smith.
     The family requested memorials be made to the American Cancer Society or Eastern Star Scholarship Fund.
     Arrangements by Sneed Funeral Chapel of Lampasas.
The SSDI lists New Braunfels, Comal County, Texas, as the last residence of record of Barbara Kay Cellum.
Barbara Kay Cellum died on 12 November 2006 at age 69.