James Charles Abercrombie
b. 18 February 1792, d. 2 July 1861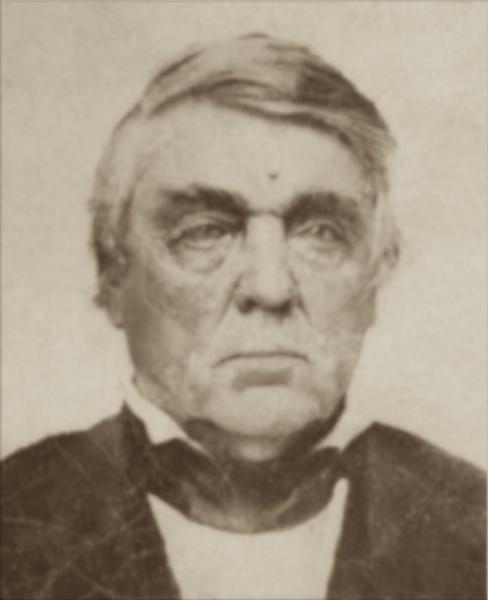 James Charles Abercrombie, 1792-1861
James Charles

Abercrombie

was born on 18 February 1792 in Hancock County, Georgia.
He married Evelina Elizabeth

Ross

, daughter of Isaac

Ross

and Parthenia

Brown

, on 27 July 1816.
He served as a member of the Alabama House of Representatives from 1820 to 1822, 1824 to 1825, and 1838 to 1839; he was also a member of the Alabama Senate from 1825 to 1833 and 1847 to 1850. After having moved to Russell County, Alabama, in 1834, he was elected from the Whig party to the United States House of Representatives from Alabama's 2nd congressional district from March 1851 to March 1855.
James Charles Abercrombie and Evelina Elizabeth

Ross

appeared in the US federal census of 1 June 1850 in Russell County, Alabama. Other members of the household included John Lucas

Abercrombie

, Parthenia

Abercrombie

, Clara W.

Abercrombie

and George H.

Abercrombie

. Overseer Augustus Paulk was enumerated with the family.
He was farming, according to the 1850 census.
James Charles Abercrombie wrote to Green

Wood

:
     Washington City, 25th April 1852
     Maj. Green Wood
Dear Sir
     Your letter dated at Houston Texas 31st Ult. has reached me. The power of attorney alluded to has not yet arrived. I am pleased to say to you we have passed the [General James C.] Watson claim through the house after a bad contest with the abolitionist and I feel sanguine of its passage through the senate - it has been refered in that boddy to a committee and a favorable report has been made - you may rest assured I will if possible guard your claim against the creditors of Genl Watson - should we not succeed here, I have employed council at Columbus Geo to take all legal measures to secure your interest. Judge Sturgis is still here, who has acted and is still acting for Watsons Administrator - he says your claim he knows all about it is just and must be respected. I shall watch him, having no confidence in him - my best respects to Evelina and all of the Family. I had like to have forgotten to say Miss Parthenia Abercrombie our Daughter & Josephine my brothers Daughter is here with me enjoying themselves - you would suppose my wife had turned young again, gowing to the opera every night, She has laught until her mouth is nearly a yard wide. Wig Party Disbanded tho Democratic Party in worse condition. in great haste, accept my best wishes for your happiness and prosperity.
     Very sincerely yours, J Abercrombie
Minimal punctuation added by the transcriber to enhance readability.
The following appeared on 24 August 1852 in the Washington Daily National Intelligencer: We regret to state that the health of the Hon. James Abercrombie, of Alabama, is so much impaired that by the advice of his physician he has been induced to go home.
James Charles Abercrombie appeared in the US federal census of 1 June 1860 in Pensacola PO, Escambia County, Florida. Other members of the household included Clara W.

Abercrombie

and George H.

Abercrombie

.
The following appeared on 13 July 1861 in The Sun: The Pensacola correspondent of the Mobile Advertiser, in his letter of June 30, writes: . . . I learn with deep regret that Capt. James Abercrombie, who for twenty years represented Alabama in the Congress of the Unitd States, is lying dangerously ill of typhoid fever, at the residence of his son, a short distance from this city.
James Charles Abercrombie died on 2 July 1861 at age 69 in Pensacola, Escambia County, Florida.
He was interred at Linwood Cemetery, Columbus, Muscogee County, Georgia.
A short biographical sketch of James Abercrombie appears in Alabama, Her History, Resources, War Record, and Public Men, from 1540 to 1872.
For additional biographical information, see The Biographical Directory of the United States Congress.