Alexander Gregg
b. 8 October 1819, d. 10 July 1893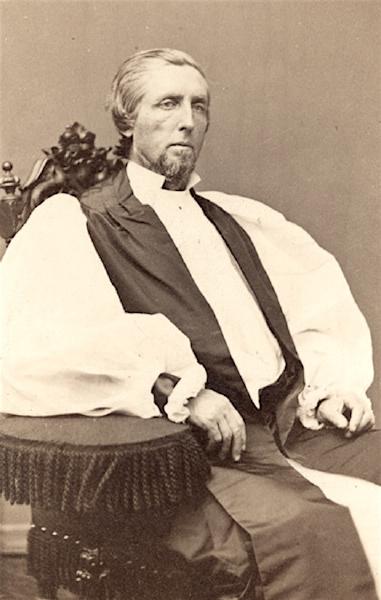 Rt. Rev. Alexander Gregg (1819-1893), First Bishop of Texas, Protestant Episcopal Church
Alexander

Gregg

was born on 8 October 1819 in Darlington County, South Carolina, near Society Hill.
He married Charlotte Wilson

Kollock

, daughter of Oliver Hawes

Kollock

and Sarah J.

Wilson

.
In a letter dated 15 February 1869 to Ella Abercrombie

Wood

in Danville, Alexander Gregg wrote from San Antonio, Texas.
The following appeared on 31 May 1869 in The Galveston Tri-Weekly News: The Twentieth Annual Convention of the Protestant Episcopal Church, in the Diocese of Texas, met on Thursday last, 27th instant, at 10:30 A. M., at Trinity Church, according to appointment.
     The Convention was opened by divine service, a sermon, and the administration of the Holy Communion, the Right Rev. Alex. Gregg, D.D., officiating, assisted by Revs. Richardson, Tays and Rogers. . . .
     A quorum being present the Convention proceeded to elect a secretary. The ballot was dispensed with, Rev. Mr. Richardson was nominated and unanimously elected. . . .
     Minutes of the third day's proceedings read and approved.
     The Bishop made a few remarks expressive of his satisfaction at the spirit of unity which had characterized the Council, and the encouraging prospects of the Church, together with his heartfelt appreciation of the kindly and affectionate spirit manifested towards himself.
     There being no further business before the Council, on motion, after singing "Gloria in Excelsis," prayer by the Bishop, and the Apostolic Benediction, the Council adjourned sine die.
Alexander Gregg became a widower at the 1880 death of his wife Charlotte Wilson

Kollock

.
Alexander Gregg died on 10 July 1893 at age 73 in Austin, Travis County, Texas.
He was interred at Old St. David's Episcopal Church Cemetery, Cheraw, Chesterfield County, South Carolina.
For additional biographical information, see The Handbook of Texas Online.