James Marion McCan
b. 20 October 1834, d. 31 July 1915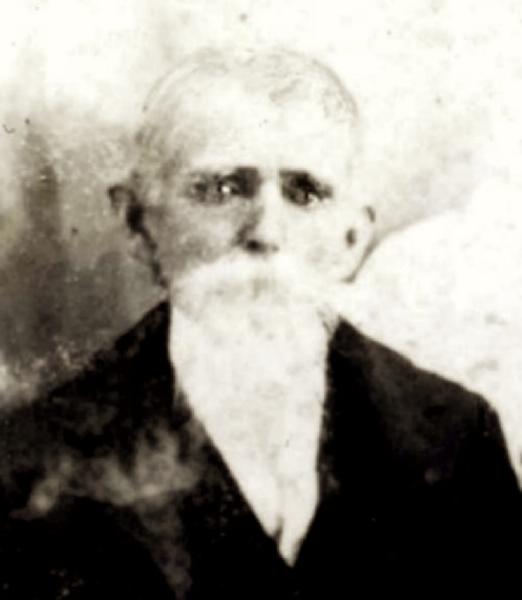 James Marion McCan, 1834-1915
James Marion

McCan

was born on 20 October 1834 in Lawrence County, Alabama.
William Viser raised his the five children of his deceased sister Sarah J. Viser McCann.
William

Viser

and Rachel

Brazelton

appeared in the US federal census of 1 June 1850 in Walker County, Texas. Other members of the household included James Marion McCan, Catherine Elizabeth

McCan

, Andrew Viser

McCan

, Mary R.

McCan

and Charles

Word

. Also in the household were farmer Moses Ford and Charles Word (age 14).
He married Amanda Catherine

Barrett

, daughter of John Whitten

Barrett

and Hulda

Reding

, on 20 January 1869 in Madison County, Texas.
James Marion McCan became a widower at the 12 January 1915 death of his wife Amanda Catherine

Barrett

.
James Marion McCan died on 31 July 1915 at age 80 in Madison County, Texas.
For an account of his CSA service in Company B, 24th Texas Cavalry Regiment, see his profile in Karen McCann Hett's Danville Mounted Riflemen.
Photograph from the collection of Karen McCann Hett.
James Littleton

McCann

+ b. 27 May 1870, d. 8 November 1923
Hulda

McCan

b. 16 November 1872, d. 19 March 1966
Samuel Wooldridge

McCan

b. 11 February 1875, d. 9 March 1962
Kenneth Nathan

McCan

b. 17 March 1877, d. 11 January 1899
Minnie Ola

McCan

b. 22 August 1879, d. 26 October 1880
Allie Angeline

McCan

b. 8 March 1881, d. 27 September 1962
William Walter

McCan

b. 5 November 1884, d. November 1967
John Reuben

McCan

b. 6 May 1886, d. 6 April 1965
Benjamin Monroe

McCan

b. 29 November 1889, d. 1949
Hettie M.

McCan

b. 11 August 1892, d. circa 1918