Phillip Johnson Suttlemyre Jr.
b. 9 November 1920, d. 31 December 1999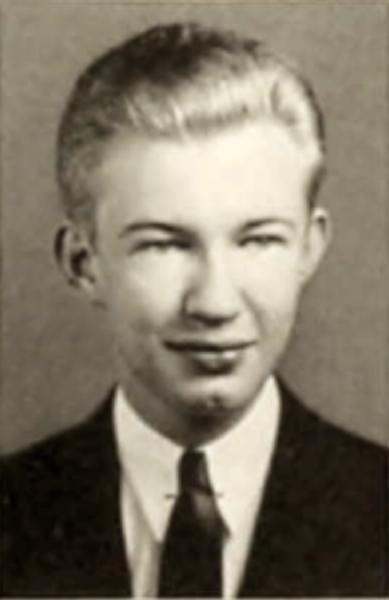 Phillip Johnson Suttlemyre, 1920-1999
Phillip Johnson

Suttlemyre

Jr. was born on 9 November 1920 in Hickory, Catawba County, North Carolina.
Phillip Johnson

Suttlemyre

and St. Claire Eugenia

Sellers

appeared in the US federal census of 1 April 1930 in Hickory, Catawba County, North Carolina, at 1625 Eleventh Avenue. Other members of the household included Phillip Johnson Suttlemyre Jr., Charles Glenn

Suttlemyre

.
The following appeared on 29 March 1960 in the Greensboro Daily News: (Hickory, March 28) The will of the late P. Johnson Suttlemyre, Hickory druggist and owner of Hickory Drug Co., has been filed for probate. His estate, valued at $225,000, was left ot his widow and two sons, Charles G. and Phillip J. Suttlemyre.
The following appeared on 14 May 1960 in the Greensboro Daily News: (Hickory, May 13) Lawyers for Charles Glenn Suttlemyre moved today to have the high-strung 30-year-old son of a former Hickory mayor committed for mental observation after police said he admitted the fatal bludgeoning of his aged mother with a souvenir tomahawk.
     Police Lt. C. S. Teague said Suttlemyre readily admitted the attack on his mother, Mrs. Claire Suttlemyre, about 70, in the family's rambling white frame home Thursday.
     Suttlemyre, who has a recent history of mental illness, showed no remorse over the savage tomahawk attack, Lt. Teague said. The incident ended after Suttlemyre lifted his mother's battered body in his arms, carried her to a downstairs bedroom, and then telephoned Dr. A. C. Barnes who found the body at 5:30 p.m. when he arrived an hour later at the home in a prominent residential district.
     Lt. Teague and Cornoer W. E. Bass reconstructed this version:
     Suttlemyre, known to be a religious fanatic, and his mother began arguing upstairs over a Bible. Suttlemyre seized the tomahawk from a souvenir collection, and struck his mother a glancing blow on the shoulder. The terrified woman ran downstairs and into the dining room with her son at her heels. Scratches on her son's neck indicated to officers that the woman fought frantically for her life.
     In the blood-smeared dining room, Suttlemyre smashed his mother in the head three times with the tomahawk. Then he carried her to the downstairs bedroom and telephoned Dr. Barns.
     Mrs. Suttlemyre was the widow of Phillip Johnson Suttlemyre, prominent Hickory druggist who at one time was president of the North Carolina Pharmaceutical Association. He served two one-year terms as Hickory's mayor, in 1937 and 1938.
     An older son, Phillip, is confined to a mental institution.
     Suttlemyre attended Oak Ridge Military Institute, Lenoir Rhyne College and North Carolina State, which he left in 1952 because of scholastic difficulties after one year. He also was an Air Force veteran.
     He apparently never had worked and lived at home with his mother. He had submitted to treatment for mental ills in recent years and only Friday returned from Duke Hospital where he had gone voluntarily for treatment.
The following appeared on 19 December 1960 in the Greensboro Daily News: (Newton, Dec. 18) Superior Court Judge George Patton of Franklin has signed an order directing that Charles Glenn Suttlemyre of Hickory is entitled to inherit under his mother's will.
     Judge Patton concluded as a matter law that Suttlemyre was not legally responsible for the death of his mother because of insanity at the time.
     The mother, Mrs. Johnson Suttlemyre, died last May 12, allegedly from injuries suffered at the hands of her son.
     Suttlemyre and a brother, Phillip J. Suttlemyre, have been ruled incompetents and are confined to an institution.
     Nevertheless, the sons will share the mother's estate, including $250,000 left her by her husband, Johnson Suttlemyre, who died last Feb. 20, and $64,000 she had held in her own right.
     Two Hickory lawyers are guardians for the Suttlemyre brothers.
Phillip Johnson Suttlemyre Jr. died on 31 December 1999 at age 79 in Catawba County, North Caroilina.
He was interred at Oakwood Cemetery, Hickory, Catawba County, North Carolina.