Lee Roy Williams
b. 31 August 1932, d. 25 March 2010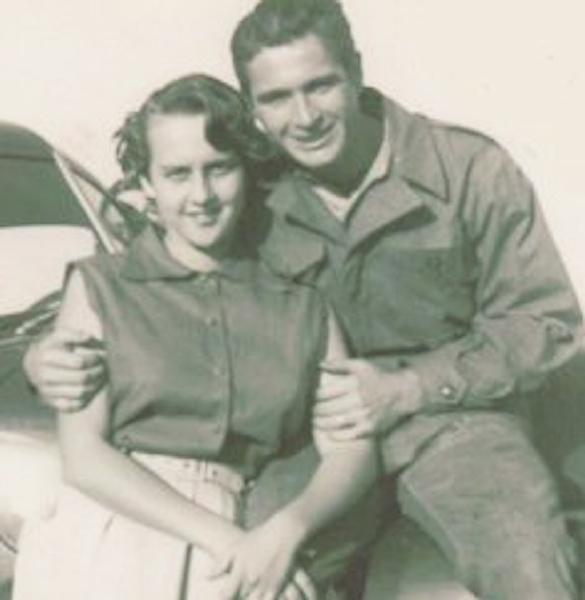 Lee Roy (1932-2010) and Lola Williams
Lee Roy

Williams

was born on 31 August 1932 in Macey, Brazos County, Texas.
Noonen Roy

Williams

and Lillian Ophelia

Mosley

appeared in the US federal census of 1 April 1940 in Brazos County, Texas. Other members of the household included Lee Roy Williams.
The following appeared on 3 November 1953 in The Bryan Daily Eagle: (Marriage Licenses) . . . Lee Roy Williams and Lola Faye Poteet.
Lee Roy Williams died on 25 March 2010 at age 77.
He was interred at Macey Memorial Cemetery, Brazos County, Texas.
The following appeared on 27 March 2010 in The Eagle: Lee Roy Williams, 77, of Bryan, passed away on Thursday, March 25, 2010. Funeral services are set for 10:30 a.m. Saturday, March 27, 2010 at Macy Memorial Chapel in the Macy Community. Lee Roy Williams was born to Shorty and Ophelia Williams, August 31, 1932, at their home in the Macy Community in Texas. Lee Roy married Lola Faye Poteet on October 29, 1953. During his life Lee Roy served as a teacher for 35 years and pastor for 49 years, including the last quarter century at Macy Memorial Chapel. Lee Roy was a graduate of Normangee High School, Texas A&M Teacher Training School and SMU Perkins School of Theology. Survivors include his beloved wife, Lola Faye; children, Leola Young and husband, Wayne, June Weathers, and Roy Williams wife, Kathy; 6 grandchildren and 1 great-grandchild; 4 sisters and numerous other family members.
His Western novel Return to Four Corners was published shortly after his death.