Dale Newton Montgomery
b. 29 August 1923, d. 15 January 2011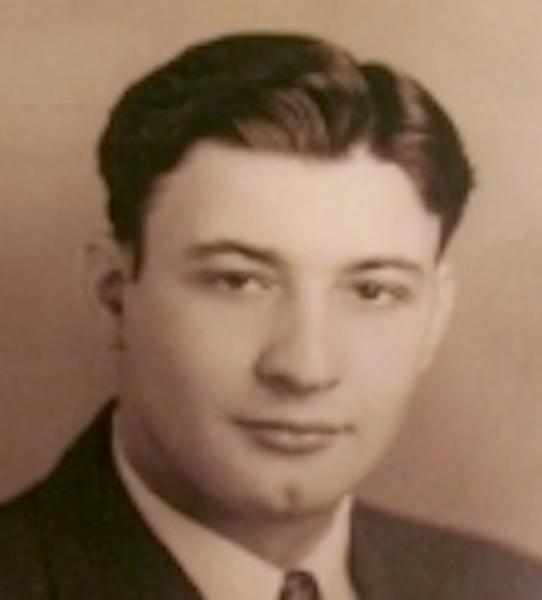 Dale Newton Montgomery, 1923-2011
Dale Newton

Montgomery

was born on 29 August 1923 in Long Beach, Los Angeles County, California.
Dale Newton Montgomery died on 15 January 2011 at age 87 in Shreveport, Caddo Parish, Louisiana, at the Willis-Knighton Medical Center.
He was interred at Forest Park Cemetery (East), 2700 St. Vincent Avenue, Shreveport, Caddo Parish, Louisiana.
The following appeared on 18 January 2011 in the Shreveport Times: (Bossier City, La.) Dale Newton Montgomery passed away on Saturday, January 15, 2011, at Willis-Knighton Medical Center after a brief illness. Visitation will be held at Osborn Funeral Home on Tuesday, January 18th, from 5:00 until 8:00 p.m. A memorial service will begin at 2:00 p.m. on Wednesday, January 19th, in the Chapel of Osborn with the Reverend Dan Hignight officiating. Interment will follow at Forest Park Cemetery.
     Dale was born August 29, 1923 in Long Beach, CA the son of the late Allen C. Montgomery and Annie Lou Arnold. He graduated from Bossier High School and attended Centenary College. He began his career with Montgomery Agency, Inc., working tirelessly to build the family business while raising his family along with his wife, Virginia. He was a member of First Presbyterian Church and later Trinity Presbyterian Church. He taught Sunday school classes along with being a Deacon and Elder of the First Presbyterian Church for many years. He was a member of the Chamber of Commerce, Lions Club, Rotary Club and First Charter President of the Bossier YMCA.
     Although a resident of Bossier City, Dale spent quite a bit of his time sharpening his shots at the downtown Shreveport Y.M.C.A. His unique combination of size and agility made it extremely difficult for opponents to make shots around him. Because of this he maintained the title of Shreveport Handball Champion for 10 years and advanced to nationals twice.
     Another passion of Dale's was traveling on his motorcycle, which he referred to as "the motor." Of his many travels, one of his most memorable was traveling to the four corners of the United States and into Canada.
     Of all things Dale took pleasure in, his family always came first. He was affectionately referred to by his grandchildren and great-grandchildren as "Gobi."
     Dale endured much frustration for the past twenty years with dementia. Even though he could not remember events and people's names he was always friendly to them and greeted them by calling them "Bubba." Those who will remember him in these days will know him as Bubba. He has now gone to be with the love of his life of 63 years…We love you Bubba.
     Dale was preceded in death by his wife, Virginia Nelson Montgomery; his parents, Allen C. Montgomery and Annie Lou Arnold Montgomery; and his brother, Robert A. Montgomery. He is survived by his daughter, Sharon Hudnell and her husband, Larry; two sons, David Arnold Montgomery, Sr. and his wife, Rue Ann and Mark Lynn Montgomery and his companion, Selvia G. Rinaldo; twelve grandchildren, David Arnold Montgomery, Jr., Dale Raymond Montgomery and wife, Amy, Emily Jane Winterton and husband, John, Esther Louise Montgomery Martinez and husband, Kenny, Matthew Crosslen Montgomery and wife, Leslie, Michael Nelson Montgomery and wife, Misti, Amanda Leigh Montgomery McMillan, Dale Newton Montgomery II and wife, Allison, Megan Lynn Montgomery Pulley and husband, Thomas, John Andrew Hudnell, Virginia Lee Hudnell Shrell and husband, Kyle and Katherine Elizabeth Hudnell; twenty-one great-grandchildren, Grace Montgomery Lewis, Candace Montgomery, David III, Jordan and Jonathan Montgomery, Frederick, Sarah Jane and Patrick Winterton, Courtney, Brandon and Ashley Smith, Madeline, Avery and Anna Montgomery, Madison, Graham and Fletcher Montgomery, Alivia Montgomery, Mark Roman McMillan and Andi Marie Pulley and Cecily Ann Shrell; and two great-great grandchildren, Tanner Dale Webb and Jude Walker Lewis.
     Pallbearers will be Dale's grandsons, David Arnold Montgomery, Jr., Dale Raymond Montgomery, Matthew Crosslen Montgomery, Michael Nelson Montgomery, Dale Newton Montgomery, II and John Andrew Hudnell.
     Honorary pallbearers will be Arthur M. Wallace, Jr., Judge Henry Brown, Sidney Nelson, Judge Monty Wyche, Judge Cecil P. Campbell II, Foster L. Campbell, Jr., Judge Billy Ross Robinson and Joe Wojtkiewicz.
     The family wishes to express their sincere gratitude to the nurses, staff and physicians of Willis-Knighton Medical Center for their excellent care and compassion during his illness and Brooke at Progressive Care for her attentiveness to his care. And finally, a special thank you to Lucy Bridgewater and Claudia Neal for their constant care of Dale for the last seven years.
     Memorials may be made to Trinity Presbyterian Church, 1944 Airline Drive, Bossier City, LA 71112, St. Jude Children's Research Hospital , P.O. Box 1000, Dept. 300, Memphis, TN 38148 or the charity of donor's choice.