Hilda Ross
b. 23 November 1922, d. 2 October 1989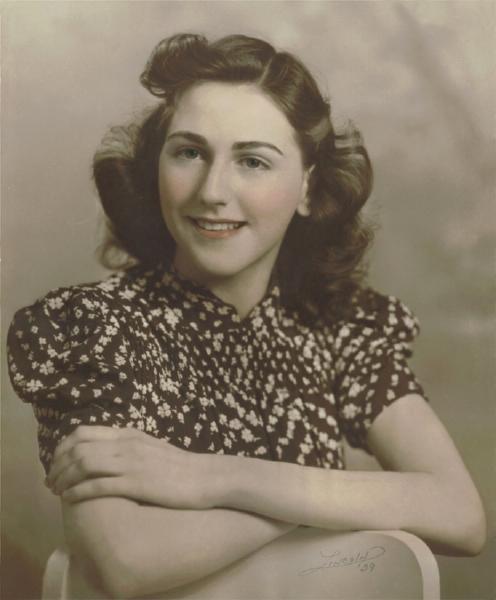 Hilda "Lynn" Ross Wood, 1922-1989
Hilda

Ross

was born on 23 November 1922 in New York.
She was known as Lynn Ross during her adult years.
Hilda Ross appeared in the US federal census of 1 April 1930 in Bronx, New York, at 1552 Minford Place apparently boarding, with her sister Charlotte (age 5-1/2 years) in the household of Rose Frankel.
Abraham A.

Rosenstein

and Mary

Mendelson

appeared in the US federal census of 1 April 1940 in Bronx, New York, at 757 Trinity Avenue. Other members of the household included Hilda Ross, Eli Lee

Ross

and Ernest

Ross

. Also in the household were sons Eli (age 20) and Ernest (19.)
She married Campbell

Wood

Jr., son of Campbell

Wood

and Ann Hall

Mitchell

, on 19 November 1958 in Clark County, Nevada.
Hilda Ross became a widow at the 16 October 1964 death of her husband Campbell

Wood

Jr.
Hilda Ross died on 2 October 1989 at age 66 in Washington, District of Columbia.
The following appeared on 6 October 1989 in the Sarasota Herald-Tribune: Lynn Ross Wood, 66, formerly of Sarasota, died Oct. 2, 1989, in Washington, D.C.
     She was born in New York and came to this area 12 years ago. She was a deputy director of personnel in the White House during President Reagan's first term and had worked for Reagan when he was governor of California.
     Wood attended Los Angeles City College and the University of California at Los Angeles.
     In 1972, she worked for Californians For Lower Taxes. At the end of 1973, she went to work as an administrative assistant to Gov. Reagan in Sacramento and remained there until 1975.
     Wood began working for Reagan's presidential campaign in 1979 and alter was active in the Reagan for president organization in Sarasota. In 1980, she returned to Arlington, Va., to work for the Reagan-Bush campaign as assistant to the campaign treasurer. She was a member of the transition team after the election and then went to the White House to work in personnel. There she was the assistant to Helene von Damm who later became ambassador to Austria.
     She was a delegate to the United Nations Conference on the Status of Women, held in Vienna in 1984. She also was co-chairman of the Reagan-Bush Reunion for several years.
     In 1985, Wood was named executive director of the National Advisory Council on Adult Education at the Department of Education and in 1988 was named special assistant to the chief of staff at the Veterans Administration.
     She was a member of the Republican Women's Federal Forum, Executive Women in Government, the Renaissance Women and the Friends of the Kennedy Center.
     Survivors include a sister, Connie Rothman of Scottsdale, Ariz; and four brothers, Alexander Ross of North Hollywood, Calif., Ernest Ross of Honolulu, Lee Ross of Northport, Calif., and Max Ross of Greenville, R.I.
     Services and burial are in Arlington. Devol Funeral Home in Washington, D.C., is in charge.
     Memorial donations may be made to the American Cancer Society, 1825 Connecticut Ave. NW, Washington, D.C. 20009 or to the School of Veterinary Medicine, University of California at Davis, Calif. 95616.
She was interred at Columbia Gardens Cemetery, Arlington, Virginia.
The following appeared on 26 September 2006 in the Providence Journal: Max Ross, 79, formerly of Farnum Pike, a self-employed handyman until retiring, died Wednesday, September 20, 2006 at Zambarano Hospital in Pascoag.
     Born in New York, he was a son of the late George and Mary (Mendellson) Ross. He lived in Smithfield for many years until moving to Burrillville.
     He is survived by his brothers, Ernest and Lee Ross of California and a sister, Charlotte R. Rothman of Arizona. He was the brother of the late Alex and Lynn Ross.
     Funeral private.