Robert Safford Newton
b. 16 December 1818, d. 9 October 1881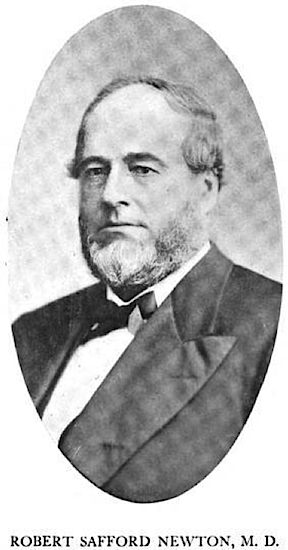 Robert Safford Newton, MD, 1818-1881
Robert Safford

Newton

was born on 16 December 1818 in Galla County, Ohio, near Gallipolis.
While in Cincinnati Elizabeth Green

Wood

was treated by Robert Safford Newton who was a well-known surgeon and practitioner of "Eclectic" medicine.
Robert Safford Newton died on 9 October 1881 at age 62 in New York City.
A biographical sketch appeared in 1910 in the Bulletin of the Lloyd Library of Botany, Pharmacy and Materia Medica:
     Robert Safford Newton, M. D. Robert Safford Newton, M. D., was born near Gallipolis, Ohio, December 16, 1818, and died in New York City, October 9, 1881. At an early age he determined to become a physician, and left his country home to attend the academy at Lewisburg, Va., afterwards studying medicine with Dr. Edward Naret, of Gallipolis. Under the personal care of the principal of the Gallipolis Academy, and of the pastor of the Methodist church of that town, he studied Latin, Greek, philosophy, and mathematics. In 1839 he matriculated in the Medical University of Louisville, Ky., graduating in March, 1841. His medical education being on "Regular" lines, under such authorities as Drake, Gross, Yandell, and Caldwell, was, in his opinion, illogical in theory and cruel in practice. In 1845 his liberal tendencies led him to break those affiliations and unite with the "Reformers," or Eclectics. Surgery being his specialty, he was called to the chair of Surgery in the Memphis Institute, Memphis, Tenn., serving therein from 1849 to 1851. Thence removing to Cincinnati, he taught surgery in the Electic Medical Institute until 1862, sharing the leadership of the Eclectics of this section with the distinguished humanitarian, Dr. Joseph Rhodes Buchanan, and during this period he edited the Eclectic Medical Journal. In 1863 he removed to New York City, where he assisted in forming the Eclectic State Society, being instrumental, with Wilder and others, in obtaining the charter, (1865), for the Eclectic Medical College, now so thriftily established in that city. Between that date and 1874 he assisted in editing the Eclectic Medical review, and the Medical Eclectic.
     Dr. Newton was one of the original signers to the call for the Eclectic National Association, in the sessions of which his person and his voice were both prominent. He financially assisted Dr. John King, 1852, in issuing "The American Dispensatory," under the name King and Newton. He published "Chapman on Ulcers," (1853), "Physiological Botany," (1853), "Powell and Newton's Eclectic Practice of Medicine," (1854), "Symes' Surgery," (1856), and "Pathology of Inflammation and Fevers," all of which were popular and passed through many editions.
     Dr. Newton was of large stature and of distinguished appearance. He was independent in thought and action, a comprehensive lecturer, and a successful surgeon. His efforts and energy profited American medicine, in the early annals of which he was a conspicuous factor. Dr. O. E. Newton, a brother of Dr. R. S. Newton, was a very active Eclectic, practicing medicine in Cincinnati to the time of his death.