Kyser Cowart Ptomey
b. 12 April 1915, d. 22 April 2006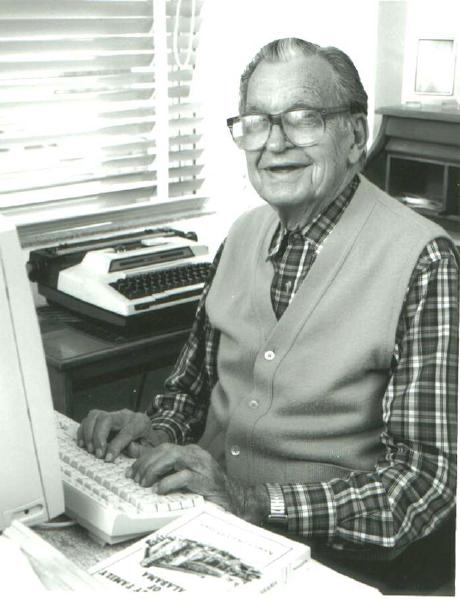 Kyser Cowart Ptomey, 1915-2006
He was the author of "The Ptomey Family of Alabama, and the allied families of Blankenship, Melton, Kyser, and Cowart, being notes, comments, and memoires," published in 1983.
Kyser Cowart

Ptomey

was born on 12 April 1915 in Pine Apple, Wilcox County, Alabama.
The SSDI lists Houston, Harris County, Texas, as the last residence of record of Kyser Cowart Ptomey.
Kyser Cowart Ptomey died on 22 April 2006 at age 91.
The following appeared on 24 April 2006 in the Birmingham News: Kyser Cowart Ptomey died on Saturday, April 22, 2006. He was born on April 12, 1915 in Pineapple, Alabama to Kyser and Lula Ptomey. Raised in Birmingham, Alabama, he graduated from Birmingham School of Law. /P/ Having spent his lifetime with U.S.F. & G. Insurance Company, he retired as manager of the Houston branch office in 1980. After retiring, he published three books: Family of John Ptomey, Ogletree Family and John Kyser family. His "second career" in retirement was as a genealogist. /P/ He was a member of the Toastmasters and a 32nd Degree Mason. He was also a member of the First Presbyterian Church of Houston and an ordained deacon in Central Presbyterian Church in Mobile, Alabama. /P/ He was preceded in death by his parents; sisters, Mildren Magnuson and Louis Kinmon, and is survived by his loving wife of 68 years, Hazel; children, K.C. Ptomey, Jr. and wife Carol, Edward Ogletree Ptomey, Susan Hargett and husband, Billy, four grandchildren and three great grandchildren. /P/ A memorial service will be held at 3:30 p.m. on Tuesday, April 25, 2006 in the chapel of Clarewood House, 7400 Clarewood Drive. /P/ In lieu of flowers, memorial contributions may be made to Clarewood House, 7400 Clarewood Drive, Houston, Texas 77036.