Minnie Fisher
b. 19 March 1882, d. 9 December 1964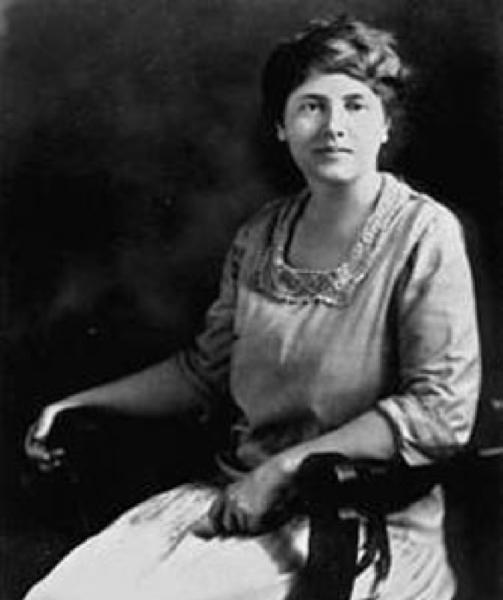 Minnie Fisher Cunningham, 1882-1964
Minnie

Fisher

was born on 19 March 1882 in New Waverly, Walker County, Texas, at Fisher Farms.
She was known as Minnie Fish in her political life.
She married Beverly Jean

Cunningham

in 1902.
After the passage of the Nineteenth Amendment, Minnie Fisher Cunningham became the executive secretary of the National League of Women Voters in Washington, D.C. In 1928, she returned to Texas to run for the United States Senate. She challenged the incumbent Earle Mayfield, a member of the Ku Klux Klan, on the issues of prohibition, tax reform, farm relief, flood control, and US participation in the League of Nations. Cunningham carried only her home county of Walker, and finished fifth in a field of six. Still, she had the satisfaction of seeing Mayfield go down to a progressive Waco congressman, Tom Connally. Cunningham ran for Texas governor in 1944 to express her outrage at the fact that conservatives had seized control of the state's delegation to the Democratic National Convention and were prepared to vote against President Roosevelt despite the wishes of Texas voters. Cunningham finished second in the field of nine but was defeated by a wide margin by incumbent Coke Stevenson. Nonetheless, she prevented the anti-Roosevelt move. She continued to campaign for liberal causes and candidates until her death in 1964.
The following appeared on 3 January 1929 in The Galveston News: The body of Mrs. Sallie C. Fisher, 82, who died at the home of her daughter, Miss Marion Fisher, 2928 Avenue N-1/2, Tuesday night, was forwarded yesterday morning to New Waverley, Tex., where funeral services and interment will be held.
     Mrs. Fisher had been in Galveston the last four years, residing with her daughter. She was the wife of the late Horatio W. Fisher and came to Texas in 1850.
     She is survived by four daughters: Mrs. Minnie Fisher Cunningham, women's political leader and a recent candidate for the senate; Miss Marion Fisher, a teacher in the Galveston schools; Mrs. R. M. Traylor and Mrs. A. E. Campbell, both of New Waverley.
At the time of her death Minnie Fisher was living in New Waverly, Walker County, Texas.
Minnie Fisher died on 9 December 1964 at age 82 in Conroe, Montgomery County, Texas, at Montgomery County Hospital . Iformant was Mrs. Elizabeth Hill.
She was interred at Hardy Cemetery, New Waverly, Walker County, Texas.
For additional biographical information, see The Texas Handbook Online.