Edward Cummings Kennard
b. 22 September 1919, d. 14 December 2009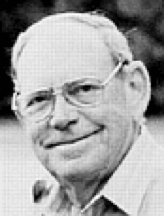 Edward Cummings Kennard, 1919-2009
Edward Cummings

Kennard

was born on 22 September 1919 in Anderson, Grimes County, Texas.
Lockett Ernest

Kennard

and Essie

Farquhar

appeared in the US federal census of 1 January 1920 in Anderson, Grimes County, Texas. Other members of the household included Edward Cummings Kennard.
He married Frances Elaine

Sasser

on 12 October 1940.
Edward Cummings Kennard became a widower at the 25 November 2004 death of his wife Frances Elaine

Sasser

.
Edward Cummings Kennard died on 14 December 2009 at age 90 in Navasota, Grimes County, Texas, at Grimes St. Joseph Health Center.
He was interred at Odd Fellows Cemetery, Anderson, Grimes County, Texas.
The following appeared on 16 December 2009 in The Navasota Examiner: Our beloved father, grandfather, great-grandfather, and friend joined his deceased loved ones in Heaven on Dec. 14.
     Visitation will be on Thursday evening, Dec. 17, between 5 p.m. and 7 p.m., at Nobles Funeral Chapel in Navasota. Funeral Services will be held on Friday, Dec. 18, at 11 a.m., at the Anderson Baptist Church in Anderson. This small, one-room historic church, is the second Baptist church established in Texas. It was founded in 1844, by ten individuals, among them Sarah Kennard, one of our ancestors, and at which President Lyndon Johnsons grandfather preached a fact about which Dad was very proud.
     Moreover, this is the church in which Dad started his earthly Christian journey through baptism and it seems only fitting for it to end there. Interment will follow at the Odd Fellows Cemetery in Anderson.
     Serving as pallbearers will be Scott D. Kennard, Jonas W. Kennard, Campbell K. Aurelius, Anthony D. Kennard, William W. Kennard and Marcus Mallard.
     Dad was born in Anderson, on Sept. 22, 1919. He is survived by his daughter, Katie Kennard Femino and her husband, Dr. Joseph A. Femino of Head-of-the-Harbor, New York; his second daughter, Suzan Kennard Tidwell and her husband James Tidwell of Houston; and his son, Edward C. Kennard, Jr. and his wife, Vanessa Nassopoulos Kennard of Houston. He is also survived by his nine grandchildren and fourteen great-grandchildren, as well as numerous cousins.
     Our father graduated from the University of Texas where he studied petroleum engineering. Upon graduation, he married Elaine Francis Sasser of Navasota, on Oct. 12, 1940. Shortly thereafter, he accepted a job as schoolhouse in Carlos, where his teaching career was short lived. After he was discharged from the Army at the conclusion of World War II, he embarked on his long career with General Motors.
     He was first hired by the Buick Motor Division as an assistant parts warehouse manager. He rose quickly through the division, ultimately being named the general sales manager of Buick at the age of only 38. Following Buick, Dad was general sales manager of Pontiac and Chevrolet, as well as director of marketing for General Motors.
     His last position was as a vice president of General Motors and general manager of the Cadillac Motor Division until his retirement in 1982. Under his leadership, models such as the Seville and the Alante were successfully introduced and sustained, and the Cadillac Division enjoyed the highest sales in its history.
     Dad was very charismatic and had many accomplishments. Among tenures, he served as chairman of the Greater Detroit Visitors and Convention Bureau, where he was instrumental in getting the National Republican Convention to the Motor City for Ronald Reagans second run for President.
     He served as president of the Bloomfield Hills Country Club. He was vice-chairman of the Oakland Hospital in Dearborn, Michigan. He served on several boards, including the Leelanau Schools, the International Brangus Association, the Texas Cattlemen Association, and the Bank of Navasota, now part of Prosperity Bank. Additionally, he was an advisor to Notre Dame University.
     Of his many memberships, he was most proud of being a member of Augusta National Golf Club and serving on the transportation committee during the annual Masters Golf Tournament, as well as his membership in Club Limited, an international hunting and fishing club, in which he had many friends. He was also a 33 1/3 Mason and a Shriner.
     We are very proud of him for all these accomplishments, but most of all for being a loving husband, a great father and, as many who knew him attested, for being the nicest man I ever met.
     Our family wishes to thank his many caregivers for their tireless efforts in his final years, as well as his primary care physician Dr. C. H. Prihoda and the many other doctors who contributed to his well being. Also, we wish to thank his many friends at the First Baptist Church of Navasota, where Dad was a member, who prayed on his behalf and visited him often.
     We also thank the congregation of the Anderson Baptist Church for their prayers, in particular, Pastor Dwain Steinkuehler and Rev. Dr. Jim Adams, for their visits and comforting words. And, we would be remiss if we didnt thank two of his surviving longtime friends, Mr. Calvin Bentsen and his wife, of McAllen, and Mrs. Evelyn Godber of Lido Island, Calif.
     In lieu of flowers, please send contributions to the Benevolence Fund of the Anderson Baptist Church, 379 South Main Street, Anderson, Texas, 77830.