John Robert Niksich
b. circa 28 December 1910, d. 6 March 1980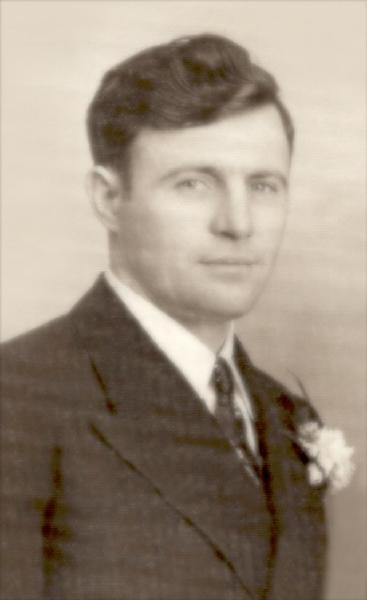 John Robert Niksich, 1910-1980
John Robert

Niksich

was born circa 28 December 1910 in Calumet, Houghton County, Michigan.
According to family lore, the family returned to Croatia shortly after son John's birth.
He returned to the United States in about 1931, according to family lore.
John Robert Niksich registered for the draft on 22 Jan 1949 in Alaska, while living in Wasilla, and employed there by the Alaska Pacific Consolidated Mining Company. Contact listed was his cousin Mark Sertich, also in Wasilla.

John Robert Niksich, World War II draft registration

He married Veronica Theresa

Kolesar

, daughter of John

Kolesar

and Mary

Dravecky

, on 2 February 1942 in Ironwood, Gogebic County, Michigan, at Holy Trinity Catholic Church, with the Rev. C. J. Petraneck officiating.

John Robert and Veronica Theresa "Verne" Kolesar Niksich, February1942

The following appeared on 2 February 1942 in the Ironwood Daily Globe: The marriage of Miss Veronica Theresa Kolesar, daughter of Mrs. Mary Kolesar, 347 West Ash street, and John Robert Niksich, son of Mr. and Mrs. Mark Niksich, was solemnized at 8:30 the morning at the Holy Trinity church. The Rev. C. J. Petranck officiated at the nuptial mass for which the bride wore a rose colored suit with navy accessories and shoulder corsage of gardenias. Her only jewelry was a gold cross, a gift of the bridegroom.
     The couple was attended by Miss Regina Kolesar, sister of the bride, as maid of honor and Miss Rose Mesich, bridesmaid, Michael Kolesar, the bride's brother, was best man and also gave his sister in marriage. The fourth attendant was Clement Kolesar.
     The maid of honor wore a pastel green suit, accessories of brown and corsage of roses. The bridesmaid's suit was pastel blue, her accessories blue also and her corsage of roses.
     The ceremony was followed by a breakfast for immediate relatives and friends, a dinner for 50 guests and a reception to which 75 had been invited, all at the bride's home which was decorated elaborately with cut flowers.
     Mrs. Kolesar wore a green dress and black accessories for her daughter's wedding and the groom's aunt wore blue. Both had floral shoulder corsages.
     The newlyweds will make their home at the Kerkes apartments on Birch street. Mr. Niksich has been a gold miner in Alaska. His bride is a graduate of St. Ambrose high school.
     Wedding guests from outside Ironwood were Mrs. Matt Miller and son Anthony, Mrs. Philip Barabe and Mrs. Matt Yellich of Mellen, Matt Yellich of Marenisco, Mrs. Clarence Pilon of Ashland and Mrs. John Mros of Virginia, Minn.
John Robert Niksich enlisted as a private in the US Army on 18 August 1942, in Marquette, Michigan. He served until 29 October 1945. At the time of his enlistment he was married and employed in the mining industry.
John Robert Niksich died on 6 March 1980 in Ironwood, Gogebic County, Michigan.
He was interred at Riverside Cemetery, Ironwood, Gogebic County, Michigan.