Catharine Louise Oelschlager
b. 16 February 1893, d. September 1967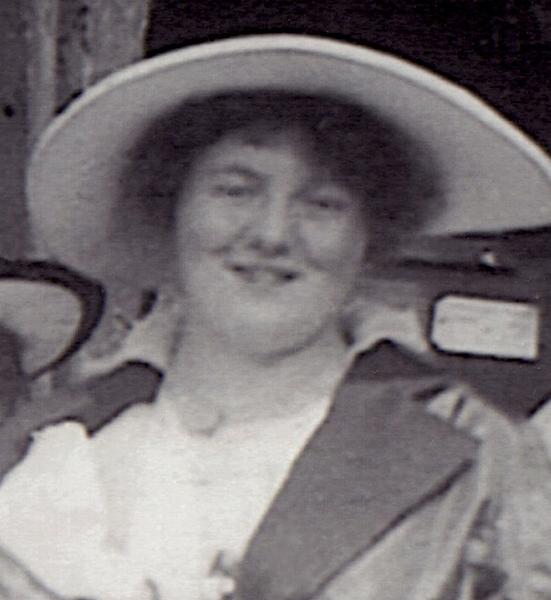 Catherine Louise "Midge" Oelschlaeger Ernst, 1893-1967
Catharine Louise

Oelschlager

was born on 16 February 1893 in Berlin, Waterloo, Ontario, Canada, the record of her birth entered by her father, Alfred Oelschlaeger, Clerk.
She was known as Midge.
Alfred

Oelschlager

and Lillie

Duck

appeared in the 31 March 1901 census of Canada in Berlin, Waterloo County, Ontario, Canada, enumerated next to Alfred's mother and sister Louise.. Other members of the household included Catharine Louise Oelschlager, Martha Marie

Oelschlager

.
She married Vorwerk

Ernst

, son of Samuel Rank

Ernst

and Fredericka Dorothea Augusta

Vorwerk

, on 9 August 1916 in Port Elgin, Bruce County, Ontario, Canada, with Rev. J. R. Mann officiating. The marriage was witnessed by Harold Ernst of Berlin and Lulu M. Darling of Port Elgin. At the time of their marriage, Vor was a clerk and Midge was a school teacher.
Left to right, appearing in the photograph taken on the occasion of the August 1916 wedding of Vorwerk Ernst and Midge Oelschlager, are Vor's mother Freda Ernst, his brother Harold, Berlin Mayor W. H. Schmalz, Midge's aunt Emily Duck McFarlane, groom Vorwerk Ernst, Midge's aunt (and wife of the mayor) Eleanora "Lolly" Oelschlager Schmalz, bride Catharine "Midge" Oelschlager Ernst, Midge's mother Lily Duck Oelschlager, Vor's father Sam Ernst, his brother Earl, and in front, his young cousins Martha and Bernice McFarlane.
Catharine Louise Oelschlager died in September 1967 at age 74.