David Samuel Ernst
b. 30 May 1919, d. 24 December 2004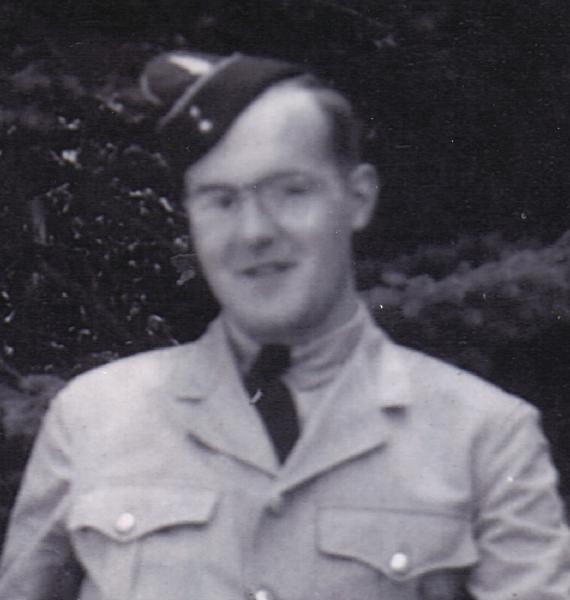 David Samuel Ernst, 1919-2004
David Samuel

Ernst

was born on 30 May 1919 in Ontario, Canada.
A snapshot of Freda Ernst and her grandson David was taken about 1942.
He married Catharan Margaret Lyla

Morgan

on 28 June 1944 in Saskatoon, Saskatchewan, Canada.
The following appeared in a local newspaper: A pretty naval wedding took place June 28 at 3 o'clock in St. Andrew's Presbyterian Church when the Rev. James Clarke of Prince Albert united in marriage Catharan Margaret Morgan, daughter of Mr. and Mrs. J. Morgan of North Bay, Ontario, and Surg. Lieut. David S. Ernst of H.M.C.S Unicorn, Saskatoon, son of Mr. and Mrs. V. Ernst of Kitchener, Ont. The church was beautifully decorated with deep red and white peonies which formed an effective background for the ceremony. Appropriate bridal music was supplied by Mrs. C. D. Mitchner.
     The bride, who entered on the arm of Dr. W. S. Holmes, was lovely in her wedding gown of white brocaded satin made with fitted bodice, long full skirt with slight train. Her chapel veil hung from a becoming headdress of white and she carried a cascade bouquet of all-white flowers.
     Lieut. Peggy Kidder, W.R.C.N.S., wearing her uniform, was the bride's attendant, while Flt. Lt. Rod Davidsonh, R.C.A.F., was best man. The ushers were Lt. Douglas Snair, R.C.N.V.R., and Sub-Lt. William McQuail, R.C.N.V.R.
     Congratulations were extended to the bridal couple at a charmingly arranged reception held on the terrace lounge at The Bessborough where their mothers assisted in welcoming the guests. Mrs. Morgan was attired in a smart brown and white ensemble while Mrs. Ernst chose turquoise with white accessories.
     Surgeon Lieutenant Ernst and his bride left for a honeymoon at Lake Waskesiu, the bride travelling in a dress of navy blue with front panel of light blue and matching accessories. They will make their home at present in Saskatoon.
The Ernst family was photographed in front of their home at 19 Roy Street, about 1958.
David Samuel Ernst became a widower at the 12 May 2002 death of his wife Catharan Margaret Lyla

Morgan

.
David Samuel Ernst died on 24 December 2004 at age 85.
The following appeared on 29 December 2004 in The Record: Dr. David S. Ernst passed away, peacefully, on Friday, December 24, 2004 at the age of 85. Predeceased by his loving wife, Catharan, whom he missed dearly. David was devoted to his family, a caring and compassionate physician, a dedicated Elder for St. Andrew's Presbyterian Church, and a member of The Rotary Club of Kitchener and was named a Paul Harris Fellow. During the Second World War, he proudly served as Surgeon Lieutenant on board the destroyer, H.M.C.S. Haida. He enjoyed life fully and cherished his children, grandchildren, nieces, nephews, friends and a very special island in McGregor Bay. He maintained a sense of humour, humility and dignity through life's triumphs and tribulations. He is survived by his son, David Ernst and his wife Wendy of Burlington; his daughter, Elizabeth Quinn and her husband Gerry of Mississauga; his son, Richard Ernst and his wife Christine Fisher of Kitchener; his son Peter Ernst and his wife Sheila Crowe of Charlottesville, Virginia; and his sister, Joye Brown and her husband Dr. Tom Brown of Toronto. He will be sadly missed by loving grandchildren, nieces and nephews alike. To celebrate David's life, a memorial service will be held at St. Andrew's Presbyterian Church (Queen and Weber Street), Kitchener on Thursday, December 30, 2004 at 3 p.m. with Rev. Vern Tozer and Rev. Grant MacDonald officiating. There will be opportunities for visitation with the family from 2 p.m. to 3 p.m. at the church in the Elizabeth Room and following the service in Iona Hall. Cremation has taken place. Donations to St. Andrew's Presbyterian Church, Friends of H.M.C.S. Haida or Canadian Celiac Association would be greatly appreciated by the family and can be made by calling the Edward R Good Funeral Home, 171 King Street South Waterloo at 745-8445 or through .