George Carl Shipston
b. 3 August 1921, d. 30 October 2002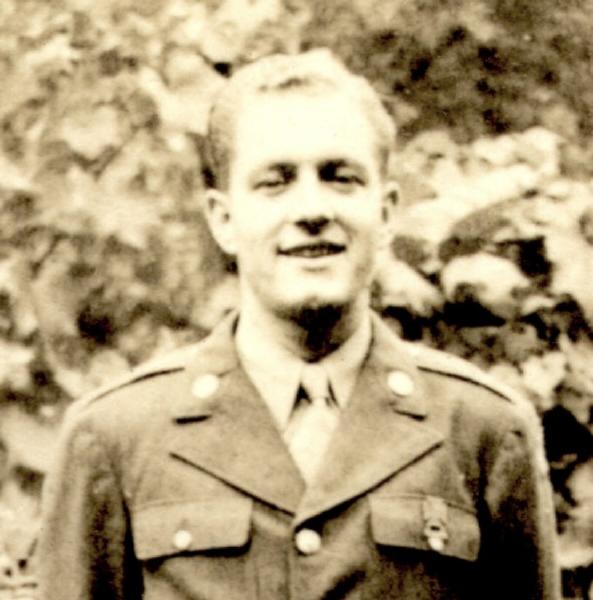 George Carl Shipston, 1921-2002
According to his Canadian Over-Seas Expeditionary Force Attestation Paper (#2 Military Police), Henry Nathan Smith took the oath of allegiance to King George V on 24 Sept 1917, while living with his wife Polly at 189 Emerson Avenue in Toronto, having served in the 44th Essex Regiment for 16 years, and 2nd (OS) Battalion for 2 years.
George Carl

Shipston

was born on 3 August 1921 in New York.
He was known as Carl.
A reunion of the Kammerer family was held in 1923 Kammerer family at the home of Helen Kammerer Hoffman, on the occasion of sister Phoebe Kammerer's Frank's visit from her home in Devil's Lake, North Dakota.
The Shipston family has yet to be found in the 1930 census.
The following appeared on 4 March 1932 in The Hastings News: Friends of Mr. and Mrs. George Shipston and son, Carl, are sorry to learn that they are planning to move to Somerville, N. J. Mr. Shipston leaves about May 1. Mrs. Shipston and Carl will stay until school closes. Karl A. Kammerer, Mrs. Shipston's brother, who has made his home with the Shipstons since his return from study abroad, will not leave this vicinity. His vocal and piano pupils will rejoice to learn that he is to continue his work as organist at St. John's Lutheran Church in Yonkers and so music lovers will not be deprived of Mr. Kammerer's talent. He and Mrs. Shipston have made a real place for themselves in local musical circles while the boys at Grace Church are mourning that their teacher, Mr. Shipston, is leaving. Grace Church has had the pleasure of both Mr. Shipston's and Mr. Kammerer's musical talents in the choir.
The following appeared on 11 March 1932 in The Hastings News: Two Ravensdale ten-year-old lads, Jack White, son of Mr. and Mrs. John C. White, and Carl Shipston, son of Mr. and Mrs. George Shipston, both of Branford road, have broken into the newspaper game. These lads have started a very creditable newspaper, "The Ravensdale News," a one sheet publication. It comes out each Monday. Two copies have appeared to date. The typing is neatly done and the mimeographing handled in a commendable manner. Both lads are in 5A.1. This week's copy contained 16 item.
George

Shipston

and Helen Georgine

Kammerer

appeared in the US federal census of 1 April 1940 in Somerville, Somerset County, New Jersey, at 142 West End Avenue. Other members of the household included George Carl Shipston, Carl Adam

Kammerer

.
Carl and Shirley Shipston were photographed on their wedding day.
George Carl Shipston died on 30 October 2002 at age 81 in Columbus, Franklin County, Ohio, at Kobacker House, Hospice at Riverside Methodist Hospital.
He was interred at Pluckemin Presbyterian Church Cemetery, Pluckemin, Bedminster Township, Somerset County, New Jersey.
The following appeared on 7 November 2002 in News of This Week (Worthington, Ohio, edition): George Carl Shipston, 81, of Worthington, died Oct. 30 at Kobacker House. He was retired as marketing manager, Plastic Division, for Union Carbide after 39 years. He was a member of Central College Presbyterian Church. A U.S. Army veteran of World War II, he was a member of American Legion, Leasure Blackston Post; SHAEF; life member NRA; and the National Association for Amateur Radio (KA20EC). Survivors include his wife of 56 years, Shirley Shipston; daughter, Judith (Thomas Joe) Keener of Worthington; son, Richard Shipston of Florida; and grandchildren Matthew, Elizabeth and Alan. Funeral service was at Schoedinger Worthington Chapel with the Rev. Richard Ellsworth officiating. Graveside service and interment were at the Presbyterian Church Cemetery, Pluckemin, N.J. Memorial contributions may be made to Hospice at Riverside/Grant, 3595 Olentangy River Road, Columbus 43214.