Earl Eugene Ernst
b. 14 June 1902, d. 7 January 1946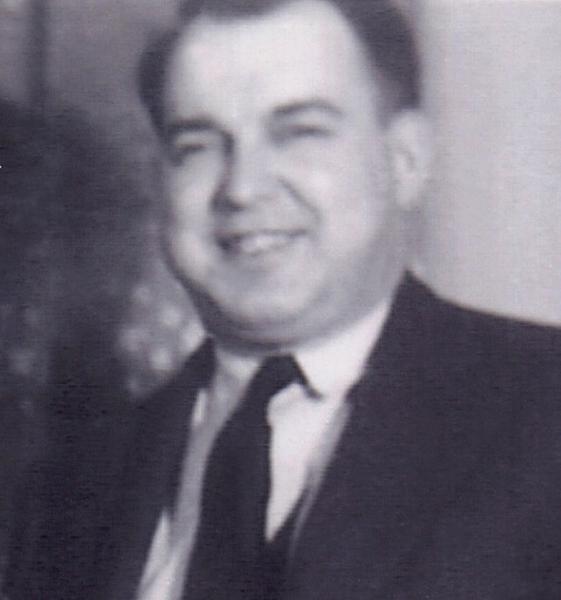 Earl Eugene Ernst, 1902-1946
Earl Eugene

Ernst

was born on 14 June 1902 in Berlin, Waterloo County, Ontario, Canada.
A photograph of the Ernst family's 19 Roy Street residence was made about 1908. On the porch, Freda Ernst, Edwin Cadwell and his wife Eliza, Freda's sister. Also present, left to right, are Freda's sons Harold, Earl, and Vorwerk with his bicycle.
Samuel Rank

Ernst

and Fredericka Dorothea Augusta

Vorwerk

appeared in the 1 June 1911 census of Canada in Berlin, Waterloo County, Ontario, Canada, at 19 Roy Street. Other members of the household included Earl Eugene Ernst, Vorwerk

Ernst

and Harold Victor

Ernst

.
Left to right, appearing in the photograph taken on the occasion of the August 1916 wedding of Vorwerk Ernst and Midge Oelschlager, are Vor's mother Freda Ernst, his brother Harold, Berlin Mayor W. H. Schmalz, Midge's aunt Emily Duck McFarlane, groom Vorwerk Ernst, Midge's aunt (and wife of the mayor) Eleanora "Lolly" Oelschlager Schmalz, bride Catharine "Midge" Oelschlager Ernst, Midge's mother Lily Duck Oelschlager, Vor's father Sam Ernst, his brother Earl, and in front, his young cousins Martha and Bernice McFarlane.
He married Maybelle Mary Ada

Sutherland

, daughter of Herbert J.

Sutherland

and Florence

Geiber

, on 25 July 1925 in Preston, Waterloo County, Ontario, Canada, by license issued on the 10th, solemnized by Frank C. Harper.
A family photograph was made at Sam and Freda Ernst's 50th wedding anniversary celebration. Pictured are Harold, Sam, Vorwerk, Freda and Earl Ernst.
Earl Eugene Ernst died on 7 January 1946 at age 43.
Maybelle Mary Ada

Sutherland

became a widow at his death.
He was interred at Protestant Mausoleum, Woodland Cemetery, Kitchener, Waterloo County, Ontario, Canada.