Gladys Givens
b. November 1921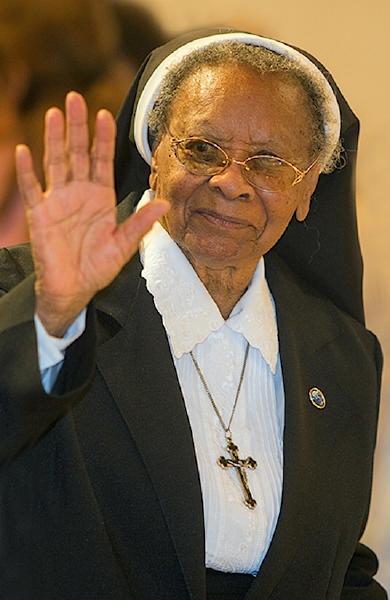 Sister Mary Clementina Givens, September 2015
Gladys

Givens

was born in November 1921 in Maryland.
Lloyd Jeremiah

Farmer

and Mamie

Nicholson

appeared in the US federal census of 1 April 1930 in Baltimore, Maryland, at 733 Dolphin Street. Other members of the household included Gladys Givens, Augustus Michael

Farmer

, George

Nicholson

and Mary E.

(?)

. Augustus Farmer is identified as an adopted son, whose parents were born in Virginia, and Gladys Farmer as an adopted daughter, whose parents were born in Maryland.
Lloyd Jeremiah

Farmer

and Mamie

Nicholson

appeared in the US federal census of 1 April 1940 in Baltimore, Maryland, at 910 Edmondson Avenue. Other members of the household included Gladys Givens, Augustus Michael

Farmer

and Earl Francis

Farmer

. Earl and Augustus Farmer are identified sons, and Gladys Givens as a niece. Also in the household were three lodgers.
I have Called You by Name and Your are Mine -Isaiah 43:1.
A joyful Eucharistic Celebration was held at St. Patrick Catholic Church on 12 September 2015 to honor seventy-five years of commitment, dedication and service by Sister Mary Clementina Givens, OSP.
                              Jubilee Mass Welcome, read by Steven Wilson
     A special message from Sister Alexis, Mother General of the Oblate Sisters of Providence, who was unable to attend our celebration today, but celebrated a special mass with Sister Clementina at the Mother House on August 15th 2015.
     On behalf of the Oblate Sisters of Providence: A special Thank You to Father Cid, Father Russell, Father Juan Aviles, Brother Mark, the choirs, and all who have come to celebrate this joyous occasion today. Thank you.
     The Oblate Sisters of Providence are so grateful. They rejoice whenever they hear the name of their dear, beloved founcress, Mother Mary Lange, Servant of God! Mother Lange dedicated herself completely in service to God's Plan of Salvation for Her. If it were God's Will, then fulfilling it was indeed her sole wish!
     It is a custom for the Oblate Congregation to anticipate The Diamond Jubilee — a celebration when a Sister reaches 65 years from her entrance into Religious Life. Furthermore, when a Sister completes 75 years as a Servant of God, then the real Diamond Jubilee is celebrated!
     So here we are! Seventy-five diamond years! Sister Clementina, you are to be commended and congratulated! You are absolutely remarkable!
     When I was little, I could not fathom the extent of 75 years. It just seemed like such a long time. In school when we studied arithmetic, now referred to as math, I can recall how long it seemed to count from 1 to 75. For a child's mind relates 75 years to the age of huge oak trees, their great grandmothers, the earth, the moon and the stars. As a child it just seemed like an unimaginable length of time. However, in my life today, I have to admit that my perception of lengths of time has become very different.
     I am certain, Sister Clementina, that when you were a little girl, you never imagined that you would be a consecrated Oblate Sister; secondly, I Would think that being a consecrated Oblate Sister for 75 years would never have entered your mind.
     And yet here we are today, celebrating your 75th Anniversary as an Oblate Sister of Providence. On September 8th 1940 you entered into the Oblate Congregation and have been faithful to your call since that time.
     Let us lovingly recall the other Oblate sisters who entered the Convent with you, and who persevered to the end:
               Sister Mary Regis Bacon, OSP
               Sister Mary Emily Burks, OSP
               Sister Mary Reparata Clarke, OSP
               Sister Mary Cornelia Dacus, OSP
               Sister Mary Richard Hopewell, OSP
               Sister Mary Zolla Sifontes, OSP
               Sister Mary Antonia Spruell, OSP
     We lovingly remember another Diamond Jubilarian of 60 years:
               Sister Corde Marie Gonzalez, OSP
     May they all rest in peace!
Sister Clementina, you are certainly an example to all of us! Your commitment, your dedication, and the fact that you continue to serve and inspire us here at St. Patrick Church and School is truly a blessing and a privilege. There was a line in the movie, Sister Act, Part 1, where there was a mention of nuns who would get up really early in the morning to chop wood in order to stay warm during the winter months, and to utilize the wood for the stove to prepare food, year round. They did all kinds of very challenging things and always began very early in the morning. They were referred to as "real nuns"! I would venture to say that you, Sister Clementina, are one of the "real nuns"!
     On August 15, 1917, Oscar Romero, the 4th Archbishop of San Salvador, was born; on May 24, 1980, he was assassinated, shot in the heart while elevating the Chalice at the end of the Eucharistic Rite. During his lifetime, he spoke out against poverty, social injustices, assassinations and the torturing of humanity. On May 23, 2015, 35 years after his assassination, he was beatified! I would like to share with you the prayer of Archbishop Romero. It reads as follows:
                                             A Future Not Our Own
     We accomplish in our lifetime only a tiny fraction of the magnificent enterprise that is God's work.
     No statement says all that could be said. No program fully expresses our faith nor accomplishes the Church's mission.
     No set of goals or objectives includes everything.
     This is what we are about. We plant the seeds that one day will grow. We water seeds already planted, knowing that they hold future promise.
     We lay foundations that will need further development.
     We provide yeast that produces effects far beyond our capabilities.
     We cannot do everything, and there is a sense of liberation in realizing that! This enables us to do something, and do it well.
     It may be incomplete, but it is a beginning, a step along the way, an opportunity for the Lord's Grace to enter and do the rest.
     We may never see the end results, but that is the difference between the master builder and the worker.
     We are workers, not master builders; ministers, not Messiahs. We are prophets of a future not our own.

     In the name of all of us here, we thank you, Sister Clementina, for your many years of service to the People of God. You have touched so many, many lives that only God could possibly know the number! You have, since you began 75 years ago, gone forth to teach all those with whom you came in contact. You have planted many seeds, you have laid many foundations, and you have provided yeast that will produce effects far beyond your own capabilities. You are truly a prophet to a future not your own. God is certainly pleased with your efforts, Sister! And as we all know, your reward will be great in God's eternal kingdom. May God bless you as you have blessed us for all these great years!
     — Sister Alexis, Mother General, Oblate Sisters of Providence.