Ruth Estelle Milander
b. 28 February 1921, d. 8 April 2004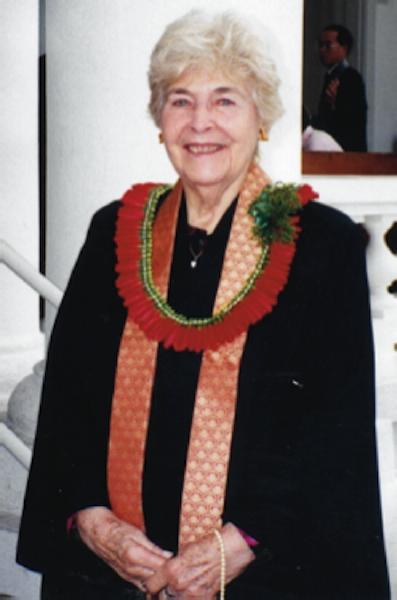 Ruth Estelle Milander Tabrah, 1921-2004
Ruth Estelle

Milander

was born on 28 February 1921 in Buffalo, Erie County, New York.
Lyall

Harwood

and A. Estelle

Dorwin

appeared in the US federal census of 1 April 1930 in Kenmore, Erie County, New York, at 119 Nassau Avenue. Other members of the household included Ruth Estelle Milander, Ruth M.

Harwood

, Robert Lyall

Flock

and Amelia

(?)

. Ruth Flock and children are enumerated with her parents, while her husband Baldur is living in Buffalo with his mother.
Baldur Andrew

Flock

and Ruth M.

Harwood

appeared in the US federal census of 1 April 1940 in Tonawanda, Erie County, New York, at 114 Woodward Avenue. Other members of the household included Ruth Estelle Milander, Robert Lyall

Flock

.
She was attending school and employed as a college office assistant, according to the 1940 census.
The following appeared on 2 March 1950 in the Tonawanda News: "Ambition--to be an author; Assed--a gift of gab."
     This was written under the picture of Ruth Milander, then a senior, in the 1937 North Tonawanda High School year book, "North Star."
     Today the young woman, now Mrs. Frank L. Tabrah, 30, of Bellingham, Wash., has had her ambition fulfilled with the publishing of her first novel, "Pulaski Place." The book has had favorable reviews in newspapers throughout the country and is a Book-of-the-Month Club recommendation. The book was published in January by Harper and Son.
     Mrs. Tabrah wove her story around the experiences of Steve Kowalski, Polish-American returned veteran, and his young wife, Irene. She placed them in the setting with which she was most familiar, this community and the Niagara Frontier.
     North Tonawanda in the book becomes "Milltown" and "Pulaski Place," to readers here, is the 3d Ward section in view of the "Bolt Works." In her novel the author mentions River Rd. and Grand Island. "Central City" is easily recognized as Buffalo.
     Former high school instructors and friends of the author here recall sever incidents in the book as actual happenings which caused "quite a flurry among the teenagers of the time." Several who have read the book disagree with Mrs. Tabrah's conception of Steve Kowalski's problen in adjusting himself to life in his foreign-language community, but all agree that the book is "most readable."
     Born in Buffalo, Mrs. Tabrah lived in North Tonawanda with her grandparents, Mr. and Mrs. Lyle Harwood. From sixth grade on she attended Goundry, Felton Grammar and North Tonawanda High schools.
     A brilliant English student, she was one of the first staff members of the NTHS Review, a monthly publication of the high school. She also was active in the Dramatic Club and in the social life of the school.
     After graduation from high school, Ruth entered the University of Buffalo where she earned her bachelor's degree in arts and science, majoring in journalism
     During her high school days she was a part-time assistant librarian in the North Tonawanda Public Library. In fact, she sent her rough manuscript of "Pulaski Place" to her former "boss," Miss Pauline VanVoorhees, for criticism.
     For sever years after her graduation from college she taught in pre-nursery schools in Hyde Park, N. Y., and in Park School, Buffalo.
     In North Tonawanda she opened the "Kiddie Korner" for small children in the hone now occupied by Mrs. George T. Miner in Christiana St. For a time she was director of Girl Reserves in the Tonawandas YWCA.
     In 1943 she married Frank L. Tabrah, a graduate of the University of Buffalo Medical School. Dr. and Mrs. Tabrah and their year-old son, Joseph Garner, live in Bellingham, where the doctor is a specialist in pediatrics.
The following appeared on 18 November 1966 in the Tonawanda News: A North Tonawanda High School graduate has been elected to Hawaii's first elected State Board of Education.
     She is Mrs. Ruth Milander Tabrah of Kohala, Hawaii, who won the seat on the Deomcratic ticket.
     Mrs. Tabrah was graduated from NTHS in 1937 and from the University of Buffalo in 1941. She also did graduate work at the University of Washington in Seattle.
     She is the wife of Dr. Frank Tabrah, also a UB graduate. He is a general practitioner and plantation physician for the 300,000-acre Parker sugar ranch in Hawaii, one of the largest in the world.
     Residents of Hawaii the past 10 years, both Mrs. Tabrah and her husband are active in Hawaiian civic affairs. The new state school board member was elected in 1962 to the Hawaii School Advisory Countil and since 1965 had served as chairman on policy revision and curriculum.
     The author of three published books and many textbook stories, Mrs. Tabrah also is a member of Kohala Historical Society, the Kohala High and Elementary PTA, the Kohala branch of the American Association of University Women and the Author's League of America.
     North Tonawandans who visited the couple in September were Miss Ruth Rasey of Goundry St., author of Vermont folklore who was Mrs. Tabrah's seventh grade teacher in Felton Grammar School, and Miss Grace Harry, a retired Kenmore teacher, with whom Mrs. Tabrah worked at Park School's summer camp. Both women are extremely proud of Mrs. Tabrah's election. The Hawaiian board is similar to New York's Board of Regents.
     On their visit to the Tabrah home, the women took as gifts a picture of Goundry School, the Tonowanda News edition covering North Tonawanda's centennial, and a picture of North Tonawanda public library where Mrs. Tabrah also worked for a time.
     As a young married couple, Dr. and Mrs. Tabrah made their first home in an apartment in 357 Falconer St. The requested their visitors also to send them a picture of this home for their scrapbook. The photo has since been mailed.
     Dr. and Mrs. Tabrah are the parents of two sons, Joseph, a senior in a private high school, and Thomas, a 7th grader. Dr. Tabrah is returning to the United States in a few months to give three colleges lectures.
The following appeared on 29 June 1969 in the Buffalo Courier-Express: Hordes of women annually bring beauty to Erie County by raising flowers to grace libraries, church altars, hospital corridors and their own homes throughout summer. Another aim of many of these amateur horticulturists is to display the floral fruits of their backyard gardens at the flower show of the annual Erie County Fair scheduled Aug. 15 to 23 this year in Hamburg.
     . . .
     Mrs. Baldur A. Flock is one gardener whose traditional "green thumb" has a rosy and violet cast. Mrs. Flock excels in cultivating both garden roses and exquisite African violets.
     The picture window of her home in Woodward Ave., Town of Tonawanda, is a perfect setting for uniform white pots of a variety of violets. Mrs. Flock grows tiny violets of palest lavender and flamboyant, large beauties having blossoms three inches wide.
     Colors run the gamut of every hue of purple, orchid, lavender, white-to-ivory, blue and pink. For good measure, she cultivated one plant that has both pink and purple blossoms.
     Feeding and watering her plants is a happy chore, although an arduous one. Mrs. Flock has 500 African violet plants. Most of them are under fluorescent lamps on racks in her basement.
     Mrs. Flock boasts a smaller "auxiliary" thumb. this one, green indeed, is the helping hand of Sean Pearson, 8, who resides across the street with his parents, Mr. and Mrs. Jack Perason. In September, Sean will be a fourth grader at Horace Mann Elementary School in Ralston Ave., Town of Tonawanda.
     Sean loves the violets, and cheerfully devotes most of his free time to helping Mrs. Flock carry plants to and from the basement. He helps package them for presentation as gifts.
     Sean also is learning the art of rose cultivation, and Mrs. Flock's garden is his proving ground.
     Sean shares one of Mrs. Flock's secrets. He knows she talks to her flowers. Few Gardeners admit indulging in floral converation, but Mrs. Flock says that some scientists believe plants react to music, to kind words and even to scoldings. She claims that many a lazily blooming violet has responded to her "Be pretty or out you go!"
     Mrs. Flock is founder of the Kenmore African Violet Society, member of the Niagara Frontier African Violet Society and accredited judge in the National African Violet Society.
     The couple's son, Robert L. Flock, teaches art at Niagara Community College. Her daughter, Ruth, is married to Dr. Frank L. Tabrah. The Tabrahs live in Kohala, Hawaii. Mrs. Tabrah, a novelist, is working on her third book.
     All the family knows exactly what Mrs. Flock is whispering to her violets these days. It's "Win a ribbon at the fair."
The following appeared in the Buffalo News: [Died] Ruth Flock, age 98, of Kenmore, New York, formerly of Angola, August 29, 1998; wife of the late Baldur A. Flock; beloved mother of Robert Flock of Snyder, New York, Ruth Tabrah of Hawaii; grandmother of Thomas and Joseph Tabrah; also survived by 6 great-grandchildren. No prior visitation. Funeral services were held at the convenience of the family. Interment was held in Forest Avenue Cemetery, Angola, New York. Mrs. Flock was known as the "African Violet Lady" of Kenmore. Arrangements by Jay R. Addison.
Ruth Estelle Milander died on 8 April 2004 at age 83 in Honolulu, Hawaii.
The following appeared on 13 April 2004 in The Honolulu Advertiser: The Rev. Ruth Tabrah, an author and Buddhist minister, died Thursday at Arcadia Retirement Residence. She was 83.
     Tabrah was a minister at Honpa Hongwanji Hawaii Betsuin and became an authority on the history of Buddhism in Hawaii. She served as president of the Hawai'i Association of International Buddhists.
     She moved two years ago to Arcadia, where she organized Buddhist services to mark obon, hanamatsuri and other festivals.
     Her 1995 novel, "The Monk Who Dared," is based on the life of Japanese Buddhist sage Shinran Shonin, founder of Shin Buddhism, but her writings covered a wide range of topics. There were children's books as well as nonfiction about Hawai'i, including "Hawaii: A History," published in 1984.
     Tabrah was born in Buffalo, N.Y.
     She is survived by sons, Joseph and Thomas Tabrah; brother, Robert Flock; seven grandchildren and two great-grandchildren.
     Visitation will begin at 3:30 p.m. Sunday at Honpa Hongwanji Hawaii Betsuin, 1727 Pali Highway, with the service at 4:30 p.m. Aloha attire; no flowers.
     Arrangements are by Hosoi Garden Mortuary.