Ernest Vincent Tweed
b. 21 August 1893, d. September 1983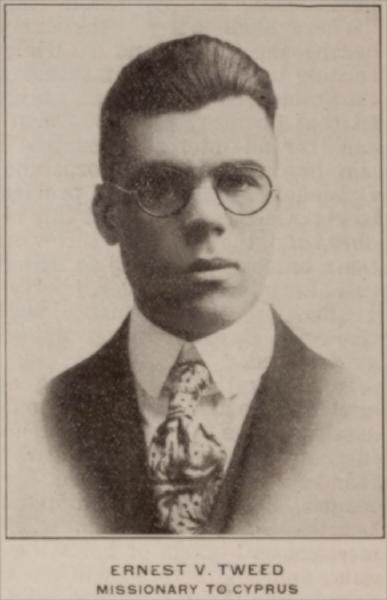 Ernest Vincent Tweed, 1893-1983
Ernest Vincent

Tweed

was born on 21 August 1893 in Martinsburg, Audrain County, Missouri.
David S.

Tweed

and Mary E.

Graham

appeared in the US federal census of 1 June 1900 in Chanute, Neosho County, Kansas. Other members of the household included Ernest Vincent Tweed, Vernon

Tweed

and Homer David

Tweed

. Also in the household was Mary's brother Alford Graham (age 21).
The following appeared on 2 August 1912 in The Chanute Daily Tribune: Homer David Tweed, the 12-year-old son of Mr. and Mrs. D. S. Tweed of this city, was drowned in the lake at Washington Park, Denver, Colo., Wedensday.
     "Lester, it's easy; just watch me and then you will see how it's done," said Homer to his 9-year-old brother Lester, as the two prepared to go swimming.
     Homer dived into the lake. His little brother waited for him to come to the surface and wondered why he did not. After half an hour the boy dressed and hurried to his home, half a mile away.
     The family left Chanute three or four years ago. Mr. Tweed was for a long time manager of the Neosho Valley creamery and after the company controlling it changed hands he was proprietor of a notion store on East Main street. Homer was born in this city.
Ernest Vincent Tweed registered for the draft on 5 June 1917 in Beaver County, Pennsylvania, while single and living at 3109 5th Avenue in Beaver Falls, attending Geneva College there.
He applied for a passport on 15 January 1921. at the American Agency & Consulate-General at Cairo, Egypt, for the purpose of missionary work in Cyprus and travel to various other countries, bearer of ppt issued by the Diplomatic Agency Cairo, 21 November1920, legal domicile Denver Colorado, having left the United States on 2 October 1919 arriving at Larnaca, Cyprus, 15 November 1919, where he was residing for the purpose of teaching on behalf of the Foreign Mission Board of the Reformed Presbyterian Church, intending to return to the United States within two years. Passport was issued 19 March 1921. He applied for amendment on 17 July 1922 while at the Park Hotel, Rome Italy, for travel to Austria and Germany.
He married Frances M.

Aikin

, daughter of J. M.

Aikin

and Jennie

(?)

, circa 1923.
Ernest Vincent Tweed and Frances M.

Aikin

appeared in the US federal census of 1 April 1930 in Eastlake, Adams County, Colorado. Other members of the household included Jennie

(?)

He was employed as a public school superintendent, according to the 1930 census.
The following appeared on 5 July 1932 in The Olathe Mirror: A wedding of unusual interest on account of the extreme popularity of the bride and her family in Olathe and in the East side of the County was celebrated at the Reformed Presbyterian church, Olathe, Wednesday night, June 27, when Miss Frances Aikin was united in marriage to Mr. Ernest V. Tweed of Denver, Colorado.
     Rev. Will A. Aikin, brother of the bride, who resides at Hemet, California, read the beautiful and impressive ring ceremony. Miss Bettie Lee, Clarinda, Iowa, was the brides-maid, while the groom was attended by Rev. Alvin Smith, Beaver Falls, Pennsylvania.
     Miss Charlotte Tippin, the ring bearer, wore a dress of white organdie and carried a bouquet of pink and lavender sweet peas. The ring was carried on a satin pillow. The bride's niece, Miss Jane Aikin, was the flower girl. She wore lavender organdie over pink satin. As the bridal party approached the altar, the bride on the arm of her father, Mrs. Alvin Smith of Beaver Falls, Pennsylvania, played Lohengrin's Wedding March. The altar was very beautifully decorated with pink roses and ferns.
     The bride was beautiful in a gown of white satin crepe. Her full-length veil was held in place by a wreath of orange blossoms. She carried a shower bouquet of bride's roses and lillies of the valley.
     Miss Lee, the brides-maid, wore a gown of orchid georgette over pink satin and she carried a bouquet of pink roses.
     Following the ceremony a reception was held at the church for Mr. and Mrs. Tweed and the congratulations of the 75 guests were hearty and sincere.
     The bride is the youngest daughter of Mr. and Mrs. J. M. Aikin, the home being three miles East of Olathe. Her early schooling was a the Case school on the opposite corner from the home farm. After completing the course at the rural schools she became a student at Olathe High School, graduating with honors in the Class of '14.
     In 1921 she graduated from Geneva College, Beaver Falls, Pennsylvania. Then it was that she was employed by the Board of Education of Olathe City to teach the sixth grade at the Central School, which she taught very successfully for two years and was offered the contract for another year at an increase in salary but this was not accepted. (No reason was given.)
     Miss Frances Aikin, in the home, in the school room, at church, at any social gathering, had a winning smile and a wonderful personality whereby she made friends of everyone. Her smile was an index to a lovely character. We believe that there was never a school teacher more beloved by her pupils, and no doubt this had much to do with her unqualified success as a teacher.
     The groom is the son of Mr. and Mrs. D. S. Tweed of Denver, Colorado. Formerly they were residents of Johnson County and members of the Olathe Covenanter Church where the young people first became acquainted. He is a teacher of Mathematics and is the coach of athletics at the Meeker High School near Denver.
     Out of town guests at the wedding were: Rev. and Mrs. Alvin Smith, Beaver Falls, Pennsylvania; Misses Marguerite and Bettie Lee, Clarinda, Iowa; Dr. and Mrs. Roger Moore, St. Joseph, Missouri; Rev. W. A. Aikin, Hemet, California; Miss Myra Edgar, Morning Sun, Iowa; Miss May Keys, Winchester, Kansas; Mr. and Mrs. W. J. Adams and family, Rosedale; Dr. and Mrs. George Aikin; Mr. and Mrs. Floyd Richards, Kansas City, Missouri.
     The newlyweds left the same night for a short wedding trip and they will be at home after September 1, in Denver, Colorado.
Ernest Vincent Tweed registered for the draft on 27 April 1942 in Denver County, Colorado, while living with his wife Frances at 1263 South Clarkson Street in Denver, and employed there by Colorado Women's College.
Ernest Vincent Tweed died in September 1983 at age 90.