Edith Watkins
b. 22 May 1881, d. 22 October 1942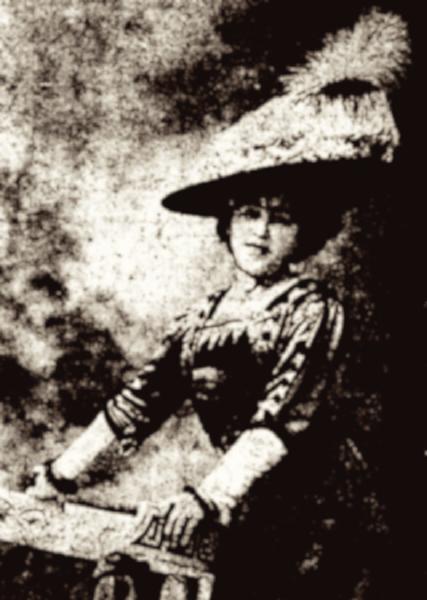 Edith Watkins Griswold Gaudenzi, 1881-1942
Edith

Watkins

was born on 22 May 1881 in St. Thomas, Elgin County, Ontario, Canada.
The following appeared on 18 December 1910 in The Buffalo Courier: The Bessie Abbott Grand Opera Company, which is making a Southern tour, is meeting with great success everywhere and Signor Giuseppe Gaudenzi, the young Italian tenor, who has been spending the summer in Buffalo coaching with his teacher, Mrs. Edith Watkins Griswold of Dorchester Road, and who will sing the leading role in Mascagni's new opera, "Ysobel," when it is produced in America, has been enthusiastically received in the South. The Macon, Georgia, papers speaking of his singing say: "As Pinkerton in Madame Butterfly, Sig. Gaudenzi was found in every way equal to the demands of this taxing role. With a handsome presence and dramatic instinct and a voice powerful and resonant, he sang the part with artistic understanding and won his audience from the start."
     The Jacksonville paper says: "Speaking of the singers, the company has an exquisite voice in that of the tenor, Gaudenzi--a splendid actor as well as singer--and the beauty of his tone production as well as his interpretation of the role of Pinkerton was one of the most enjoyable features of the opera. His voice is sweet as well as robust in quality and he has a dramatic quality which gives it force and expression."
     When Sig. Gaudenzi sang the first night even the members of the orchestra rose to their feet and called repeatedly for "Gaudenzi! Gaudenzi!" Everywhere this artist has met with the most flattering reception which is ov course a gratification to his teacher, Mrs. Griswold, whose pupil he was in Italy during her residence there of several years.
The following appeared on 13 September 1913 in The Buffalo Courier: Mme. Edith Watkins-Griswold of New York and her sister, Miss Marie Watkins of Dorchester road have been spending the summer in Europe and are now in Bologna, from whence Mme. Griswold writes: "While in Paris we saw a fine performance of "Faust" with Lassalle in the title role, a tenor with whom I sang Nedda at the Lyric theater in Milan almost three years ago. He has a magnificant voice, more dramatic than lyric, thence not at its best in some portions of the opera. The staging and orchestra were admirable.
     From Bologna we are going on to beloved Florence, but we may delay on departure and go first to Verona for a really wonderful performance of "Aida" to be given in the old Arena, the stage being in the middle and without any background. Zenatella and Maria Gay are singing in the cast as well as some other fine artists.
     We have been the guests of Sig. Giuseppe Gaudenzi's brother and his family at their beautiful country home, one of the finest in all Italy.
     Sig. Gaudenzi has been singing in San Sebastiano, Spain, with Tito Ruffo and Cavaliers in "Pagliacci." He has created a furore and has been invited to sing next season at the Royal theater at Madrid. This season, as you know, he has signed with the Montreal Grand Opera company.
     From Florence we are going to Vallambroa to visit friends and sail for home from Genoa on September 16.
She married Giuseppe

Gaudenzi

on 10 June 1916.
The following appeared on 20 June 1916 in the Buffalo Courier-Express: Mr. and Mrs. William B. Watkins have issued announcements of the marriage of their daughter Edith to Dr. Giuseppe Gaudenzi on Saturday, June 10, 1916. At home after October 1, No. 41 East Fifty-second street, New York city.
She officially witnessed the death of William Benjamin

Watkins

on 10 September 1924 in Erie County, New York; The Buffalo Morning Express: W. Benjamin Watkins died at his lakeshore home yesterday after an illness of several months. He came to Buffalo from Wales in his early youth and from here went to Canada in the employ of the Michigan Central railway, advancing to the position of master mechanic at Saint Thomas.
     Later Mr. Watkins returned to Buffalo to take charge of the New York Car Wheel works, with which firm he was connected for more than 30 years, and distinguished himself while thus associated, in connection with the building of the McAdoo tunnel. In 1917 he organized the Buffalo Commercial Body corporation.
     Mr. Watkins leaves a wife and two daughters, Mrs. Edith Gaudenzi and Mrs. Marie Dunn.
The following appeared on 14 September 1924 in The Buffalo Courier: The many friends in the town of Mme. Edith Watkins-Gaudenzi, the operatic soprano, will sympathize with her in the recent loss of her father, William B. Watkins of Norwood avenue, whose death occurred at his summer home at Angola-on-the-Lake. [:CR;]      Mr. Watkins was a prominent business man, and of a quiet, unassuming nature, finding his greatest joy in his family. He was a man of exemplary character and high standing in the community. He was a great lover of the best in music and took great pride in Mme. Gaudenzi's musical career both here and abroad. The deep affection between father and daughter was a beautiful one, and Mme. Gaudenzi, whose home is in New York, did not take her usual trip abroad this summer, but has been in constant attendance at her father's bedside. Mr. Gaudenzi, who recently arrived from Italy, has also been spending some weeks here. Mr. Watkins is survived by his wife and his two daughters, Edith Watkins Gaudenzi and Marie Watkins Dunn.
She filed a petition for naturalization as a US citizen on 15 May 1928 at the Southern District Court of New York.
The following appeared on 29 July 1928 in the Buffalo Courier-Express: Mme. Edith Watkins-Gaudenzi of New York and Italy is spending several weeks in town and is now at her bungalow on the lake shore near Angola. Mme. Gaudenzi spends each alternate summer in Italy.
      She is a former Buffalo girl and resided in Dorchester road. She was an accomplished pianist and was one of the late Edward MacDowell's favorite pupils. She went to Germany to continue her study of the piano, and while there decided to study voice. She later appeared in opera in Italy and won success in dramatic soprano roles. She married Guiseppe Gaudenzi, a brilliant operatic tenor who later became a member of the Boston Grand Opera forces, and who sang the role of Rudolpho in La Boheme at one of its performances in Buffalo, at the Teck theater. He is a singing actor of consummate skill and polished artistry.
     Mme. Gaudenzi has a beautiful studio in New York and is a noted vocal teacher and operatic coach. Mr. Gaudenzi divides his time between America and his home in Bologna, Italy, and comes from a distinguished family in the latter city.
The following appeared on 9 September 1932 in the Buffalo Courier-Express: Mme. Edith Watkins Gaudenzi and her sister Marie Watkins Dunn, of New York, who have been spending a short time at their country home on the lake shore, were in town Tuesday, having tea at the Statler. Mme. Gaudenzi was looking very smart in a black crepe gown figured in pale buff flowers. Her black felt hat had a moderate sized brim, and a beautiful sable scarf completed her costume.
     Mrs. Dunn, who is a very attractive young woman with dark eyes, dark hair and a clear white complexion, looked lovely in a French gown of black crepe, the bodice having a square neckline bordered with tucked white organdy inset with lace, and captivating little white organdy puff sleeves and a white organdy flower just below one shoulder. The skirt was fitted to the figure and ended in a slight flare. Her small black felt hat had a narrow, undulating brim.
     Mme. Gaudenzi, who is a former Buffalo girl, studied piano with the late Edward MacDowell in New York. Later she went to Europe and studied, and finding that she possessed a dramatic soprano voice of great scope and rich quality, decided to specialize in vocal rather than instrumental work. She made her debut in opera in Italy, winning gratifying success and after spending several seasons abroad came to America, where she decided to become a teacher in voice as well as operatic coach. She continued to spend every summer abroad and her extensive knowledge of music in all its branches makes her a musician of authority and find discriminating taste. She resides in a handsome home in New York, in which there is a studio of artistic setting with a small stage at one end. It is her custom during the season to give musicales once a month which are attended by many representative signers. It was in Mme. Gaudenzi's studio that the romance of Enrico Caruso and Dorothy Benjamin first began, the latter being a vocal pupil of Mme. Gaudenzi.
     The music critic of The New Yorker, referring to a recent performance of Pagliacci by the Puccini Grand Opera Company, with Fulgenzio Gierrieri conducting, says of Miss Elvira Helal, who is a pupil of Mme. Gaudenzi, "Miss Helal sang an extraordinary musical Nedda; Miss Helal sounded like a soprano who might be worth entering in your future-book."
Edith Watkins appeared in the US federal census of 1 April 1940 in New York City, New York, at 129 West 78th Street. Other members of the household included Edith Simpson

Dunn

. Also in the household were one female domestic servant and two male lodgers.
Edith Watkins died on 22 October 1942 at age 61 in Plainfield, Union County, New Jersey.
The following appeared on 24 October 1942 in The New York Times: Mme. Edith W. Gaudenzi, New York voice teacher, died on Thursday at the home of her sister, Mrs. Marie Vail, at Plainfield, N. J., after an illness of two years, at the age of 57. She was born in St. Thomas, Canada, studied music at Columbia University, took piano lessons under the late Edward MacDowell and later took vocal lessons and studied abroad. [:CR;]      Mme Gaudenzi made her operatic debut as a contralto at the Teatro Nazionale in Rome, followed by appearances in Italy and Germany. She formerly had been associated with the New England Music Camp at Lake Messalonskee, Oakland, Me.