Ludwig Friedrich Laurier
b. 12 February 1875, d. 16 May 1939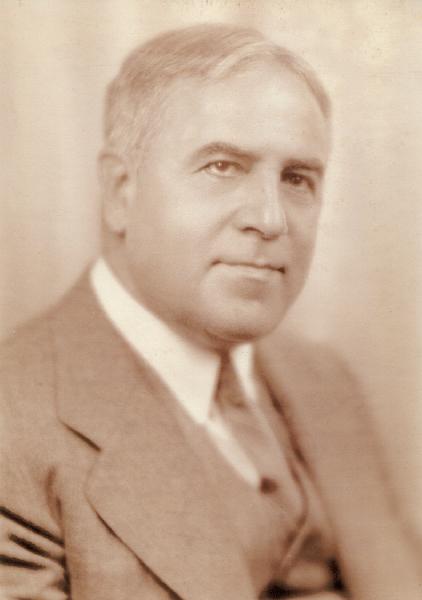 Ludwig Friedrich Laurier, 1875-1939
Ludwig Friedrich

Laurier

was born on 12 February 1875 in Speyer, Rheinpfalz.
He was baptized/christened on 4 March 1875 at Sankt Georgium Evangelisch (now Trinity) in Speyer, Rheinpfalz.
Franz Peter

Laurier

and Luisa

Hofstetter

, accompanied by Ludwig Friedrich Laurier, Franz Eugen

Laurier

and Maria Luise

Laurier

, departed in June 1888 from the Port of Bremen, Bremen, aboard the Norddeutscher Lloyd SS Aller.
Franz Peter

Laurier

and Luisa

Hofstetter

arrived in the Port of New York on 7 July 1888, accompanied by Ludwig Friedrich Laurier, Maria Luise

Laurier

and Franz Eugen

Laurier

with mother and daughter Luise traveling 2nd cabin, and the others in steerage.
He was a sponsor at the baptism/christening of his nephew Ludwig August

Laurier

on 9 April 1893 at Zion Evangelical Lutheran Church, Niagara Falls, Niagara County, New York.
Louis Laurier was naturalized as a citizen of the United States before the Supreme Court of Erie County at Buffalo, New York, on 8 September 1896, and issued a US passport two days later, on the 10th.
Louis Laurier applied for a new passport on 10 February 1902 to the US Legation at Berne, Switzerland. He states in his application that in September 1896 he left his permanent residence in Buffalo, New York, and traveled aboard the SS Furst Bismark to Hamburg, Germany. The following statement accompanied the application:
     " I, Louis Laurier, being duly sworn declare by these presents that my absence from the United States has been for the purpose of pursuing my musical studies in Berlin under Professor Joachim, that I am now temporarily residing in Lausanne for the purposes of perfecting myself in the French language, and that it is my intention to return to the Unitied States in the autumn of this year to perform the duties of citizenship. Vevey, February 5, 1902, Louis Laurier"
     The passport was issued on 12 February.
Luise and son Ludwig Laurier returned from Germany in 1902, departing Hamburg on 11 October aboard the Hamburg Amerika Linie dampfschiff Moltke.
The following appeared on 28 February 1904 in The New York Times: An entertainment will be given by Miss Ida Clarke Hoyt, assisted by Ludwig Laurier, violinist, at the Waldorf-Astoria on Thursday afternoon, March 3, at 3:30. There will be monologues and sketches. Mrs. Edwin Gould, Mrs. George F. Shrady, and Miss Hoyt are among the patronesses.
The following appeared on 15 October 1904 in the Niagara Falls Gazette: On Tuesday night, October 18th, Mr. Ludwig Laurier, one of New York's most celebrated violinists, will be heard in this city in a concert to be given under the auspices of the Germany Lutheran Zion's Church at the church, corner Michigan Avenue and Tenth Street. Mr. Laurier finished his musical education at the Royal Academy of Music of Berlin, Germany, where for four years he was a pupil of the greatest living teacher, Herr Josef Joachim. He afterwards was musical instructor to the sons and daughters of Berlin's highest notibility.
     Mr. Laurier will be ably assisted by an organist of national reputation, Mr. William Bauer of New York. This will be the foremost musical event of the season and no lover of high class music and no student of music should fail to attend. Price of admission, 50c. Tickets for sale at the pharmacies of W. M. Rowen, Stine & Duffy, A. Vorwerk, Eugen Laurier, also at Jenss Brothers dry goods store. Doors will be closed after concert has started at 8:15.
The following appeared on 17 June 1908 in the Tampa Morning Tribune: A treat of unusual pleasure was afforded last evening at her home, by Miss Hulda Kreher, the gifted teacher, to the pupils of her large music class, and their parents, by the performance of the genius Ludwig Laurier, a noted violinist. The great virtuoso held his enraptured listeners spellbound, playing with masterful strokes. The delightful program rendered follows: . . [six pieces] . . .
     Laurier was born in Speir on the Rhine, Germany. At the early age of 8 years he began his studies under the most celebrated masters of the time. In 1888 Laurier came to Buffalo, N. Y., continuing his studies until his return to Europe. In 1895 he entered the Royal High School of Music in Berlin, Germany, where he studied six years. His remarkable ability and zeal winning for him the friendship and interest of the most famous virtuoso and instructor, James Joachim, whose favorite pupil he became. Laurier was also very successful as instructor among the royalty in Berlin, his pupils being Princess Ratibor, Count Reischach, County Thiele Winkler, Count Hoheman. While in Europe Laurier made concert tours with the Berlin Philharmonic orchestra through France, Spain, Italy, Switzerland and Belgium. In 1902 he returned to America, accepting the high position of first violinist at the Metropolitan Opera company in New York, which position he still fills.
     Laurier, accompanied by his niece, Miss Mulz, has been the guest of Mr. and Mrs. E. T. Becker, of Holder, Fla., for the past six weeks, Mrs. Becker being the sister of Laurier. Mr. Becker is one of Florida's prominent phosphate men.
He was First Violinist with the Metropolitan Opera Orchestra in New York City. from 1909 to 1919.
He married Georgette

Ganin

, daughter of Prosper

Ganin

and Marie

Jacquard

, on 29 April 1909 in Manhattan, New York.
The following appeared on 19 July 1909 in the Niagara Falls Gazette: Mr. and Mrs. August Vorwerk and children of Ontario avenue, Mr. and Mrs. Eugene Laurier of Linwood avenue, and Mr. and Mrs. Ludwig Laurier left this morning for a two weeks' sojourn at Alexandria Bay.  And on the 29th, Mr. and Mrs. Eugene Laurier of Linwood avenue, Mr. and Mrs. August Vorwerk and children of Ontario avenue, and Mr. and Mrs. Ludwig Laurier, have returned from an outing at Wilson, N.Y. 
The following appeared on 5 April 1910 in the Buffalo Evening News: [Died] April 5, 1910, Louise Laurier (nee Hostetter), widow of Franz Laurier; mother of Fritz Laurier of Newport, Ky; Mrs. Edward L. A. Schwabe, Mrs. E. T. Becker of Holder, Fla; Eugene Laurier, Niagara Falls, N. Y; Mrs. Theodore Mulz, Brooklyn, N. Y; Ludwig Laurier, New York city; aged 76 years. Funeral from the residence of her son-in-law, Dr. Edward L. A. Schwabe, 417 Swan street, Thursday afternoon at 2:30 o'clock. Burial at the convenience of the family.
Have not yet been located in the 1910 census. Ludwig Friedrich Laurier and Georgette

Ganin

.
Ludwig Laurier made his debut (and only performance) with the Metropolitan Opera Company as Montfleury in "Cyrano" on 23 April 1913 in Atlanta, Georgia. Company records indicate that Ludwig Laurier, who was the orchestra manager, probably substituted for tenor Paul Althouse.
Ludwig Friedrich Laurier registered for the draft on 12 September 1918 in Manhattan, New York, while living with his wife Georgette at 242 East 50th Street, and employed as a musician by the Metropolitan Opera, Broadway & 39th Street.
Ludwig Friedrich Laurier and Georgette

Ganin

appeared in the US federal census of 1 January 1920 in New York, New York, at 242 50th Street. Other members of the household included Madeleine

Laurier

.
He was a musician in a theatre, according to the 1920 census.
Ludwig Friedrich Laurier and Georgette

Ganin

arrived in the Port of New York on 17 September 1926, accompanied by Madeleine

Laurier

aboard the SS Rochambeau, having sailed from Le Havre on 8 September. At the time, they were residing at 242 East 50th Street, New York City.
The first NBC broadcast of "Slumber Music" was 1 February 1927, "In which Ludwig Laurier nightly directs a N. B. C. string ensemble playing numbers from Mozart, Tyler, Keller-Bell. On Sunday evening Mr. Laurier conducts his ensemble under the Kellogg Company in a program of Kaffee Hag Slumber Music."
The following appeared in the March 1929 issue of Stevenson's Radio Bulletin: Chimes sound, a grandfather's clock ticks away the last hour of the day. Singing violins croon a sleepy time and the hands of a dreamy man in gray, bent over a conductor's score, suggest a drowsy rhythm. The hour of Slumber Music, which closes the day of a number of stations, is being broadcast.
     The man in gray is Ludwig Laurier, director of the string sextet which presents this quiet program of classical music that occupies the periods often given over to dance orchestras. Laurier's hair is gray, too, and until he lifts his head the whole man seems tinged with this neutral color.
     His blue eyes, however, belie the impression of grayness. As the conductor's eyes leave his score and seek out the musicians, his rugged face, immobile a moment ago, becomes alive. The eyes laugh and a quiet smile softens the rugged lines of the face.
     Laurier not only conducts Slumber Music; he is really the whole program. He selects the music and builds the program piece by piece until he has obtained just the progression of moods he desires. Not all of the music played during the Slumber Hour could be described as sleepy. Usually the program opens on a bright and cheery, or perhaps a rugged note, and moves smoothly through a number of not incongruous moods to its inevitable quiet conclusion. Laurier is careful, however, to make sure that the selections are such that will not lose their meaning in rearrangement for strings.
     The ensemble is made up of two first violins, second violin, viol, bas viol, piano and harmonium.
     The conductor, himself a violinist, came to the United States nearly forty years ago from Speyer am Rhine, in the Palatinate. He was only thirteen years old then, and went directly to Buffalo, there to learn the drug business under his brother.
     He had already begun to study the violin however and its lure proved greater than that of the pharmacy. When he became a little older he played in the Buffalo Symphony Orchestra, conducted by John Lund, and a few years later he left America to study his music in Berlin. There he studied the violin. Laurier was only twenty-one at that time, yet became one of the first violins in the Berlin Philharmonic. After two years with this organization he taught for a year in Switzerland and then returned to the United States.
     On his return he joined the orchestra of the Metropolitan Opera House, New York, as first violin, and remained for sixteen years. During the conductorship of Arturo Toscanini he was manager of the orchestra.
     According to letters from listeners, the hour of Slumber Music is one of the most popular programs on the air. Thousands and thousands of listeners sit up to hear the program. Many listeners have sought a device to automatically cut off their set upon the conclusion of the program.
The following appeared on 21 October 1929 in the Rockford Daily Republic: Ludwig Laurier is the popular conductor of the Slumber ensemble of the Black and Gold room orchestra, both heard daily except Sunday over the National Broadcasting systerm. He is former concert master of the Metropolitan Opera and the Berlin Philharmonic.
Ludwig Friedrich Laurier and Georgette

Ganin

appeared in the US federal census of 1 April 1930 in Manhattan, New York, at 238 East 50th Street. Other members of the household included Madeleine

Laurier

.
He was a radio musician, according to the 1930 census.
The following appeared on 13 June 1930 in the Brooklyn Daily Eagle: After thousands of howls of protest the old Slumber Hour, under the direction of Ludwig Laurier, is going back on the air. The temporary shift was made to find out if the letters charging lack of variety in Laurier's programs represented the feeling of the majority of listeners. Apparently not, since so many missed it. It will probably be on the WJZ-N. B. C. net Monday night and thereafter.
The following appeared on 12 July 1931 in The Baltimore Sun: Ludwig Laurier, slightly stooped and gray at 52, puffed his pipe and conceived the Slumber Music program because he rebelled against being a theatrical clown.
     Laurier had studied music since early boyhood and had played the violin in some of the most aristocratic circles of Germany, Switzerland and American, but in 1927 the jazz-loving New York theater goers expected him to tango or turn a somersault while conducting the Rialto Theater Orchestra.
     And Laurier, mild as his pipe, modest and retiring, was not adept as a clown. No one knew it better than he, and he sat down to smoke his pipe and consider an offer made by Hugo Mariani, supervisor of N.B.C. orchestras.
     A month after Mariani had suggested broadcasting as a medium for his artistic expression, Laurier was conducting his Slumber Hour. That was in October, 1927. Instantly the violinist and conductor found a ready response.
     The sincerity of this response was realized when executives attempted to change the Slumber Hour. Thousands of letters came in protest and the executives were convinced that the nightly lullaby is one of the chain's most popular features.
     Laurier conducts the Black and Gold Room Orchestra also.
     Laurier was born in Speyer, Germany, February 12, 1875, not far from one of the largest cathedrals of the Fatherland. His father, a clarinetist, was hard pressed to provide necessities for his wife and six living children. Four babies died in infancy.
     At 9 years of age Laurier started studying the violin, taking weekly lessons at a cost of one and a half marks (about 35 cents in those days). It was more than Herr Laurier could afford, but the boy student, star pupil of his master, continued at a mark and a half until the family sailed to America in 1888.
     They came by steerage and settled in Buffalo, N. Y., in the same year. Ludwig immediately began making pills and powder in a drug store, to say nothing of dispensing ice-cream sodas for the fashionables of the gay nineties. Ludwig also continued his violin studies, first taking lessons from Frank Kuhn and then from Carl Hartfuer, concert master of the Buffalo Symphony Orchestra.
     On attaining voting age, Ludwig obtained his American Citizenship papers and retraced his steps to Germany. He wanted to study music under the great masters.
     At Berlin he studied at the Hoch Schule, maintained by the royal government, and was chosen as first violinist in the Berlin Philharmonic Orchestra, conducted by Arthur Nikisch.
     One of his instructors at the Hoch Schule had written a biography of Joseph Joachim, and a wealthy American wrote the author asking him to recommend a violin instructor. Laurier, now an accomplished violinist with a knowledge of English, qualified for the job.
     The Switzerland assignment was originally for a summer but Laurier stayed more than a year, living first in the mountains at Chateau d'Oex and then at Lausanne near Geneva. From there he returned to America, the lure of his adopted land being irresistible. In 1900 he settled on East Forty-eighth street, Manhattan, two blocks from where he lives today.
     Daily he ate in cheap lunchrooms.
     Then he got two offers at once. One to join Walter Damrosch in the New York Symphony, the other to join the Metropolitan Opera Company Orchestra. He accepted the latter offer, and for sixteen years was one of the first violinists of the Metropolitan and acted as manager for the last five years under Conductor Toscanini's reign.
     Then Laurier got fired. During Toscanini's conductorship Laurier clashed with another excecutive of the Metropolitan, but Toscanini refused to dismiss Laurier, whom he prized. But after Toscanini departed the battle of personages continued and Laurier once went to Otto Kahn to ask assistance. Kahn patched over difficulties for a year and then Laurier was bidden adieu.
     At 45 he faced life again. Living was expensive and a wife and daughter were dependent on him.
     Shortly afterward Laurier became assistant conductor at the Rialto Theater, a position he held until October, 1927. Mariani then approached him and Laurier turned his lot with radio, at the same time frowning on theatrical clowning.
     Today he spends most of his life in N. B. C.'s library preparing programs for the Slumber Hour and the Black and Gold Room Orchestra broadcasts. At odd moments he sits down and puffs on his pipe.
The following appeared on 17 November 1931 in the Oswego-Palladium-Times: Radio News Notes. Anniversary. Fourth year of Slumber Music will be celebrated by Ludwig Laurier's concert ensemble with a special WJZ-NBC program, Thursday night.
Ludwig Friedrich Laurier and Georgette

Ganin

arrived in the Port of New York on 24 May 1934, aboard the SS Monarch of Bermuda, having sailed from Hamilton, Bermuda, on the 22nd. At the time, they were residing at 9416 34th Road, Jackson Heights, Long Island, New York.
The following appeared in a local newspaper, in December 1938: Mr. and Mrs. Eugene Laurier, well-known residents of Upper Montvale, celebrated their golden wedding anniversary Sunday afternoon. The happy couple who have resided at Upper Montvale for the past 23 years, were married December 19, 1888, at Speier, in southwestern Germany. Both were born on the same day in the same town in which they also were married. They have two sons, Carl, well known pianist, and Ludwig. Mr. Laurier is also related to Sir Wilfred Laurier, one time Premier of Canada.
     Before coming to this section Mr. Laurier was engaged in the drug store business in Niagara Falls, and was for more than 16 years general manager of the New York office of Colgate & Co., perfumers.
     More than 50 relatives, friends and neighbors called at the home Sunday afternoon and evening and extended their congratulations and best wishes, and the honored couple received many beautiful flowers, handsome gifts, and anniversary cards.
     An informal musical program was presented, the guest artist being Mr. Ludwig Laurier, former concertmaster of the Metropolitan Opera House orchestra and conductor of the favorite hour known as the "Slumber Hour" on WJZ a few years ago. Mr. Laurier, a brother of the honored groom, accompanied by Carl Laurier, his nephew, who is also well-known in musical activities, gave a masterly rendition of the the Max Bruch Concerto No. 1, and as a special gift for the bride and groom splendidly played "La Cinquintain" by Gabriel-Marie.
     Frederick Loescher, well known county tenor and director, sang several operatic and concert selections by Schubert and Verdi, and scored with the singing of Jacques Wolfe's "Shortenin' Bread". Later in the evening Mr. Loescher also gave several comic recitations.
     Among the guests present were Mr. and Mrs. Ludwig Laurier of New York, Mr. and Mrs. Ludwig Laurier, daughter Lois, and sons, Eugene and Ludwig, Jr., of Park Ridge; Carl Laurier and son, Carl, Jr., Mr. and Mrs. Charles Gray, Mr. and Mrs. Russell Price, Mr. and Mrs. Norman C. Cooper, and John R. Foxlee, all of Montvale; Mrs. Bertha C. Forbes of Pearl River, Frank P. Schwalm, Mrs. Clara S. Loughrey and Miss Ethel Schwalm of New City; Mr. and Mrs. Ellsworth Turse and Mr. and Mrs. Fred Dick of Park Ridge; Frederick Leoscher, of Pearl River; Mrs. John Carlock and daughter, Mrs. Arthur Krausse, Mr. and Mrs. James S. Mittag and daughter, Barbara, and son, James. Jr., and Mr. and Mrs. Irving Mittag and son, James, and daughter, Maryllyn, all of Ridgewood, N. J.
     The party broke up at an early hour with all wishing the happy couple many more years of married happiness.
Ludwig Friedrich Laurier died on 16 May 1939 at age 64 in Queens, New York, at 9416 34th Road.
Georgette

Ganin

became a widow at his death.
He was interred at Westwood Cemetery, Westwood, Bergen County, New Jersey.
The following appeared on 19 May 1939 in The New York Times: [Died] Ludwig Lauier, beloved husband of Georgette (nee Ganin), and devoted father of Madeline Atwell, brother of Eugene and grandfather of Michael Atwell, on May 16, 1939. Funeral services at Schaeffer's Funeral Home, 405 East 87th St., on Friday at 2 P. M. Interment Westwood Cemetery, Westwood, N. J.
The following appeared on 30 May 1939 in The New York Times: (Wills for Probate, Queens) Ludwig Laurier (May 16). Estate, $3,000 personal. To wife Georgette Laurier, 94-16 34th Rd., Jackson Heights, executrix.
Photographs of present-day Speyer.