Robert Abercrombie Lovett
b. 14 September 1895, d. 7 May 1986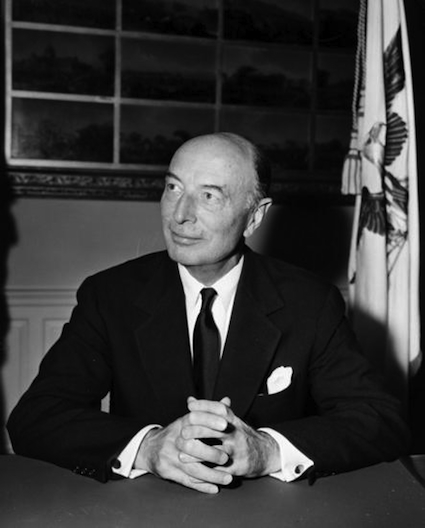 Robert Abercrombie Lovett, 1895-1986
US Army photo of Lovett as Defense Secretary in 1951 (Truman Presidential Library, www.trumanlibrary.org)
Robert Abercrombie

Lovett

was born on 14 September 1895 in Huntsville, Walker County, Texas.
Robert Scott

Lovett

and Lavinia Chilton

Abercrombie

appeared in the US federal census of 1 June 1900 in Houston, Harris County, Texas, at 2019 Main Street. Other members of the household included Robert Abercrombie Lovett, Ruth Lovett

Finch

and Leonard Anderson

Abercrombie

. Also in the household were three domestic servants. Niece Ruth Finch also is enumerated with her parents in Huntsville.
Robert Scott

Lovett

and Lavinia Chilton

Abercrombie

appeared in the US federal census of 15 April 1910 in Manhattan, New York, at 2/4 West 72nd Street as guests in a large hotel.. Other members of the household included Robert Abercrombie Lovett. Also in the household was German-born lady's companion Ana Trilling.
Robert Scott

Lovett

and Lavinia Chilton

Abercrombie

arrived in the Port of New York on 9 September 1913, accompanied by Robert Abercrombie Lovett aboard the SS Kaiser Wilhelm der Grosse, having departed Cherbourg, France, on the 3rd.
He married Adele Quartley

Brown

on 19 April 1919.
The following appeared on 13 September 1951 in The Dallas Morning News: President Truman's selection of Texas-born Robert Abercrombie Lovett for Secretary of Defense was widely acclaimed here Wednesday.
     The appointment was announced at the White House two days before Lovett will celebrate the fifty-sixth anniversary of his birth in Huntsville, Texas, Sept. 14, 1895.
     His confirmation by the Senate was considered certain, probably by a unanimous vote.
     Lovett steps up from Deputy Defense Secretary to the top place vacated Wednesday by Gen. George C. Marshall.
     William C. foster, head of the ECA, was named to succeed Lovett as deputy defense secretary. Richard M. Bissell Jr., now deputy ECA administrator, will become administrator.
     Lovett spent only his early boyhood in Texas, but his family background is all Texan.
     His grandparents, of Scotch descent, settled in Texas where his father, Robert Scott Lovett, was born and became a prominent lawyer. The elder Lovett married Lavinia Chilton Abercrombie, daughter of a Texas [sic] Supreme Court Member.
     Young Lovett went East with his parents when his father was called to New York around 1900 to help organize the far-flung railroad empire of E. H. Harriman. He became president of the Union Pacific and Southern Pacific after Harriman's death.
     The future international banker-public servant entered Yale University in 1914, learned to fly in 1916, and served as an aviation instructor, helping to form and train the Yale air unit in World War I.
     Lovett was called to Washington during World War II for the job of assistant secretary of war for air under Henry L. Stimson. He went back to his private business after his wartime service, but when Marshall was named Secretary of State in 1947, Marshall called him back as his undersecretary.
     Senators and congressment paid tribute to Marshall, except for a few GOP members who said they were glad to get rid of the general, but on one spoke other than praise of Lovett.
     Vice-President Alben W. Barkley, speaking from the Senate rostrum, regretted Marshall's retirement, but said he was "happy that Bob Lovett was appointed."
     Sen. Lyndon B. Johnson likewise praised Marshall as a soldier-statesman, but said Lovett was a "happy choice" as Marshall's successor.
     Speaker Sam Rayburn called Marshall one of the great men of his generation and a real soldier-statesman.
     "His successor (Lovett) is a man of high character and splendid ability," Rayburn said, "It's a good appointment."
     Chairman Richard B. Russell (Dem.) of Georgia of the Senate Armed Services Committee told the Senate that Lovett has the confidence of all members of Congress on both sides of th aisle.
      Rep. George H. Mahon of Colorado City said Lovett is a "very eminent American, exceptionally qualified for the job." Mahon is chairman of the House appropirations subcommittee handling military spending.
     Senate Republican Leader Kenneth S. Wherry of Nebraska said Lovett has much ability and can contribute much to national security "if he does not allow the political machinations of the President and Secretary of State Dean Acheson to influence him."
Robert Abercrombie Lovett became a widower at the 4 January 1986 death of his wife Adele Quartley

Brown

.
Robert Abercrombie Lovett died on 7 May 1986 at age 90 in Locust Valley, Long Island, Nassau County, New York.
He was buried at Locust Valley Cemetery in Locust Valley, Nassau County, New York.
The following appeared on 8 May 1986 in The New York Times: Robert A. Lovett, Secretary of Defense from 1951 to 1953 and onetime Under Secretary of State, died yesterday at his home in Locust Valley, L.I. Mr. Lovett, who was 90 years old, had suffered from cancer and kidney ailments.
     Mr. Lovett was a Republican investment banker who served under two Democratic Presidents, Franklin D. Roosevelt and Harry S. Truman, in the 1940's and early 1950's.
     As Assistant Secretary of War for Air in World War II, Mr. Lovett directed the rapid buildup of the Army Air Force, for which he was awarded the Distinguished Service Medal.
     His performance also won Mr. Lovett the admiration of the Army Chief of Staff, Gen. George C. Marshall. After General Marshall became Secretary of State in 1947, he obtained Mr. Lovett's appointment as Under Secretary, a circumstance that was duplicated when the general became Secretary of Defense in 1950.
     In the early 1950's, after the United States embarked on a disarmament program that left it ill-prepared for the cold war, it was again Mr. Lovett, as Under Secretary and then Secretary of Defense, who oversaw the nation's partial remobilization.
     He chose to press for a superiority in arms rather than to try to surpass the Soviet Union's vast reserve of manpower, as some Pentagon planners urged. ''We don't have to match them man for man,'' he said. ''We aren't going to square-dance with them.''
     Robert Abercrombie Lovett was born in Huntsville, Tex., on Sept. 14, 1895. His father, Robert Scott Lovett, was general counsel to E. H. Harriman's Union Pacific Railroad, and in 1909, when he became a director of the railroad, the family moved to New York.
     The younger Mr. Lovett attended private schools and was elected to Phi Beta Kappa at Yale. He left college in his junior year at the outbreak of World War I, became an ensign in 1917, received pilot training and flew many sorties over Germany and Belgium.
     After his discharge as a lieutenant commander in 1919, Mr. Lovett married his Long Island neighbor, Adele Quartley Brown, and returned to Yale to get a bachelor's degree.
     Mr. Lovett worked briefly as a clerk in a New York bank in 1921, then became a runner for the investment firm of Brown Brothers, whose senior partner was James Brown, his father-in-law. Mr. Lovett became a Brown Brothers partner in 1926 and in the same year was elected a director of Union Pacific and several of its subsidiaries. Not long after he merged the Harriman investment interests into what is now Brown Brothers Harriman & Company, a banking concern.
     The young banker gained experience in branch offices in London and on the Continent, where he sent his partners warnings that Hitler's rise to power might lead to another war.
     On his own initiative Mr. Lovett toured aircraft plants in the United States and prepared a report that pinpointed the need for a rapid buildup in military aviation. The report came into the hands of Robert Patterson, Under Secretary of the Army, who named him as his special assistant in 1940.
     Four months later, Secretary of War Henry L. Stimson prevailed on Mr. Lovett to become Assistant Secretary of War for Air. In that post he was credited with obtaining for the fast-growing Air Force the semiautonomous status within the Army that it held throughout World War II.
     In 1947, when Mr. Lovett had been back at Brown Brothers Harriman as a general partner for little more than a year, General Marshall, who had become Secretary of State, called him back to Washington to be the Under Secretary.
     In April 1948, when General Marshall was abroad and Mr. Lovett was Acting Secretary of State, the Soviet Union established a land blockade of West Berlin in the hope that the United States, Britain and France would abandon their portions of the divided city.
     ''There was a lot of pressure to move American wives and children out of Berlin,'' said Gen. Lucius D. Clay, the American military governor of West Germany, ''but that would have indicated a lack of confidence to the Russians. Bob decided they would stay.''
     The Western powers, foremost among them the United States, undertook to supply West Berlin with food and other necessities by a large-scale airlift through three air corridors left open to them. The blockade was withdrawn in May 1949, and the airlift ended four months later.
     Mr. Lovett left the State Department when General Marshall did, in 1949, but the next year his old mentor was appointed Secretary of Defense, and once more he called on Mr. Lovett for help.
     Mobilization after the outbreak of the Korean War in June 1950 was necessary for the survival of the West, Mr. Lovett asserted in 1951. ''There is no other way,'' he said. ''We tried weakness. It didn't work. The oceans that once protected us no longer provide defense. Our task is to get ourselves geared to these realities.''
     In 1953 Mr. Lovett again returned to his business interests in New York, but over the next two decades served part time on several Presidential commissions, most of them concerned with military affairs. In 1978 he retired from the board of Union Pacific, of which he had been a director for 57 years, but continued as a partner in Brown Brothers Harriman.
     Mr. Lovett's wife, Adele, died last January. His son, Robert Scott Lovett 2d, died in 1984 and his daughter, Evelyn Lovett Brown, died in 1967. He is survived by seven grandchildren and two great-grandchildren.
     Funeral arrangements are incomplete.